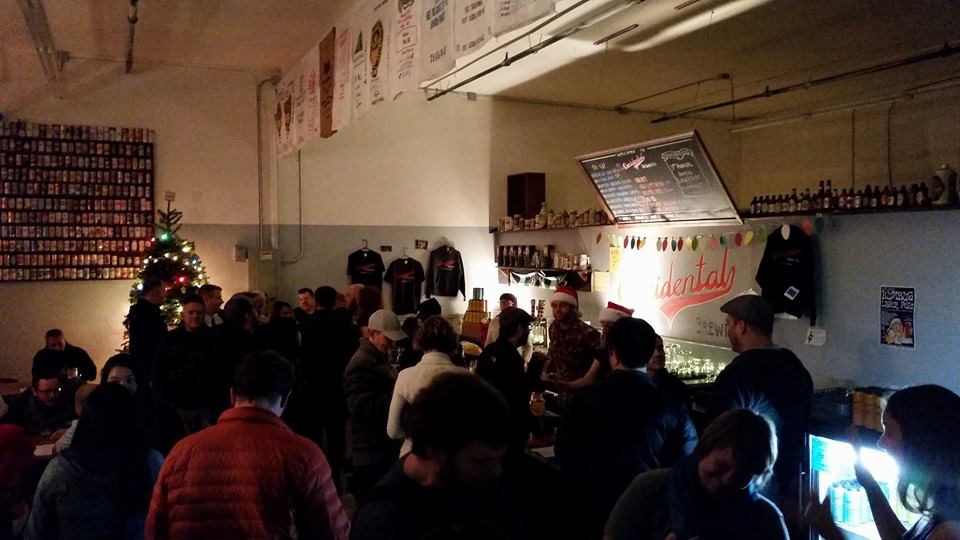 HUMBUG LAGER FEST, PORTLAND OR
The 2014 Humbug LagerFest is back again to celebrate lager beers this holiday season! It took place on Saturday December 13th, at Occidental Brewing in Portland Oregon. This year they had 18 lagers on draft for sampling. There was no price for admission, tokens were $1/ea and 1 token = 1 sample. The brewery utilized it's two main rooms to pour 8 samples at each. The main room had tables and some barrels to stand at. There were a LOT of people there when I stopped by, so finding a place to stand was tricky. The bartenders were working really fast, and there was little to no waiting at the bar for pours. The 2nd room which is used for storage of empties was used for the food stand and a LOT of the empty pre-production cans from the brewery along two sides.
Occidental Brewing is located in the far north end of Portland, in the St. John's neighborhood under the St. John's bridge, just a few blocks from the Willamette River. The brewery is the south side of an industrial building and there's plenty of on-street parking. The food stand this year was from Urban German Grill and they provided a decent variety of locally made sausages in various delivery formats (stick, bread, pretzel) at a decent price.
Occidental Brewing Company – http://www.occidentalbrewing.com/
6635 N Baltimore Ave, Portland, Oregon 97203
(503) 719-7102
Here's the samples I had, hope you enjoy reading about them as much as I did drinking them.
Breakside Brewing
Euro Trash
India Pale Lager • ABV: 5.4% • IBUs: 25
Similar to Pilsner in approach, color and feel. Sharp grassy notes and lighter floral notes. Crisp approach and hop astringent oily bitters throughout. Has about an 8 SRM.

Old Town Brewing Co.
FRAK!
Schwarzbier • ABV: 5.5% • IBUs: 20
Dark brown/red color with about a 34 SRM. Ashy and burnt on the nose with sweet cardboard on the mid. Full carbonation and mouth feel. Lingering bitter from roasted nuts.
Upright Brewing Co.
Engelberg Pils
Pilsner • ABV: 4.8% • IBUs: 35
Softer approach with a light floral nose. Full carbonation, wild yeast style esters on the mid and back speak to Belgium roots.
Rock Bottom Restaurant & Brewery
Skeletor
Dopplebock • ABV: 4.7% • IBUs: 30
This is an amber colored lager with a decent head. Roughly 18 SRM. Sweet caramel and sugar on the nose. Full bodied and mild malt build, round light almost grapefruit hop profile.

Hopworks Urban Brewery
Mandarina Lager
Pilsner • ABV: 5.1% • IBUs: 32
This lager is the standard HUB classic pilsner with a beautiful yellow hue (4) SRM, citrus crisp hop esters are forward on the mouth feel. Lingering bitters from grapefruit to orange peel. Full carbonation and frothy head. Refreshing summer pils.
Laurelwood Public House and Brewery
Wenceslaus
Baltic Porter • ABV: 9.5% • IBUs: 50
This pitch black porter has a slight brown hue to it with roughly a 40 SRM. Ashy and burnt wood and sweet choco and coffee malt build. Full bodied and smooth back after the brisk dried fruit and smoldering bark explosion.
Burnside Brewing Co.
Couch Lager
Helles • ABV: 5% • IBUs: 14
This is a bright yellow hue with roughly a 4 SRM. Distinct lager yeast front nose and rounded malts and hop balance bring citrus, lighter floral and a crisp edge to this traditional Helles. Full carbonation and small frothy head.

Lompoc Brewing
Jolly Bock
Bock • ABV: 7.3%
Amber Lager with a nice mild red hue, roughly 16 srm. The nose and front mouth are crisp and have hints of sweet fruit. Not any bitters. Just a sweet crisp malt and hop balance between spicy and citrus back end notes. Round on the mouth, sessionable.
Occidental Brewing Company
St. Johns Dark
Dark Lager • ABV: 5% • IBUs: 30
Thin head and sweet nose with roasted nuts and light oats. Sweet on the back.
Ayinger
Jahrndiert-bier
Lager • ABV: 5.5%
This lager has a light golden color, roughly 4 SRM. It has honey on the nose, crisp hops on the front and mid. Full on the front, fades quickly to soft lager malt and hop floral.

The Commons Brewery
Denominator
Doppelbock • ABV: 7.8%
This lager has about a 30 SRM, rich dark amber. Sweet malts and burnt oats on the front. Notes on the mid and back are soft caramel and toffee rounded with oats and grain.
Firestone Walker Brewing Co.
Pivo Pils
Pilsner • ABV: 5.3% • IBUs: 40
Hops: Nobel German
Pilsner has light notes of grass and soft astringent esters (oily) on the mid and back with a bright yellow hue, roughly 6 SRM. FULL Carbonation and small bubbly head. Floral and wild/Belgium yeast on the back and after.

Heater Allen Brewing
Dunkel
Dunkel • ABV: 5.25% • IBUs: 24
Malts: Munich, Amber & Caramel, Carafa (German Black Malt)
Hops: Hallertau-grown Magnum , Spalter Select, German Saphir
I can not lie, this is one of my favorite local beers. All roasted malt, sweet sugar and full body with a roughly 20ish SRM with a mid-dark amber with hints of dried tobacco, berries and plums.

Oakshire Brewing
Reclamation Lager
Pilsner • ABV: 5.5% • IBUs:
Lighter colored pils with roughly a 6 SRM. It has a pepper-bready aroma. The front is all crisp floral and citrus hop characteristics. Czech style with malt and hops that present crisp and fresh styling.

Pyramid Brewing
Pyramid IPL
India Pale Lager • ABV: 6% • IBUs: 60
This IPL has a yellow-orange hue, roughly 12 SRM. It has all citrus (dried orange peel) and light floral notes on the front and nose. Full carbonation and head. Sharper hop esters on the mid and linger bitters of pine and wood on the back. Serious mouthfeel, this is IPA in the guise of lager.
Widmer Brothers Brewing
Red Card Pils
Pilsner • ABV: 5.2% • IBUs: 30
Unfiltered in appearance, with roughly a 12 SRM. Northern German style pils with full yeasty sweet nose, bread and citrus hops with chalky malt notes. Sharp hop crisp mouthfeel, Lingering after of orange, grass, sour yeasty biscuit. Almost off-putting from the lingering sour.