2015 BEER DISCOVERY TOUR: Rock Harbor Pub & Brewery, Rockland, ME (July 3rd, Brewery Stop #21)
The 21st brewery visited during our cross-country beer discovery tour (click to read about the whole trip) was Rock Harbor Pub & Brewery in Rockland Maine. Once we left the quaint town of Belfast, we headed south towards Portland, with a few stops along the way. The first stop was in Rockland ME at Rock Harbor Brewing. As our guide Eric had never been there, we were excited to give it a try. The pub and brewery is located along the main street through downtown, on-street parking only so you may have to walk a bit like we did as it was pretty busy in downtown when we were there just past lunch time.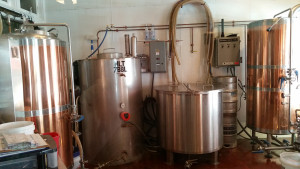 As you can see, the brewing kettles and such are located just inside, you can see them working during certain times of day brewing beer which is cool. We ended up sitting in the bar side of the restaurant in the window seats as there were not many tables open. As we were just staying for drinks, I ordered a set of tasters from the bartender and off we went. The bartender didn't really know a lot about their beers when I asked, she was kind and all, but referred to the cards on the sampler holder as she didn't know the IBU of any of them.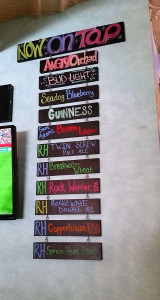 The overall atmosphere of the brewery/pub is really quaint, it's got a local vibe, and they serve some standard American beers that you can find at just about any bar. We were not really thrilled by this, but knowing one's audience allows for the owners to keep it going and the customers coming back if that's what they ask for. The restaurant side to the pub was pretty full of families eating lunch, so beware if you aren't into screaming kids, you might want to stick to the bar side.
The tasters showed up in two sets. Each has a identifier card with them which is a great way to teach the public when they order tasters, and it saves on having to write stuff out or print out sheets over and over if you intend on having the same beers around. This was one of the only breweries that used this method of identifying it's beers in taster sets that we visited on the entire trip. I think it's an idea that should catch on. Regarding a return visit to this brewery, that would depend on how hungry and thirsty I was and my ability to travel to other locations.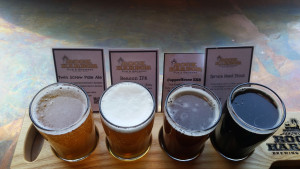 So, the beers we sampled were middle of the road, to not so good. They are clearly not trying to push the envelope on flavor profiles or styles, but I wasn't completely disappointed with what they offered. The best of them for me were the Twin Screw and the Rogue Wave. The rest were just so-so, but drinkable. The only one that really had some questionable flavors was the Rock Warrior IPA, it didn't have much of a hop profile, just bitter beer face.
Rock Harbor Pub & Brewery
416 Main St
Rockland, Maine
Ph: 207-593-7488
E: info@rockharbor.me
Web: http://www.rockharbor.me/
Face: https://www.facebook.com/rockharbor.me
Twin Screw
Rock Harbor Pub & Brewery • Pale Ale • IBU: 45 • ABV: 6.2% • 8 SRM
Orange-Yellow hue, clear draft, shallow head that dropped quickly and left a bit of bubbly lacing on the rim. The nose was more forward with a wet-grain aromatic and some notes of hop resins. The front to mid mouth are really malty and dry-grain forward with hits of sweet sugars and mild bitters. The mid to back has a lingering amount of dried bread-crust and some acidity from the hop oil/resins. Overall it's not exceptional, but drinkable.
Beacon IPA
Rock Harbor Pub & Brewery • IPA • IBU: ?? • ABV: 5.5% • 16 SRM
Mid-dark orange hue, frothy white head, lingering large bubbly lacing on the rim. The nose is tropical and citric acid, slight hints of raw grains. The bitters are forward on the front to mid mouth. It has a solid body, not chewy but there with a grain build that speaks to raw grains and plenty of grapefruit and tropical bitter profiles. The mid to back has lots of bitterness and sharp esters from the hops and ends with a lingering pine note.
CopperHouse ESB
Rock Harbor Pub & Brewery • Extra Special / Strong Bitter • IBU: ?? • ABV: 6.8% • 30 SRM
Darker amber hue, low off-white head that dropped to a film quickly, little to no lacing. The nose is slightly charred wood and smokey, with hints of toasted sweet grains. The front mouth is a bit strong in the roasted and sweet malt with little to no bitters showing up. Not sure if it's the malts or the yeast showing up on the tongue, but either way it is an interesting take on an ESB. For me, it's sweet and heavy enough to be classified as a Scottish Ale.
Spruce Head Stout
Rock Harbor Pub & Brewery • American Stout • IBU: ?? • ABV: 4.5% • 40+ SRM
Not completely black, rims off as brown/reddish, no head to speak of, no lacing. Nose is wet old coffee ground bitterness and hints of cocoa and malts. The thinner body makes this stout more like drinking an old cup of cold day old burned coffee. Not terribly pleasing on the mid to back mouth with the bitterness showing up, it drowns out what malt build there might be. This is definitely a beer that needs some tweeking.
Breakwater Wheat
Rock Harbor Pub & Brewery • American Pale Wheat Ale • IBU: ?? • ABV: 4.9% • 4 SRM
Bright, clean/clear yellow draft, solid pillowy white head with decent lacing as we sipped. The nose speaks to yeasty hefeweizen with notes of coriander and orange peel. The front mouth is more yeasty than the nose, but not too overpowering. The clove and estery citrus linger to the back, with some slight dried wheat/grains in the malt build. The flavors are decent but the mid to back lack the body that it should. It's a good sipper being low in ABV if you like wheat beers.
Rock Warrior
Rock Harbor Pub & Brewery • IPA ?? • IBU: ?? • ABV: 5.5% • 20 SRM
Darker orange/red hue, shallow foam head that dropped quickly, some small spidery lacing on the rim. The nose is shallow with some hints of hop resins and chewy grain. The front mouth has a thinner feel than I'd prefer, with the warrior hops expressing clearly on the tongue. The white-bread malt build does help carry this beer, mellowing out the strong bitter profile on the mid to back. The overall vibe is a so-so IPA, but no real hop flavors, just bitter beer face. Their claims of being the only IPA in America being made exclusively with warrior hops is total BS. They need to realize they aren't the first to try this out.
Rogue Wave
Rock Harbor Pub & Brewery • IPA – Imperial / Double • IBU: ?? • ABV: 9% • 16 SRM
Mid-amber, clear draft, some large bubbly white head that stuck around, some full white lacing on the rim. The nose is citrus/grapefruit like, slight hints of sweet/sugar malts. The front mouth is decent balance of malt and astringent bitters from the citrus hop profile. Some pine and resin do express on the mid to back. It hides the higher ABV well, with low alcoholic profiles and slightly sweet hints on the back (which tell you it's higher ABV).