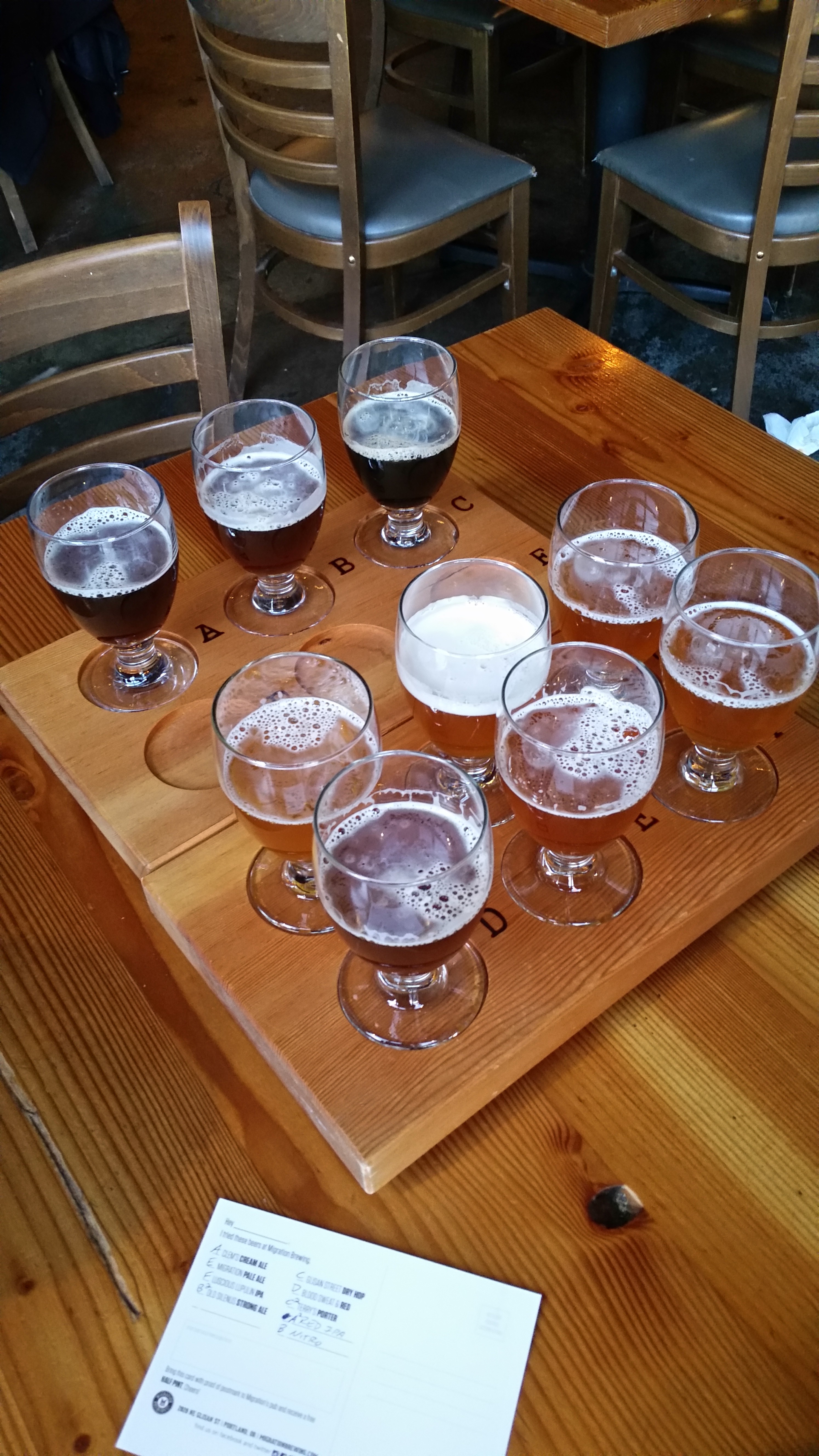 MIGRATION BREWING, PORTLAND OR
We stopped by Migration on a Sunday afternoon (30 Dec. 2014) as it's one of our favorite NE breweries in Portland and it's super conveniently located just south of NE Sandy off of 28th. They have a really friendly neighborhood vibe and super knowledgeable staff that make sure you're taken care of. Years ago, when they first opened, they had a patio and small inside that was always packed. Now, they have an annex next to the main room and that helps keep the crowds spread out. As with most small breweries that serve food, you will run into CRIpods everywhere, there is no safe place except standing at the bar. On that note, the patio is super cool to hang out at when it's nice outside and watch the kids run around if you're into that. The walls have some sports memorabilia in tribute to the Trailblazers and the Timbers. Look up and check out their limited run scarves hanging in the rafters. They do put sports on their HDTV's and run food/beer specials during games.
Regarding their food, it's somewhat limited to what you might consider as bar food, but it works when you're hungry and drinking their beer. They usually have at least 9 beers on draft, and sometimes way more than that depending on what they are up too in the brewery. Overall, it's a great place to hang out for a pint or tasters. We always make an effort to swing by at least once a month with friends to see what's new on draft as their beers are pretty decent and there's usually one or two that surprise us.
MIGRATION BREWING – http://migrationbrewing.com
2828 NE GLISAN ST. PORTLAND OR 97232
INFO@MIGRATIONBREWING.COM
503.206.5221
Here's a review of the beers we sampled, front 6 top left to bottom right, then back 3 left to right:
Style
Beer Name
ABV
IBU
Thoughts
Cream Ale
CLEM'S CREAM ALE
4.6%
22
This blond ale has a clean look and color (2) SRM and enough carbonation to make the mouth feel and nose distinct. The nose does have some slight hop esters present, but the malt and oats it's made with really do come through once you take a sip. The creaminess is there, especially when you take a larger swig and not just a sip.
Cream Ale
NITRO – CLEM'S CREAM ALE
4.6%
22
The nitro pour of Clem's makes this cream ale even smoother. The head is more delicate and the oats and hops are more present throughout. The nitro pour does have a 'flat' approach in the mouth feel, so if you're not into that, then don't drink it. The aromas and color are the same as the standard draft has, but the sweet from the malts comes through on the back mouth and aftertaste.
American Pale Ale
GLISAN STREET DRY HOP
5.1%
33
This pale ale is bright in appearance with about a (6) SRM and the nose speaks to the citrus hop profile. It screams of orange peel and bitters on the front and mid, with a surprising smooth finish. The hop build is subtle enough to make the hops less bitter and more rounded with each sip. This is one of my favorite Migration beers, as it's pretty close to being a light-session-able ale.
American Amber / Red Ale
BLOOD, SWEAT, AND RED
5.2%
56
This is a beautiful red ale (26) SRM or there abouts, with a light head and carbonation to bring the flavors direct to your mouth. The nose is somewhat hop forward and sharp hops. The mouth and front mouth are full of bitter esters of citrus and pine, with slight spicy and dry taste profile. Nothing super pronounced on the back/after taste.
American Pale Ale
MPA (MIGRATION PALE ALE)
5.6%
56
The Migration flagship beer, it is what I consider a NW style Pale Ale with the presence of well balance of sweet malts and astringent fruit hops. The color profile is a reddish orange (20) SRM, with light carbonation. The nose is sweeter than most IPA's would have with some pronounced malty biscuit present balanced with orange peel bitters. The front mouth is super forward of citrus hops and complex malts to help round it out. This is a straight up bitter beer, so consider yourself warned.
American IPA
LUSCIOUS LUPULIN IPA
6.5%
77
This lighter hued (12) SRM IPA has a distinct nose that is strong and sweet at the same time. Like the MPA, it's all citrus profile balanced with sweet malts brings a rounded approach to this strong IPA. It does have a dry bitterness on the back and after taste that lingers.
Hops: Centennial, Simcoe, Crystal, and Cluster
IPA
RED IPA
7.5%
85
This is a darker (30) SRM IPA with a deep red color. It has a sweet nose and balanced forward bitter ester mouth feel. The hops speak to piney and almost earthy notes on the mid and back, with a lingering astringent hop oil like after taste.
Old Ale
OLD SILENUS ALE
7.8%
75
This old ale has a super dark-red/brown profile (38) SRM and solid head. It has a sweet and full nose of biscuit and sweet wild yeast (Belgium ale like). The front mouth is all malt forward with fruit like characteristics. I noticed light cherry and cocoa on the back and a smooth finish. It speaks to me of ESB with a little kick.
American Porter
TERRY'S PORTER
6.7%
42
This porter is on the dark side, (40) SRM blackness. It has a robust burnt nose but the carbonation is not as thick as I'd like. The initial mouth feel is full bodied and roasted with a mild sweetness on the back that has lingering nuts and ash.