RAIL SIDE BREWING CO., VANCOUVER WA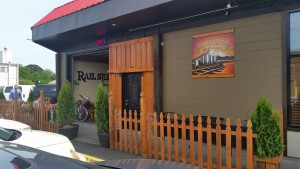 Back on Friday, May 29th. I met up with a few friends at this newly relocated brewery in the Hazel Dell neighborhood of Vancouver Washington, Rail Side Brewing around 3:30pm. It's located behind a large outdoor strip mall off of NE 76th st (behind the Natural Grocers and The Barbers). So if you don't use your GPS you'll have a tricky time finding it. The building is somewhat small, they take up 1/2 of it on the east side. The parking is on all sides so it was nice finding a close spot and not having to walk. They usually have the front garage door open, so you can easily see how busy it is. They also have outdoor seating for the smokers.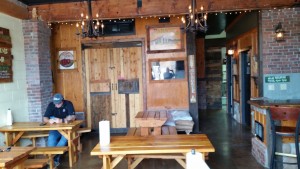 The original location that I had visited a few years ago was in Washougal WA (now occupied by Doomsday Brewing), and this spot isn't much bigger in size. They do offer pizza and some snacks which are made on site. A few people at the table I was at ordered the nachos, and OMG they were HUGE and looked really good. The main room has a small bar you can sit at, with a few other small tables. If you are going to meet a large group, hope you get there early (open at 3pm daily) and grab one of the bigger ones. There tends to only be one server, Olga, and she's the wife to the owner/brewer. She does her best to get to everyone, but it's best to order at the bar where she's usually pouring beer.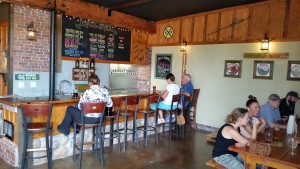 The production area is in a room with only a small window to look in on the back side of the main seating area. We didn't really get to check out how many and what size tanks they have, but I'm sure it's the same amount as their Washougal location if not more. They were out of a few beers when I got there which sort of sucked and when I was done w/ my sampler, they had just ran out of the porter. Their available beers were a bit one-dimensional in that it was a lot of IPA's/Pales with similar hop qualities and profiles. The malt builds used did help differentiate the beers, but the strength of the hop flavors tended to be similar. While they were all good, nothing bad, I would hope that they tweek the recipes a bit to give a bit more variety among the IPA's they have. Overall, I'd definitely go back and support this small operation if I was in the area. I have a few friends that live nearby, so I may be stopping in a few times a month. In the end, my favorite beers were the One-10 Wheat (heffeweizen) and the Tindberbox Porter.
Rail Side Brewing Co.
309 NE 76th st
Vancouver, WA 98665
P: (360) 907-8582
E: railsidebrewing@gmail.com
Web: http://railsidebrewing.com/
Face: http://www.facebook.com/pages/Railside-Brewing-LTD/234022806654370

Trestle Northwest IPA
Rail Side Brewing Co. • IPA • IBU: 72 • ABV: 6.9% • OG: 13°P • 12 SRM
Hops: Summit, Cascade
This amber IPA had a nice head, solid lacing on the rim from the stark white foam, and a soft nose of sweet malts and citrus hops. The front and mid mouth are pretty solid with a malt backed, slightly sweet IPA bitter profile of citrus and earthy notes. The back is pretty smooth and clean.
Hopper Car
Rail Side Brewing Co. • IPA • IBU: 77 • ABV: 6.8% • OG: 13°P • 6 SRM
Hops: Chinook, Summit, Cascade
Bright yellow hue, white pillowy head, subtle lacing on the rim, slight floral and yeasty nose. The front and mid are pretty sharp citrus rind and earthy/grassy notes with a pretty solid body. The mid/back drops off pretty quickly, no real lingering bitters, just a hint of grassy yeast.

Last Car
Rail Side Brewing Co. • Imperial / Double Red IPA • IBU: 75 • ABV: 6.8% • OG: 18.9°P • 18 SRM
Hops: Summit
This amber/orange hued IPA has a nice white fluffy head and a slight sweet and citrus/hop nose. The front mouth is lots of floral and citrus (orange rind) and dry pith that lingers to the back mouth. This mid-bodied IPA has a pretty decent mix of bit profiles that end with a bit of oily/resin sharpness, but are backed with a nice malt build and rounded back.

Rail Side IPA
Rail Side Brewing Co. • English Style IPA • IBU: 55 • ABV: 6.2% • OG: 14.7°P • 24 SRM
Hops: Summit, Cascade
Nice red/orange to amber colored IPA with a low-volume head that dropps off. The nose is a little sweet with breads and grains and subtly yeastiness. The mouth feel is a bit thin and is lacking a little in carbonation. The malts do shine from front to back, with a nice floral and pine/resin hop profile. The back end was a bit shallow and didn't have any lingering characteristics.

Rail Side Pale
Rail Side Brewing Co. • American Pale Ale • IBU: 39 • ABV: 5.7% • OG: 13.8°P • 26 SRM
Hops: Mt. Hood, Willamette
This somewhat amber/red hued draft had really no head, and low carbonation. It didn't leave much lacing on the rim, and had a really sweet/yeasty nose that ran from citrus to earthy/leaves. The initial front mouth is a little bit off-putting to me. There is a chalky/resin quality to the malt build and hop profile that seemed challenging and didn't sit right for a standard pale ale. There is a lot of citrus pith, acidic notes, and earthy qualities to the mid and back.

One 10 Wheat
Rail Side Brewing Co. • Hefeweizen • IBU: 26 • ABV: 5.6% • OG: 13.3°P • 4 SRM
Hops: Mt. Hood
Cloudy straw yellow colored draft with a bright and bubbly head. The nose is really strong in unfiltered yeast, clove and banana's. This is a standard Bavarian Hef, but they served it with an orange slice instead of lemon. I chuckled a bit at that. The clove and yeast profile lingers from the front to back, leaving a nice solid after taste of banana's and clove and a subtle hint of dry citrus hops.
TinderBox
Rail Side Brewing Co. • Porter • IBU: 27 • ABV: 6.3% • OG: 15.5°P • 35+ SRM
Hops: Mt. Hood
This porter pours with a slight off-white/tan head that dropped quickly. The body is a little bit transparent and not completely opaic. The nose has a bit of roasted grains and sweet malts. The front mouth is thin but a has a lot of effervescence and carbonation. The thin quality to this porter makes it more approachable than most. There is little/low coffee notes on the mid, the bitters come from the toasted grains that present on the back.

Old Railroad Tunnel
Rail Side Brewing Co. • Rye IPA • IBU: 56 • ABV: 6.2% • OG: 14.7°P • 16 SRM
Hops: Summit, Cascade
This is a cloudy slightly orange hued IPA. The head drops quickly leaving a little bit of spider web lacing on the rim. The nose is a bit of sweet grains, citrus/fruit, and dry grains. The front/mid mouth is full of a well balanced mix of malt body and hops that bring in citrus rinds/pith, dry grains, slight sweet sugary notes, subtle yeasty and chalk like coating of the mouth happens as well.