STOP MADRID, MADRID SPAIN

This has been a neighborhood hangout for over 100 years and if the walls could talk? OY VEY!!!. Old wood framing the shelves of wine and tapas display and hand tiled flooring speaks to the age and established character. Incredible wines available by the glass with friendly staff to help you decide, even in English! We were hesitant at first due to the crowd of people inside, but luckily found a table (barrel top) to sit at in the back. The servers did provide us some tapas for free with our beers, nothing special. We did notice that a number of people around us had ordered a variety of food and it looked delicious.
The wine selection is pretty amazing (as you can see from the pictures) and really cheap per glass. Their beers range from local, regional and a few international bottles and drafts. Yes, you can see that they have a Mexican beer listed, it's an import you know. 🙂
Below is a list of the few beers that I was able to try while we sat. The bar did slowly get more and more crowded as we were there, so we bailed after an hour of loud people sitting around us.
www.stopmadrid.es
https://www.facebook.com/StopMadrid
CALLE DE HORTALEZA, 11
28004 MADRID, SPAIN
email: stopmadrid@stopmadrid.es
Ph: +34 91 521 8887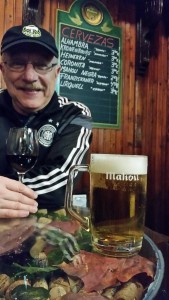 Mahou ESP
Mahou (Grupo Mahou-San Miguel – Carlsberg) • Dunkel/Tmavý • ABV: 5.5% • IBUs: ??
Nice light yellow hue, 6ish SRM, with a white frothy head, clingy lattice on the glass. It has a pilsner type nose with slight herbal dry bitters on the front mouth feel. Dry and clean hops on the mid and back with low malt presents make this a really session-able Spanish lager.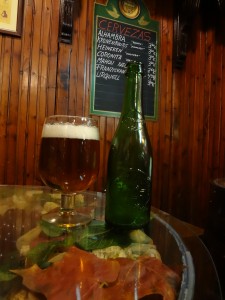 Alhambra Cerveza Extra Reserva "1925"
Grupo Cervezas Alhambra, SL • Euro Pale Lager • ABV: 4.5% • IBUs: ??
6.4% ABV, green bottling with embossed text on the glass. Looks like a clear amber lager with a low level of carbonation as the small head went flat quickly. No foam cling apparent on the glass. Traditional lager/pils nose with light herbal, piney, and dry hop style. Effervescence of dry bitters on the front with each sip. There is only a mid-bodied skunk like after taste. Not terribly memorable as far as Spanish lagers go.