2015 BEER DISCOVERY TOUR: Modern Monks Brewery, Lincoln NE (June 28, Brewery Stop #12)
The 12th brewery we stopped at on the cross-country beer discovery tour (click to read about the whole trip) was Modern Monks Brewery at Misty's Steakhouse in downtown Lincoln NE. After a great Sunday of beer discovery and hanging out with the family, we went to dinner at one of Lincoln's oldest steakhouses, Misty's. I had never been to their downtown location, which as it turns out, has a brewery inside, called Modern Monks. I wasn't able to get a lot of pictures as we got there as the dinner crowd was picking up and it got dark in the area.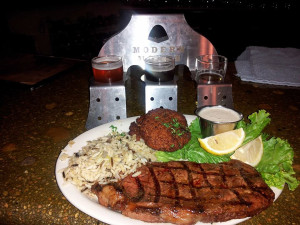 It's suggested to get reservations as they do fill up quickly. There's a brewery production area behind some larger windows on the north side of the restaurant area. They have a small bar and some seating at the front of the restaurant as well, but we got sat way in the back so we didn't get much of a chance to check out the scene up front. They have six regular beers on draft at all of their restaurant locations, and one or two seasonals depending on the time of year and location. I did see that they do can a couple of their beers and do regional distribution when we stopped at one of the local bottle shops the night before.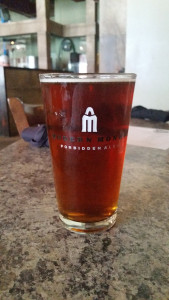 As you can see, the food is quite delicious (especially the steak), and they do offer tasters of their beer in a six sampler tray of their beers. The overall vibe of the restaurant is quite upscale for Lincoln. There are however, no rules against bringing little kids to dinner, and we suffered through a few crying kids the entire dinner. We were not terribly impressed with the beers unfortunately. The tasters disappeared quickly and I ended up ordering a pint of the Alt as it was drinkable. I again appologize for the lack of pictures, it was somewhat of a special dinner with my dad and step-mom, so we didn't do much gabbing about the beer as we usually did on the trip.
Modern Monks Brewery @ Misty's Steakhouse
200 N. 11th St.
Lincoln, NE 68508
(402) 476-7766
E: info@modernmonks.com
Web: http://www.modernmonks.com/
Face: https://www.facebook.com/modernmonks?fref=ts

Kölsch
Modern Monks • Kölsch • IBU: ?? • ABV: ?? • 4 SRM
Bright clear yellow hue, small white head that dropped quickly, leaving minimal lacing on the rim. The nose is a little bit grassy hops, little bit cracker malts, and a hit of sweetness. The front mouth is slightly sweet, dry citrus hops, rounded with the malt backing. The back is a bit dry and citrus hoppy.

Monkadelic American Pale Ale
Modern Monks • American Pale Ale (APA) • IBU: ?? • ABV: 4.2% • 12 SRM
Slight muddy/cloudy draft, mid-dark copper colored, super frothy white head with good retention. There is a sweet malt and metallic note on the nose that is weird (almost wild yeast like). The front and mid mouth are over-carbonated, a little bit sweet, malty-forward, slight yeasty sharp bitters on the mid to back. More like a Belgium style IPA than APA with the amount of citrus and grapefruit hops that show up on the mid to back mouth.

Stonehenge Orange Wheat
Modern Monks • American Pale Wheat Ale • IBU: 16 • ABV: 4.7% • 8 SRM
Slight cloudy and mid-yellow hue draft with a shallow foamy white head. The nose is a little orange peel, some unfiltered yeast, slight spice like corriander (hefe style). The front mouth is a little bit dry, good full bodied, mid-carbonation, decent shallow hint of orange peel/rind with the spice on the back.

Altbier
Modern Monks • Altbier • IBU: 34 • ABV: 4.6% • 30 SRM
Darker amber draft with a minimal head that dropped to a sheen with no lacing. The nose is sweet, toasted grains and breaddy malts. There is a slight hint of crisp hops on the front mouth with a strong-malt presence. The full-bodied and mild carbonated beer has a decent balance of malts and hops on the mid-back to hold it together.

Fried Tuck Robust Porter
Modern Monks • American Porter • IBU: ?? • ABV: 4.2% • 40+ SRM
Dark black and brown edging, full tan frothy head that dissipated quickly, leaving a lot of sticky lacing on the rim. Nose is pretty roasted and burned coffee with some hits of sweet milk and some back solid woody notes. The front mouth is pretty thick, full bodied, cocoa-beans, burned coffee on the mid. The mid-back is not as carbonated as I'd like in a porter, but this beer does have a solid mouth-feel. The back does go down smooth, creamy milk-chocolate like.

ESB
Modern Monks • Extra Special / Strong Bitter • IBU: ?? • ABV: ?? • 26 SRM
Dark amber-red hue, small off-white head that didn't last but a moment, little to no lacing. The nose is a bit sweet and bready with a dry hop present. The front to mid mouth is a bit over-sweetened and burned toffee on the mid. The back has a shallow dry hop resin with the slight metallic after-taste.