Review: Wayfinder Beer, Portland, OR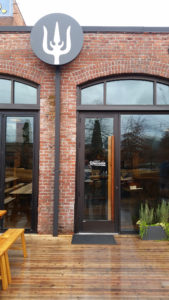 We set out on Sunday 20th November 2016 to visit 4 breweries that were new and unknown to us in the Portland/metro area. The first stop was Wayfinder, they had the best (only) food reviews of the four breweries we intended to visit, so that's where we started.
They are located in the SE industrial district of Portland, about 1/2 a block from Produce Row on on SE 2nd. They have a huge patio and walkup to the front of the brewery/restaurant, and inside, they have a bar area, restaurant area, brewing production area, and overall commercial vibe. The unfortunate thing was that they were not producing beer on site when we visited in Nov. They were doing collaborations with various other breweries, and still are to this day.
We were able to find a table in the bar area, and ordered a lineup of tasters of their beers (all 4 of them) and some food for lunch. The menu changes between lunch and dinner, so depending on when you go, it will range from decent 'top end' bar food, to really good dinner food.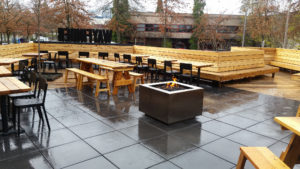 The beer list is quite extensive with imports from Europe and all over the west coast, including some ciders. We ordered pints of other beers (not theirs) after we did the tasters as it was too tempting to get a good German beer with the brat I ordered.
So, as you can see, they are really trying to have a great commercial space that has great food and beers. This is definately a place I'd go back for the food and the beers, regardless of what they have available from their own collaborations. If you're looking for something new and different in this part of town, give them a try and swing on by. On street parking is there, but you may have to walk a little bit depending on when you go. Out of the four beers we tried (collaborations), the Bon Voyage Belgian Pale Ale was really nice. The reviews are from left to right as pictured.
Wayfinder Beer
304 SE 2nd Ave.
Portland, OR 97214
Phone: 503-718-23377
E: info@wayfinder.beer
Web: http://www.wayfinder.beer/
Face: https://www.facebook.com/wayfinderbeer
New Kids Pale Ale
Wayfinder Beer/Pints Brewing • American Pale Ale • IBU: 40 • ABV: 5.7% • SRM: 12
Amber/orange draft with a solid white foamy head with tons a lacing and retention. Nose is bright grapefruits and pine. The front to mid is bitter with strong grapefruit pith and juice, herbal and vegital hops, solid carbonation and mouthfeel. The back fades only after a bit of dry bitterness (fruit pith).
Bon Voyage
Wayfinder Beer/54-40 • Belgian Ale • IBU: 33 • ABV: 7% • SRM: 6
Bright golden clear draft with a frothy small bubbly white head with tons of retention and lacing. The aromatics are sweet and malty with sugars showing up. The front mouth is spicy, clove and yeasty with a great mouthfeel that's chewy and solid. The hops range from floral to herbal/vegital and have and end note of pine. The yeast is there, but the shallow crakery malts cover it up a bit.
Nom Noms
Wayfinder Beer/54-40 • India Pale Ale (IPA) • IBU: 65 • ABV: 7% • SRM: 10
Cloudy orange/yellow draft with a solid large bubbly head, with a lot of lacing and some retention. The nose is pine, citrus, pineapple, and yeasty. The front mouth is similar to the aromatics with expressed pine cone, citrus, sweet dried fruits, and hints of yeast. The malts are really secondary to the hop profile. The medium bodied draft has minimal carbonation and low malts that are covered by the hop profiles.
Woodshed
Wayfinder Beer/Pints Brewing • Smoked Porter • IBU: 35 • ABV: 5.7% • SRM: 40
Solid opaic bitch black draft with a tan shallow head with little retention and no lacing. The aromatics are cocoa powder and coffee with hints of ash. The front mouth is complex with sweet grains, molasses, burned toffee/sugars, and coffee notes. The malts hold most of the profile, with minimal hops showing up. The medium bodied, fully carbonated draft has lots of smoked characters and bitters on the back.