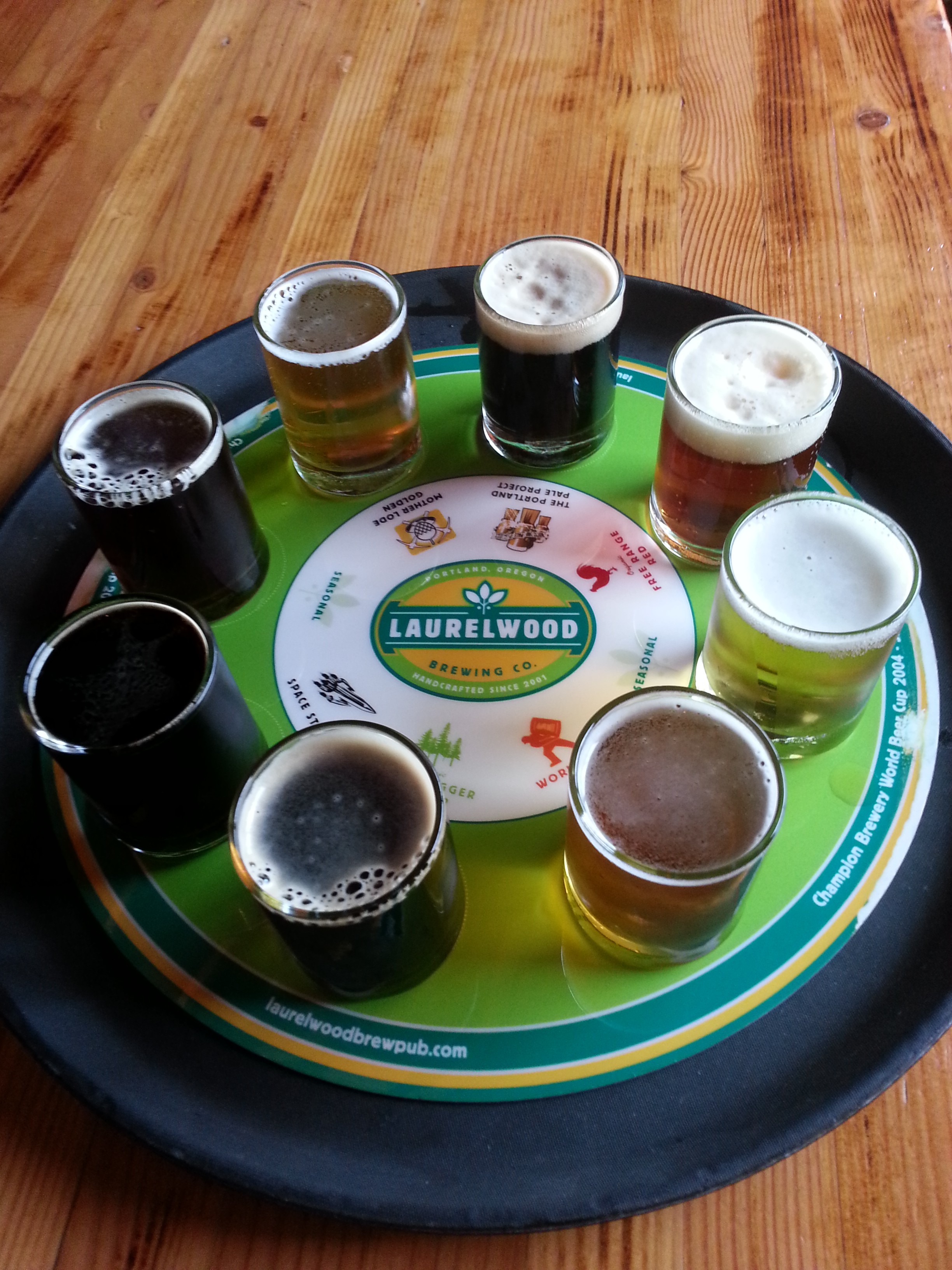 LAURELWOOD BREWING, PORTLAND OR
This was the second stop on our Black Friday brewery crawl (28 Nov. 2014). The NE Sandy brewery location has some parking on the back and east side of the building. Inside, it has some windows to look in on what the brewers are up to and a full accompaniment of swag from clothing, hats, sauces (mustard, BBQ, etc.) for purchase at the front counter. The restaurant itself is broken into a few parts. The two main sections inside are for kids and large groups, the patio is only used during warm weather months. The bar area has self seating as well as seated booths towards the back. Keep in mind, that there are always a lot of kids in this restaurant, so you can not really get away from the criPODS if that's important to you when enjoying a beer.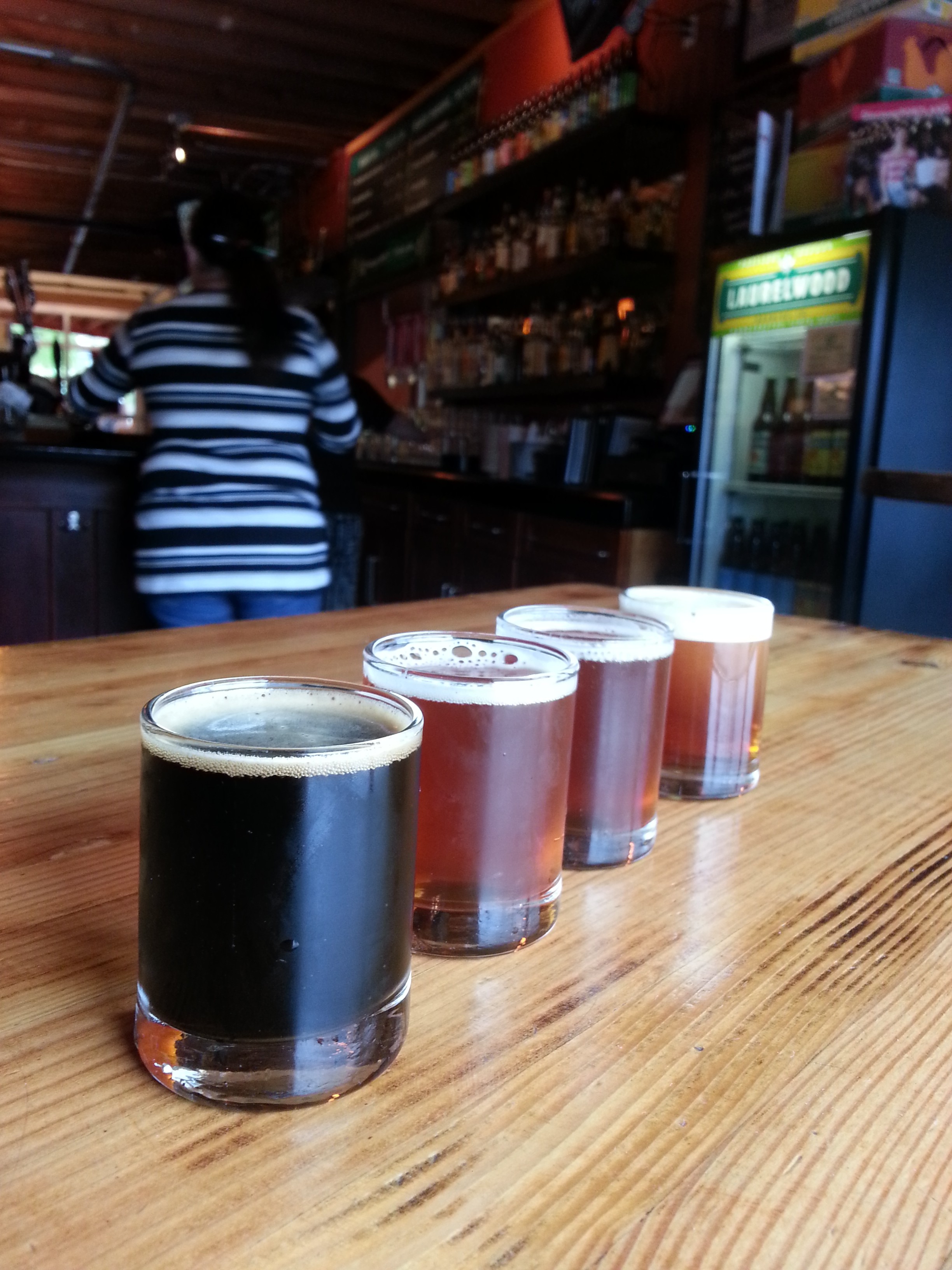 The bar area is where we sat, next to the NE Sandy street entrance at a long table top in front of a huge picture window to watch the cars and people go by. The service at this location has always been good, and the bartender was quick to come over. Their menu is full of vegetarian, organic, vegan and meat loving meals and snacks. I haven't ever had a bad dish at this restaurant, so ask the server what's good that day. They do have a number of daily specials as well.
We ordered a 'taster of everything' and we got 12 different tasters. The bar tender was nice enough to make sure we didn't have any questions about the beers, and he pointed out the special seasonal list for us to reference. Ultimately, we enjoy this brewery and they do have smaller locations around Portland, including the Portland Airport where you can get their swag and beers to go after security.
LAURELWOOD BREWING – www.laurelwoodbrewpub.com/
5115 NE Sandy Blvd
Portland, OR 97213
(503) 282-0622
Here's a review of the beers we sampled going clockwise around the tray, then the additional four from left to right:
Style
Beer Name
ABV
IBU
Thoughts
American Amber / Red Ale
FREE RANGE RED ALE
6.2%
60
Free Range Red has a deep copper-color, full head and clean nose. The front has tons of fresh hop flavor with a medium in body. Caramel is balanced with hop flavors, smooth to drink and has a well rounded feel on the mid/back.
OG: 14.3ºP | TG: 2.2ºP
Malt: 2-Row, Crystal, Dextrin Malt
Hops: Cascade, Newport
American Pale Ale
CABLE KNIT PALE ALE (RYE)
5.4%
40
This is a seasonal beer from Laurelwood and part of their ongoing Pale Project. Has a bright yellow SRM (3) and decent carbonation. The dry-peppery spices are pronounced on the nose and front of the mouth. The beer is crisp on the front and smooth on the back. Not terribly bitter, but with enough hops to balance the sharp spices.
OG: 12.5°P
Malt: Crystal, Munich
American IPA
WORKHOURSE IPA
7.5%
80
This is their 'go-to' NW style IPA. It is full bodied, clean SRM (14) appearance and a full head. It has a full chewy mouth feel and the astringent esters are on the nose and throughout the mouth. There is a slight sweet/malt balance on the back to help it be more approachable than IPA's with this amount of flavor profile.
OG: 17ºP | TG: 3ºP
Malt: Great Western 2 Row, Crystal Malt, Dextrin Malt
Hops: Citra, Galaxy, El Dorado, Columbus
American Porter
TREE HUGGER PORTER
5.8%
45
This full bodied porter has a dark (26/27) SRM and creamy head. It has a dry, rich chocolate malt profile. The nose is burnt oats/bitter chocolate in character. It has a full mouth feel and slight toasted back end/after taste.
OG: 14ºP | TG: 3.2ºP
Malt: Organic 2-Row, Organic Crystal, Organic Carafa, Organic Chocolate, Organic Dextrin
Hops: Organic Newport, Organic Cascade, Organic Fuggle
Stout
SPACE STOUT
7.5%
50
This GABF and World Beer Cup winner is a super dark (30) SRM, super thick head, and rich coffee and bitter chocolates on the nose and front mouth. This stout brings the better aspects of 'chewy' for a rich, roasted beer. Great if you love coffee, not so much if you don't.
OG: 16.5ºP | TG: 4ºP
Malt: 2-Row, Crystal, Black and Chocolate malts
Hops: Nugget, Mt. Hood
Winter Ale
VINTER VARMER
6.4%
49
This winter ale has a strong body, spicy toasted nose and dark (30) SRM color. The full mouth feel is balanced with spicy and burnt caramel. There are hints of roasted malt and a dry finish on the back end. There is a slight lingering bitterness, but it dissipates quickly.
OG: 16ºP
Golden Ale
MOTHER LOAD GOLDEN ALE
5.1%
25
World Beer Cup and GABF medal winner (multiple years) is a light ale – (4) SRM, with a decent crisp front and high carbonation. It's a great starter beer for those that aren't interested in strong hop profiles or bitterness. The thinner feel does allow one to drink it quickly without feeling like they just drank a meal.
OG: 12ºP | TG: 2.2ºP
Malt: Great Western 2 Row, Dextrin Malt, Crystal Malt, Flaked Barley
Hops: Columbus, Cascade, Ahtanum
Baltic Porter
St. WENCESLAUS WINTER BALTIC PORTER
9.5%
50
I love Baltic porters and this one doesn't disappoint. SRM is completely dark at 30, full bodied head/carbonation. The nose is clean with sweet fruits and burnt ash on the front with most Baltic style porters. The fruit and malts really balance the mild hop profile with low amount of dry/esters on the mid and back. The ashy character is really balanced on the mid, and almost has a thin/alcohol feel due to the high ABV.
OG: 23ºP
American Stout
ORGANIC PORTLAND ROAST ESPRESSO STOUT
6.3%
34
The coffee on this stout is on the nose, mouth, and after taste. If you don't like coffee, don't try it. The SRM (28) is dark and rich like coffee. The roasted malts and lack of any bitterness from hops allows for the coffee and lighter chocolate flavors to explode.
OG: 15°P
Malt: Organic two row, Organic Crystal 60, Organic Roast Barley, Organic Carafa, Organic Chocolate malt, Organic Coffee
Hops: Nugget and Cascade
American Amber / Red Ale
RED ELEPHANT IRA
6.8%
77
Brings together a strong IPA hop profile of their Organic Green Elephant with the malt balance of the Free Range Red. The nose is bright with citrus and esters. The SRM profile is rich red (29) and carbonation is throughout. The mouth front and mid are both caramel malts balanced with pine and tropical fruits/citrus. The beer is somewhat of a contradiction and hybrid of a red ale and IPA.
OG: 16.3ºP
Fruit Ale
PUMPKIN ALE
7.2%
22
The pumpkin ale is common in October and November around Portland. This beer is in the middle of the road regarding the one's we have had. It's got a bit of a pumpkin nose, not terribly sweet and the SRM is mid-range (25) for amber beers. The mouth feel is full-on with lighter spice and pumpkin being there, but not over powering.
OG: 17ºP
Winter Ale
Cask Pour: VINTER VARMER
6.4%
49
The cask version of this winter ale is amazing. Served at a tepid temp (almost warm) lets the spicy aromas on the nose really come through. Just like it's carbonated version, it has a strong body and dark (30) SRM color. The mouth feel is sweeter and malts really speak with balanced spices. There is sweet on the back end as well with a slight lingering bitterness.
OG: 16ºP