CERVESERIA LA RESISTÈNCIA, BARCELONA SPAIN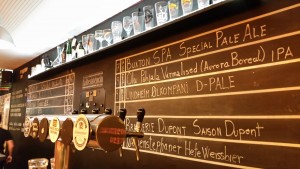 The last of the beer bars in Barcelona we visited in January 2015. Located in central downtown, we walked around a bit and then had to hang out front until they opened in the evening. It seems that this is a pretty popular bar with both locals and visitors as there were a few other people, patiently awaiting their draft of beers with us. The location is a somewhat small 'hole-in-the-wall' that has a bar up front with limited seating along it and a few tapas dishes if you're hungry. A chalkboard with the draft lineup behind the bar provides lots of useful information about each of the beers they are pouring. The bar itself is somewhat small, so you might want to look for a table in the back if there are more than three of you in a group. The walls are covered with interesting art and prints from the past and local, recent artists.
Don't be surprised if you hear a variety of languages being spoken in this joint. We ran into a group of Brits at BierCab and then again at La Resistència. They were happy to chat us up while we imbibed.
The server was super friendly and wanted to make sure we had some tapas with our beers. We had eaten already so we didn't really eat, just nibble a bit. The beers that they had were from a variety of countries and covered a decent range of styles. Below is the list of the three that I tried.
http://www.cerveserialaresistencia.tk/
https://www.facebook.com/cerveseriaresistencia
Viladomat, 107
Barcelona, Spain 08015
Ph: +34 930 07 42 01
Hours: 17:00 a 24:00 h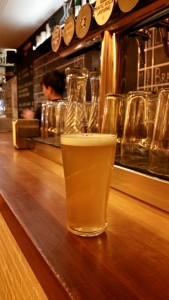 Espiga Blonde Ale
Companyia Artesana Maians • American Pale Ale • ABV: 4.5% • IBUs: 25
Espiga Bonde Ale is really bitter with herbs and citrus on the nose and front. It has a pale-hazy yellow appearence and the head does cling leaving a nice lattice on the glass edge. The front is all dry with a wash of hop esters that coat the mouth and linger well beyond the swallow. This is a really bitter hoppy beer.
Buxton SPA
Buxton Brewery • Golden Ale/Blond Ale • ABV: 4.1% • IBUs: ??
Mid-Amber yellow 14 SRM with an off-white head which goes flat fairly quickly. There are floral, grapefruit, and pine notes on the nose. Hop profile is strong with a wide range of bitters on the front mouthfeel. Citrus, grass, and pine cones peek on the mid, with balanced malts to round it out on the back side.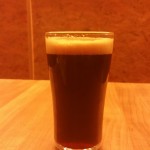 God Jul
Nøgne Ø • American Pale Ale • ABV: 8.5% • IBUs: 30
30+ SRM of dark brown goodness. Slight off-white head that lingers. This winter beer hits you like a runaway semi…The nose is really sweet and spicy, the mouthfeel is thick with the 8+% ABV present on the front as well. There are also sweet burnt sugar and spices that go from the nose to the front/mid. Mid/back show pepper and sharper spices than the front. True winter in a glass.