2015 BEER DISCOVERY TOUR: Allagash Brewing Company, Portland, ME (July 3rd, Brewery Stop #24) (recovered post)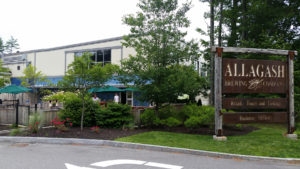 The 24th brewery visited during our cross-country beer discovery tour (click to read about the whole trip) was Allagash Brewing Company in Portland Maine. After lunch, and a few breweries in downtown Portland, we drove out to the west end of town where Allagash is located. It wasn't terribly hard to find, it's in a large industrial complex with a few other smaller nano-breweries located towards the entrance to the complex.
This was one of the top breweries that we visited on the roadtrip, and one with some of the highest expectations that were all met and exceeded. As you can see from the photos, the brewery has a large parking lot and during peek visiting seasons (summer time), they have someone outfront to greet you. We didn't know what to expect, I thought it was the valet or something, but it's someone to help
with the explaining how their taproom works and what you'll find inside. They also offered parking suggestions when the lot gets full, which it almost was when we arrived.
The taproom is spacious, lots of tables and a large bar to sit at. The production facility is visible through the windows behind and along side of the taproom, and they do provide tours to customers on a frequent basis. The swag area is towards the front of the room, with some off-sale bottles to go and growler fills available.
We we walked in, we found it to be really busy, but were able to find some chairs on the end of the bar. When we presented the tasting tickets to the server, he was happy to explain to us that it's for full pours, not small tasters. So as you can see from the pictures below, they had four primary beers on draft and a seasonal one-off to sample.
We were amazed that the tickets we got provided us with free pours (a bit bigger than a small taster). The bartenders spent some time explaining each of the beers they offered, with tasting notes/cards available to take with you. The really cool thing is that when you go with more than one person, you can ask for some samples of their special beers that they don't distribute or only have limited availability with on site.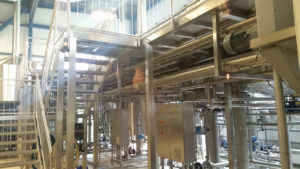 We took advantage of this and tried some of their rare beers and purchased a few before we left.
Overall this was one of the best brewery stops on the entire trip. We purchased some of the Cuvée d'Industrial bottles which were limited to 2/person and have added them to our rare-beer collection back home. The lineup of beers we sampled was strong and by far the best Belgian beers I've had. The reviews are below, left to right in the first picture. For me, the best of them was the Confluence, which was a hybrid fermentation blending their Belgian ale yeast with their special Brettanomyces yeast strain. I can't speak enough about how excellent their staff treated us, the great learning environment, and laid back vibe they had.
I would highly recommend this brewery to anyone that's in the Portland Maine area and will definately make a return visit when I'm back on the east coast.
Allagash Brewing Company
50 Industrial Way
Portland, Maine, 04103-1042
Phone: 800-330-5385
E: info@allagash.com
Web: http://www.allagash.com/
Face: https://www.facebook.com/AllagashBrewingCompany/

House Beer
Allagash Brewing Co • Belgian Pale Ale • IBU: N/A • ABV: 4.5% • SRM: 5 • OG: 1.042
GRAINS: Allagash 2-row Malted Barley Blend, Victory, Carapils, Raw Wheat
YEAST: House
HOPS: Tettnang, Nelson Sauvin, Cascade, Cz Saaz
Hazy golden hue, slight fluffy head with some spidery lacing on the rim. Aromatics are dried fruit ranging from pears to apples. The front mouth is dry and yeasty with a bit of spice that expresses towards the end. The mid to back mouthfeel is effervescent with a drying out and delicate bitterness. The closest style I can identify this with is a Belgian pilsner.

Speciale Blonde Ale
Allagash Brewing Co • Belgian Pale Ale • IBU: N/A • ABV: 5.5% • SRM: 5 • OG: N/A
GRAINS: Allagash 2-row Malted Barley Blend, Munich, Raw Wheat
YEAST: House
HOPS: Chinook, Jarrylo
Ligh golden and slight hazy color. Head was minimal and lacing slight on the rim. The aromatics are spicy, herbal, fruity. The front is solid, full bodied with a ton of fresh cut grass, herbs, hop resin, and a thin cracker malt build. The mid to back is bitter and has spices including pepper and corriander that express towards the end.

Confluence Ale
Allagash Brewing Co • Belgian Ale • IBU: N/A • ABV: 7.4% • SRM: 5 • OG: 1.063
GRAINS: Allagash 2-row Malted Barley Blend, Pilsner Malt, Caramel Malt
HOPS: Glacier (dry hop prior to bottling) and Tettnang
YEAST: House and Brettanomyces
Bright golden hues with a slight haze. Head is fluffy and white with decent spidery lacing as we sipped. The nose has some fruit and spice, hints of oak and nuts. The front to mid mouthfeel is solid, lots of carbonation, tart with lemon zest and fruity esters/juice. The spice shows up on the mid to back with pepper, lemon zest, and some hop resins. There is a bit of yeast funk on the mid to back, with a lingering acidic spice.

Dubbel (Double) Ale
Allagash Brewing Co • Belgian Ale • IBU: N/A • ABV: 7% • SRM: 25 • OG: 1.063
GRAINS: Allagash 2-Row Malted Barley Blend, Victory, Carapils, Malted Red Wheat, Munich, Black Malt
HOPS: Nugget, Saaz
SPICES/OTHER: Dark Candi Syrup
Dark red/maroon hues with a slight off-white head with limited retention. The aromatics range from nutty to raisin with hints of Belgian funk. The front mouth is a bit strong with the malts expressing nutty and sweet caramel notes. The hops and wood notes come through on the mid-back with some tobacco and darker fruits showing up. Has a slight dry finish.

Cuvee d' Industrial
Allagash Brewing Co • Sour/Wild Ale Blend • IBU: N/A • ABV: 7.5% • SRM: 12 • OG: N/A
Pale hazy yellow with minimal white head that dropped to a sheen. The nose is zesty with hints of wild yeast. The front mouth is bright, lemon, fruity, funk that have old leaves and acidity. The fruit blends well, the oak and wood show up on the back. This is a blend of over 5 years of beers, so it's got a really deep range of flavors.