2015 BEER DISCOVERY TOUR: New Belgium Brewing Co., Fort Collins Colorado (June 25, Brewery Stop #3)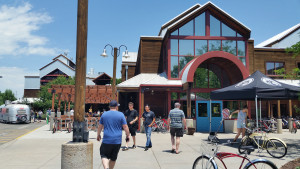 The third stop on our beer discovery tour (click here to read about the whole trip) landed us at New Belgium in Fort Collins Colorado. This well known establishment is just a few minutes from Odell Brewing. This is one of the best known micro-breweries in the US with Fat Tire Amber Ale being their largest distributed beer. The company is 'employee-owned' so it's definitely got a 'sort-of-corporate-while-not-trying-to-be' vibe going on with all the low-key stuff on their walls and 'community' atmosphere. The main building gets lots of visitors, so parking can be an issue. Just inside, they have a BUNCH of swag for sale and a bar area to get samples, pints, growler fills, and bottles to go.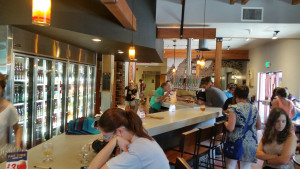 Once inside, we decided to grab a small table once one came open and ordered a few samples at the bar. They do offer everything they distribute in bottles and cans via tap there on site, as well as a few experimental and one-offs that are not distributed. We decided to try the one's we had not had before with the local only beers. We did have to deal with a LOT of kids running around (young to teenagers), so if you don't handle those well, then this is not your place to go. They do offer some tours of the facility which require you to sign up before. There are some production kettles and informational stuff just past the bar area (see pics below).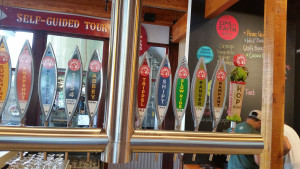 Ultimately, the beers we tried were good, surprisingly the 'Beer-Mosa' was the best out of the lineup. We aren't sure that we'd ever go back since it seems to be 'family friendly' and that isn't really our thing. We prefer to drink our beer without kids under-foot or being loud. If you are a fan of their beers, definitely recommend stopping by, the samples were pretty cheap and the bartenders were pretty attentive to us when we ordered. Review of beers go right to left from the picture below with Gary's smiling face.
New Belgium Brewing Company
500 Linden Street
Fort Collins, CO 80524
Phone: 888-NBB-4044
E: nbb@newbelgium.com
Web: http://www.newbelgium.com/
Face: https://www.facebook.com/newbelgium

Liquid Center – Beer Mosa
New Belgium Brewing Co. • Radler/Beer Mosa • IBU: ?? • ABV: ?? • 6 SRM
Cloudy orange/yellow hued draft, no head, nose sweet orange and yeast. This is one of the best 'radler' style beers I've ever had, they put orange juice in beer (New Belgium's Trippel Ale with coriander). It was specially made for the brewery staff to help celebrate "bike to work day" and what was left over, they sold to the public. The orange juice really balances well with the Trippel notes of spice and yeasty presence.

Mary Jane
New Belgium Brewing Co. • American Amber / Red Ale • IBU: ?? • ABV: 5.8% • 12 SRM
Slightly amber hued draft, 2-finger foamy head that retains well, nose is a bit dank with some pine notes. The front to mid is a dry-hop oily like profile with strong acidic presence. Malts are expressed more like a pale ale, than amber.

Hop Kitchen – Super IPA
New Belgium Brewing Co. • Imperial IPA • IBU: 99 • ABV: 9% • 16 SRM
Hops: Columbus, Simcoe, Amarillo, Centennial
Malts: Pale, C-80, Melanoidin, Acidulated, Carapils
Mid-amber hued with a solid white head that drops to a sheen on the beer quickly. Nose presents a bit of pine (forest floor), cut grass, orange pith, slight herbals and a back end of bread. This imperial IPA does have a lot of alcohol presence and is super bitter with hop-flower oils that lean from floral to piny. The malts are really secondary and not present on the mid-back, it's mouth-feel really is solid, full bodied and has a slight hop-oil resin that lingers.

Somersault
New Belgium Brewing Co. • American Blonde Ale • IBU: ?? • ABV: 5.2% • 19 SRM
This is one of their distributed seasonal ale's that has a nice red-orange hue, solid two finger head, and some lacing as it settled. The nose is really complex with fruits (apricots and ginger) with a hop backing (tropical/floral). The front to mid mouth has a lot of spice and apricot present, the malt build supports it well with some toasted caramel thrown in. Overall a full-bodied beer with a solid flavor profile that finishes a little piny and sweet.

Slow Ride
New Belgium Brewing Co. • Session IPA • IBU: 40 • ABV: 4.5% • 6 SRM
Hops: Amarillo, Citra, Mosaic, Simcoe, Nelson Sauvin, Nugget, Centennial, Cascade
Malts: Pale, C-8
Lite yellow-orange golden glow, white head that dropped quickly, little lacing. The nose is complex and full of tropical fruit and floras such as mango, orange and lemon pith, and dried papaya. The front to mid mouth expresses a clean hop profile and balanced, dry hoppy flower based notes. The back is somewhat shallow, dry, and drops quickly.