BIER CAB, BARCELONA SPAIN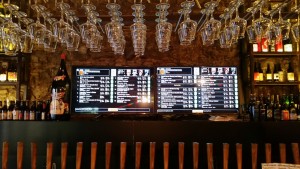 One of the many beer bars in Barcelona, we visited the Bier Cab after lunchtime (afternoon). The location provides you with both a 'tap-house' with 30 taps of local, regional, and international drafts, as well as the attached 'bottle-shop' with a large variety of beers to purchase. The location is in the central part of Barcelona, not far from tons of shopping and nightlife. It is open earlier in the day as most bars are, and provides a full menu of food. We didn't order anything while we were there off the menu, but what we did see people enjoying a variety of burgers and other dishes. The beer list is an electronic reader/keg board behind the bar with lots of information about each of their drafts. They also update their website in real time with their tap-list, so if you're wondering what they have, check that out.
The bar/restaurant space has large windows in the front that look out onto the street and a beautiful wooden bar with glasses overhead (as you can see in the picture). We sat across from it and people watched as we sipped our beers. We did enter the bottle shop (after being 'buzzed' in by the shop keeper), and looked at what they had available. I recognized just about every beer from the western hemisphere(US) that they had in bottles, which was a little disappointing. They did have a few from the west coast (Green Flash, Commons Farmhouse) but mainly they were east coast breweries. A majority of the European imports were from England and the Netherlands, as it seems they like their British ale's Belgium style beers.
Another nice thing about this bar is that it's open in the earlier afternoon, considerably earlier than most bars (that open at 6pm or later) so it's a lot easier to work into a day trip or walk around Barcelona and stop by when the streets aren't too crowded. After finding a table in the front bar area (tables in the back can't see the beer board to know what's on tap), we ordered a couple of beers which I have reviewed below. You will need to get the servers attention if you want something, as they are normally pretty busy from open to close as we heard and witnessed. Sitting directly at the bar is your best bet for faster service if you are in a hurry.
http://biercab.com
https://www.facebook.com/biercab
Muntaner 55, 08011 Barcelona
ph: +34 644 68 90 45
Pale Ale Mosaic
The Kernel Brewery • German Pilsener • ABV: 4.7% • IBUs: ?
Nice pale ale with dry hoppy nose and full white head. Nice lacing on the glass and a lighter yellow hue, roughly 8 SRM. Presents with a clean body and mid-carbonation, nose speaks to tropical and grapefruit hop profiles profiles. The front and mid are dry and bitter with almost earthy esters. Slight herbs and pine on the back.
Pils
Naparbier Sdad. Coop. • American Pale Ale (APA) • ABV: 5.1% • IBUs: ?
Nice for a hoppy Pils, presents with a clean bright yellow finish, 6ish SRM. Draft had a full, bright white head that dissipates quickly. Nose had citrus and slight dry herbal notes. The front mouth feel has plenty of hop esters on the front with citrus-lemon like bitters. Dry grapefruit finish.