2015 BEER DISCOVERY TOUR: Foundation Brewing Company, Portland, ME (July 3rd, Brewery Stop #26) (recovered post)
The 26th brewery visited during our cross-country beer discovery tour (click to read about the whole trip) was Foundation Brewing Company in Portland Maine. This was the fifth and final brewery in Portland that we stopped at on the 3rd. It's across the street from Allagash Brewing and gets a lot of the overflow and beer fans either before or after their visit across the way.
They only had three beers available when we stopped by, and they don't offer any food so we ordered up and hung out for a few minutes. As you can see, they do have a patio area that's dog friendly and typically busy during the summertime.
The employee working the bar was interested in what we thought of their beers and the brewing scene as we had experienced it. The range of nano-to-full scale breweries with support for all of them is a great thing to experience.
We overheard some conversation about their expansion and desire to distribute/can/bottle their beers more than they had at that point. The few that we tried were interesting, focusing on wild-fermentation and saison styles. I would like to give this brewery another try if we can find them, perhaps some non-sour styles if possible.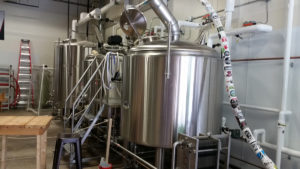 The overall vibe is really friendly, the regulars are welcoming and chatty. A lot of beer-travelers stop by with Allagash next door, so there's always some good convesation about the industry and what's working or not.
Of the three beers that they had available, the ginger infused Saison was perhaps the best of them. They all had a similar approach, similar yeast profile, and the quantity of funk to fruit varied only a bit. I wish they would have pushed their approach to different hops more than just making sour versions of beers.
The beers reviewed go right to left as pictured.
Foundation Brewing Company
1 Industrial Way #5
Portland, ME 04103
Phone: 207-370-8187
E: beerME@foundationbrew.com
Web: http://foundationbrew.com/
Face: https://www.facebook.com/foundationbrew/
Eddy
Foundation Brewing Co • Saison / Farmhouse Ale • IBU: 21 • ABV: 5.7% • SRM: 16 • OG: N/A
GRAINS: Pilsner Malt, Maine-Grown 2-row, Vienna Malt, Maine-Grown Wheat, Acidulated Malt
HOPS: Columbus, Mt. Hood, Crystal, Saaz
YEAST: House Belgian
Orange to yellow hazy coloring, pillow-like head that had decent retention and left good amounts of lacing. The nose is clean, tart, yeast funk, and the front mouth is dry and tart. Lemon zest, tropical hops and a bready-chewy mouthfeel expresses on the mid. Hits of spice linger with the sour funk on the back.
Wanderlust
Foundation Brewing Co • Saison • IBU: 26 • ABV: 4.5% • SRM: 10 • OG: N/A
GRAINS: Pilsner, Munich, Vienna, Maine-Grown Oats & Wheat, Acidulated
HOPS: Cascade, Columbus, Ella, Mosaic, Mt. Hood
YEAST: House Belgian
Bright yellow hazy finish with some strong grapefruit acidity on the nose. The head was minimial, but did linger to the end. The front mouth was really sharp grapefruit pith/peel, fresh cut grassy hops, yeasty funk and some pine to fruit hints on the back. Dries out a bit on the back.
Ginger Infused Saison
Foundation Brewing Co • Saison • IBU: N/A • ABV: 5.7% • SRM: 10 • OG: N/A
Bright yellow-orange hazy color, bright white foamy head with some retention and minimal spider lacing on the rim. The nose is sharp ginger and sweet grass. The front to mid mouth is overpowered with ginger tartness and sharp acidity. The mid to back is more yeast funk, and it does mellow out with a lingering ginger spice.