MILL CITY BREW WERKS, CAMAS WA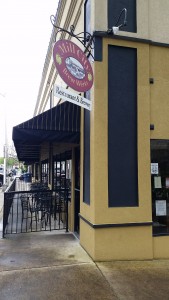 On Saturday April 11th, I visited three breweries in the Camas/Washougal area of SW Washington to do some tasting and reviewing that afternoon with my friend Ryan. We started at the Mill City Brew Werks in Camas for lunch and to try their beers as neither of us had been there before. Camas is small river-town that has a lot of history, and this brewery reflects this in attitude and feel. We were fortunate to sit at the bar and discuss some of the beers with the owner/brewer, Mark Zech, who was super friendly and wanted to hear our honest opinions (see below).
The restaurant is located on the corner of the downtown main street (quaint with lots of small shops). They have a dining room and bar area on one side, so there is no escaping kids if you want to drink in peace. You have been warned.
The brewing production is in the basement of the building and they have a hole/square by the main entrance that you can look down onto one of their kettles. The menu is pretty standard brewery/restaurant fare, with a few daily specials.
I ordered tasters of everything and some food while I waited for Ryan to show up. The bartender was super friendly and explained the beers to me when she served the first taster tray of four beers. The food didn't take long to come out, so I did eat a bit between the 1st and 2nd set of beers that we sampled.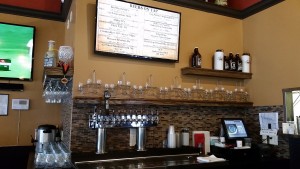 Overall, the food was decent and the variety of beers was decent. If I'm ever out and about on this end of Clark County, I certainly would consider going back and trying them again.
The tasters were served in sets of four as you can see. The first batch I had were the darker beers, which sort of was my own fault for not specifying what order I wanted them in. Usually you would wait to do these till the end, but oh well, it is what it is. Both Ryan and myself enjoyed the beers, but in all honesty, they seemed a bit one dimensional in approach. The darker beers were thinner with sharper burned notes, and the IPA's had a similar hop profile.
This isn't necessarily bad, but with the variety in styles, I'd hope that they would stretch the flavors a bit more.
After we finished the samples, the owner did take us downstairs to show us the production facility. I'm sorry I didn't get any pics of this. He seemed really nice and willing to talk about his beers and experiences learning from his family and relatives that brew beer in Germany. Our reviews of the beers go from left pic to right, and each has the labels visible of the samples as you can see. The best beer for me was the 'split pea', a blend of the Log Splitter and Pale Ale and the Zech Hefe had a lot of authentic Bavarian traits. Overall we would definitely go back if in the neighborhood.
Mill City Brew Werks
339 NE Cedar St.
Camas, WA 98607
Ph: (360) 210-4761
Web: http://mcbwbeer.com/
Face: https://www.facebook.com/MCBWbeer

Fromudder (Nitro)
Mill City Brew Werks • Milk Stout • IBU: 26 • ABV: 5.1% • 40+ SRM
This stout has a 2 finger tan head that drops quickly. The nose is cocoa nibs and sharper bitters. The front mouth has a slight hop bitter balanced with a toasted malt finish. There is a bit of coffee flavors present on the mid and back. It has a full mouth feel and solid body typical of milk stouts.

Tripwire
Mill City Brew Werks • Russian Imperial Stout • IBU: 40 • ABV: 12.5% • 40+ SRM
This dark black stout has a thinner tan head that falls quickly, a slighter sweeter and roasted profile on the nose. The front/mid mouth is a lot of roasted caramel malts, slightly sharper edge of burnt grain notes and hop resins. Mouthfeel is solid with no linger after taste.

German Smoked Dark Ale
Mill City Brew Werks • Rauch • IBU: 24 • ABV: 5.4% • 32 SRM
Dark brown draft of Rauch "smoke" style beer, slight off-white/tan head that drops quickly. Nose is sweet and malty with hints of the smoke. The mouth-feel is thinner than what most dark beers in the US have, this is typical of a Schwarzbier from Germany more than a Rauch. Bready yeast on the mid/back mouth and the smoke is present throughout, but not overpowering to the draft. There is a slight off-note on the mid/back with the grains, perhaps acidic nature.

Red Beard
Mill City Brew Werks • IRA • IBU: 62 • ABV: 7% • 13 SRM
Hops: Simcoe, Amarillo
This is a clean IRA with a nice reddish hue on the draft and a slightly off-white head that falls quickly. The nose is sweet with a bit of caramel and subtle hops florals. The malts are really present from front to back and the hops balance these well. The body is full and this is one of their better beers overall. Nothing stands out good or bad, but it does hold it's own for an IRA with the hop and malt balanced really well.

Zech Bavarian Hefe
Mill City Brew Werks • Hefeweizen • IBU: 11 • ABV: 5.5% • 5 SRM
This is a slightly cloudy draft with a solid frothy white head. The nose expresses the yeast, banana and clove with a solidy body. The front to back mouth has banana's and clove with the yeast being somewhat secondary. This is a pretty authentic Bavarian style hefe that doesn't disappoint.

P St. Pale Ale
Mill City Brew Werks • Pale Ale • IBU: 37 • ABV: 5.2% • 5 SRM
Hops: Citra
Nice orange hue and bright white foamy head with a subtle sharp floral hop nose. The front mouth has a bit of floral and sharper hop resin/esters. The mid is pretty solid bitterness and the back has lingering "danky cat pee" as the brewer stated. Either you love it or hate it. While the hops do overpower this beer, if they tried to use a slightly more solid grain build, the citra hop sharp profile would settle down.

Slacker Session Ale
Mill City Brew Werks • American IPA • IBU: 60 • ABV: 4.1% • 4 SRM
Nice orange hue and white head that lingers slightly on the rim. The nose is a little bit grassy and tropical/citrus hop. The front/mid mouth feel is a little thinner with a clean slight dry finish. The hop profile does linger on the back and after taste. There isn't a lot of grains present to balance out this IPA.

Fresh Hop Pale Wheat Ale
Mill City Brew Werks • WPA • IBU: 55 • ABV: 5.2% • 4 SRM
Hops: Galina
This is a nice orange/yellow hue and clingy white foamy head. The nose has a bit of 'green hop' bitters present with slight wheat/yeast notes. The front and mid mouth are solid that leaves you with a slight dry finish. The fresh hop 'green/grassy' flavors do express themselves from front to back and this isn't a bad thing for a fresh hopped wheat grain beer.

Alpha IPA
Mill City Brew Werks • IPA • IBU: 88 • ABV: 7.1% • 8 SRM
Hops: Simcoe (late edition)
Slightly off-white head on this reddish-orange hue draft. The nose has a bit of hop citrus/grapefruit bitterness and hints of acidity. The front to mid mouth has a lot of citrus/grapefruit bitters, slight grassy/funk on the mid/back. The after taste isn't the most appealing and the over-powering hops do linger on the mouth.

Log Splitter
Mill City Brew Werks • Imperial IPA • IBU: 100+ • ABV: 10% • 18 SRM
This IPA is made with 7 different hops. The draft has a nice reddish hue with a slightly off-white foamy head that clings to the rim, leaving a nice lacing. The nose is a mix of different hops from tropical, citrus to earthy and slight acidic. There is a subtle sweetness from the higher ABV and balance of malts/grains that do provide enough body to help make this a good imperial IPA. The back and after taste have a bit of citrus hops with a little bit of yeast showing through.

Baby Face Nelson
Mill City Brew Werks • Session IPA • IBU: 77 • ABV: 3.9% • 6 SRM
This draft has a nice orange hue and white head that drops quickly, leaving only larger bubbles on the rim. The nose has a bit of floral and slight hop resin notes. The front mouth is a little thin with the hops really expressing a bright tropical to grapefruit citrus note. The grain build is pretty much absent from this beer, with the hops really overpowering everything.

Ace Honey Apple Cider
California Cider Company (guest tap) • Cider • ABV: 5% • 2 SRM
This was their rotating cider tap, with a clear bright yellow hue and sweet/fruit nose. The mouth-feel is sweeter with a lot of sugar/honey present.