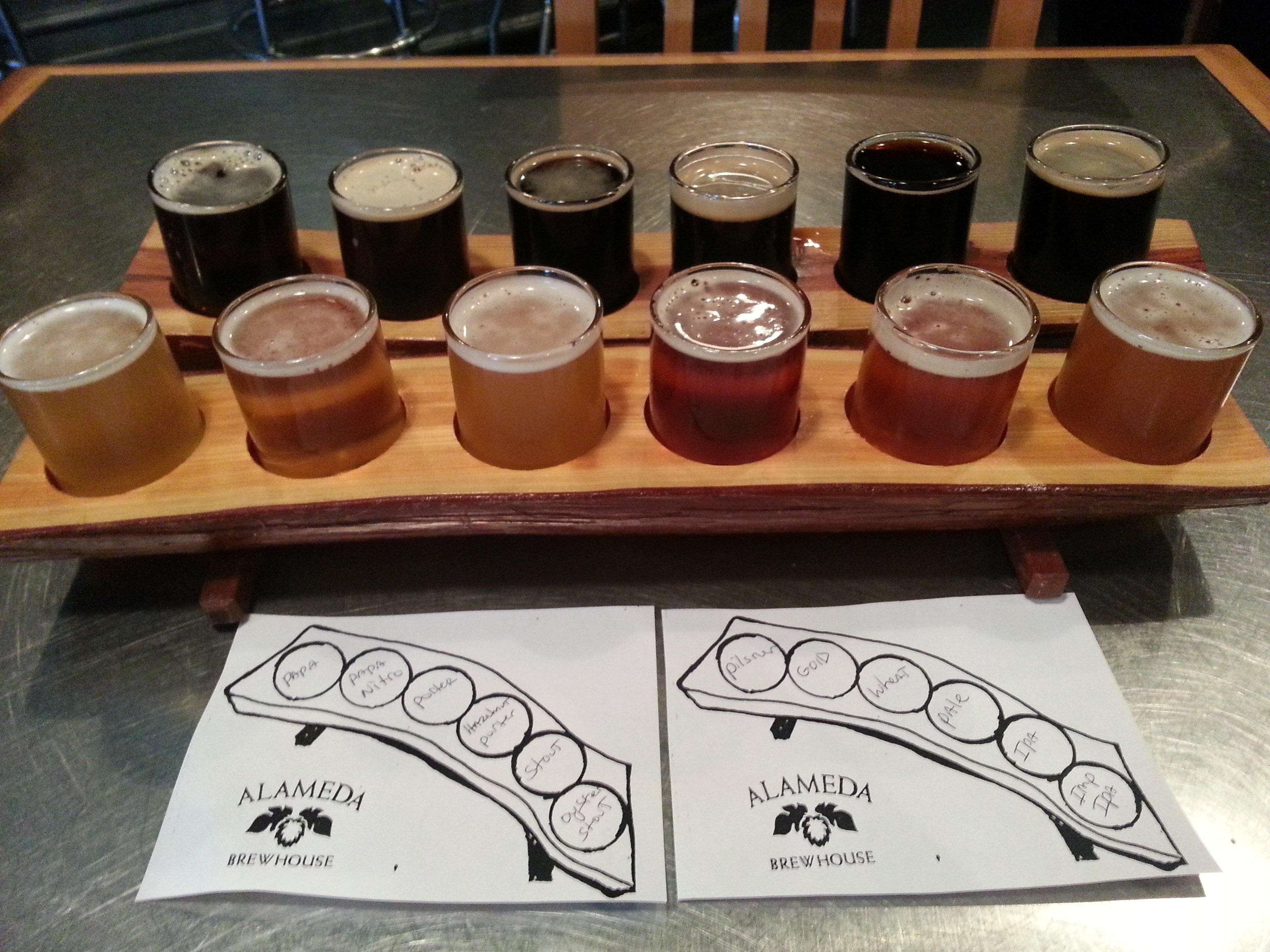 ALAMEDA BREWING, PORTLAND OR
We stopped at a few breweries on Black Friday (28 Nov. 2014) when we were out and about, and this was were we went for lunch. We've been to Alameda brewing (EST. 1996) a number of times in the past and it's always been a decent experience. As this is a brewery in a busy business/residential neighborhood, you need to be warned that there is a good chance that the table next to you, will have kids at it. Their food is better than bar food overall, with a large variety of sammiches, burgers, salads, and various other styles of food represented. The servers can be super busy at times, so you gotta be patient or sit at their bar top for quick service. The building itself is really echo-y (high ceilings), with brewery swag in a case to look at the front and brewery equipment/tanks being right there next to the bar. Their brewers work during the day, so if you stop at lunch, you might see them working, which is cool. Overall, it's a decent place to go, their beers tend to be more middle of the road than memorable.
I can honestly recommend stopping by if you're in the neighborhood for a beer or food.
ALAMEDA BREWING – www.alamedabrewhouse.com
4765 NE Fremont St
Portland, Oregon, 97213
United States
phone: (503) 460-9025
Here's a review of the beers we sampled:
Style
Beer Name
ABV
IBU
Thoughts
Pilsner
P-TOWN PILS
4%
20
German Pilsner is clear and bright yellow (SRM) with a dry, clean, and crisp front end and nose. It is somewhat sessionable with the low ABV and a thin mough feel. There is noticeable bitters on the back end, which may turn off some lite beer drinkers.
OG: 1.040 | FG: 1.010
American Blonde Ale
SISKIYOU GOLDEN ALE
3.9%
15
Siskiyou Golden Ale is a modified Kolch style beer with wheat providing a more solid mouth feel. It has Scottish yeast which enhances the solid malt profile. The clean bright yellow color (SRM) is appealing to the eye, with plenty of carbonation to go round. There are light hop esters on the back/after taste with lingering bitterness that NW people will appreciate.
OG: 1.041 | FG: 1.011
Wheat Ale
WILSHIRE WHEAT
4.5%
20
This unfiltered wheat beer has a pleasant mouthfeel with a dry, effervescent finish. The straw yellow color (slightly darker yellow) comes from the 2-Row and Red Wheat malts used to help balance out the bitters on the back end. This should be classified as an American Hefeweizen hybrid.
OG: 1.048 | FG: 1.014
American Pale Ale (APA)
KLICKITAT PALE ALE
5.3%
36
This Pale Ale has plenty of NW Cascade hops and enough Caramel and Munich malts to provide a rich amber color, thick head (carbonation), and full mouth feel. It has a mid mouth feel of spicy, floral and citrus notes and the nose has the bitters pronounced as well. This was perhaps the best of the beers we sampled as it doesn't scream IPA, but Pale Ale done with a kick of strong bitterness.
OG: 1.055 | FG: 1.014
American IPA
EL TOREO IPA
7.0%
70
This is a standard IPA in visual appeal, mid-range SRM (36) with a forward hop ester on the nose. The mid is estringent bitters of floral and orange flavors, back mouth and after taste are pretty strong with almost a piney or alcohol feel.
OG: 1.068 | FG: 1.016
American Double / Imperial IPA
YELLOW WOLF IMPERIAL IPA
8.2%
103
This IPA is off the charts on IBU, but this doesn't mean it's super strong in bitter/esters. Clean visually, about 28 SRM color rating. It does have a good balance of malts to make it a full mouth feel and there's plenty of 'forrest/piney' and lingering citrus bitter on the back. A really solid double/imperial IPA.
OG: 1.082 | FG: 1.020
Old Ale
PAPA NOEL'S OLDE ALE
7.2%
40
This is a traditional old style English winter ale with a pretty thin approach and low carbonation. There is practically no head on this beer. There is toasted nut and caramel front and back mouth feel. The beer doesn't have much sweetness to it as one might expect with a seasonal winter ale. There are light spices on the nose and after taste.
OG: 1.072 | FG: 1.018
Old Ale
PAPA NOEL'S OLDE ALE on NITRO
7.2%
40
This nitro pour really helps the overall appeal of the Papa Noel's. The characters of the burn caramel, toasted nuts and rounded malts with the balanced hops come through on the front and mid. The spices are more forward as well on nitro.
American Porter
STUBS OLD CROW HAZELNUT PORTER
6.7%
15
This is a standard porter, with a somewhat thin overall feel. Hazelnuts give a slightly nutty flavor in the back and nose. The nutty character does not overpower allowing the chocolate and roast flavors to come forward. There is a lingering bitterness on the back and aftertaste.
Foreign / Export Stout
BLACK BEAR XX STOUT
6.8%
55
This stout has a super dark SRM (40+) and decent head. The carbonation provides some delicate nose play on the roasted side. The bitterness is well balanced with toasted coffee and bark like outdoorsiness. I think it's a pretty good standard beer, that has won a few GABF awards.
Stout
OYSTER STOUT
6%
??
This is a malt forward and dry stout with a nice head and pronounced yeast/malt nose. The thin character of it in the mouthfeel left me wanting more, and there was no sight or flavor of oysters to be found.