Review: Trusty Brewing Co., Vancouver, WA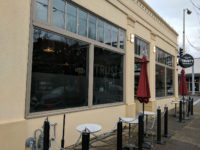 The second brewery visited on Friday, Feb. 10th in downtown Vancouver was Trusty Brewing Company. Located just down the street from Old Ivy Taproom and Brewery (prior review to this one), Trusty is in the old Dirty Hands Brewing location at the corner of Evergreen and Broadway. The brewery/restaurant has a small outdoor patio with tables out front and a few rooms with different sized tables to accomodate small and larger parties. The interior as you can see is a lot of old wood, classic and retro decor, a couple of large boards with the available beers and some food listings and a smaller bar to sit at. The food prep area is just next to the bar, so you can watch them make your food if you so prefer.
This visit was the thrid time I've been since Dirty Hands sold. The first couple of times the beer wasn't as good as it was this time around. My friends and I spent about an hour talking about them and the evolution of some of the other breweries downtown. I appreciate their low beer and food prices, while offering a decent variety of beers. It's a great place to grab a beer while enjoying the company of my friends. If you ever stop by, you'll see that it's the place to meet up, as most of the people there were meeting others. It's convienent location is only challenged by the fact they have only on-street parking, but being that it's Vancouver, you should be able to find something near by.
The bartender was happy to bring over the taster trays after we ordered at the bar and gave us a brief rundown on them when he dropped them off. Shortly after that, once we were passing them around and getting everyone's opinions, the brewer happened to stop by the table and asked about our experience and was glad we were there to try their beers out. That's super cool and appreciated that they pay attention to their customers and make the effort to have you feel at ease and able to chat about their beers.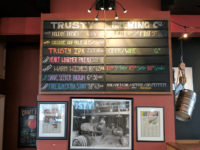 My friends food order (sandwich) came out pretty quick after the beers, and we spent a good amount of time chatting about how the beers have improved, and where we wanted to go next.
The beer reviews below go right to left in the pictures. They had seven beers available that day, and all of them fit closely to what you'd expect from the identified styles. The more experimental Holdin' Daisies was perhaps the weakest of the lineup, only due to the thin and shallow hop presence for a pilsner, while the Foreign Extra Stout was perhaps an excellent example of the export stout style with a decent roast, not too sweet, slight hop bitterness holding the huge malt body in check. I would say that since the first time I visited, the beers have come a long way. I'd definately go back for a visit the next time I'm downtown Vancouver.
Trusty Brewing Company
114 E Evergreen Blvd,
Vancouver, WA 98660
Phone: 360-258-0413
E: info@trustybrewing.com
Web: http://www.trustybrewing.com
Face: https://www.facebook.com/trustybrewing/
Holdin' Daisies
Trusty Brewing Co. • Pilsner • IBU: 26 • ABV: 6.2% • SRM: 3
Appearance: Bright yellow, clear draft with a solid one finger frothy white head, great retention and lots of lacing.
Smell/Aroma: Mild yeast and fresh cut grass, some thin sweet notes.
Taste: This is a mild Pilsner with the mildly skunky yeast and acidic grassy hops showing up on the front to mid, flavors drop quickly and it doesn't have enough malt to help it out.
Mouthfeel: Thin and watery on the mouth, lots of carbonation helps it out, hits of metalic acids on the tongue.
Overall: I've had plenty of worse Pilsners in Germany that are canned/bottled and distributed, so not to be thrown aside, but it could use a little more balance on the malt build and flavor profiles and lower ABV.
Cascade Hop Pale Ale
Trusty Brewing Co. • American Pale Ale • IBU: 35 • ABV: 6.5% • SRM: 6
Appearance: Medium yellow hue, clear draft with a large bubbly white head, minor lacing and retention.
Smell/Aroma: Clean fresh cut fruit, dried citric acids.
Taste: Strong hop presence, but not overbearing. Plenty of citrus and fresh hop cone resins backed by a grainy and crackery malt build.
Mouthfeel: Solid on the tongue, some prickly action on the back, sharp bitters linger.
Overall: Great Pale Ale with classic NW approach. This is a great sipper without fears of killing your tastebuds, while enjoying a clean pale ale.
Trusty IPA
Trusty Brewing Co. • IPA • IBU: 68 • ABV: 7.2% • SRM: 16
Appearance: Medium copper/orange hued clear draft with a solid white frothy and bubbly white head. Tons of retention and clingy lacing.
Smell/Aroma: Grassy and herbal hop front.
Taste: Hops show up quickly, strong herbal and fresh cut grass with hop cone resins are bright on the mid, malts are solid bready and have hints of caramel and animal crackers in the dry back.
Mouthfeel: Clean approach, somewhat intense in the robust hop presence, dries out the tongue.
Overall: This is a classic NW IPA with a ton of hops and sweet caramel malt to hold it back just enough. Great presentation and overall taste.
Heart Warmer
Trusty Brewing Co. • American Pale Ale • IBU: 52 • ABV: 5.5% • SRM: 18
Appearance: Rich copper/reddish hue clear draft with a slightly off-white foamy head, lots of retention and spidery lacing on the rim.
Smell/Aroma: Hints of dried fruits, some graham cracker malts, low hop profile.
Taste: This is a malt forward pale ale, with lots of toasted grains, dried spices and fruits are hidden with the hint of vegital and herbal hops. Hits of forrest floor and dried leaves on the dry back.
Mouthfeel: Medium bodied, plenty of carbonation, solid on the tongue, some pleasant fizziness.
Overall: This is a strong malt presence pale ale with a bit of spice and hop to bring it back to the center, basically the sweet version of the Trusty IPA, with malts being the focus.
Warm Wishes
Trusty Brewing Co. • Winter Warmer • IBU: 65 • ABV: 8.1% • SRM: 21
Appearance: Dark orange/red to copper hues, clear draft with zero head, some large bubbles that dropped quickly to a sheen.
Smell/Aroma: Sweet caramels, crisp and sharp vegital/spicy hints.
Taste: Sweet breads and burned toast on the front, cover up the mild herbal hops that have a hint of spice and pepper on it.
Mouthfeel: Chewy and solid, low carbonation, sweet aftertaste.
Overall: This is a strong winter warmer that verges on barrel aged pale ale. More than enough malts make it a bit too sweet for my needs without enough bitterness of any flavor to bring it back to center.
Shade Seeker
Trusty Brewing Co. • Brown Ale • IBU: 30 • ABV: 6% • SRM: 26
Appearance: Dark ruby/brownish, clear draft, small bubbly but frothy off-white head, some large bubbly lacing and mild retention.
Smell/Aroma: Sweet fresh baked breads, zero hops, slight hints of burned coffee on the nose.
Taste: Strong roasted grain bill shows up with burned crust of sweet breads, mixes caramel and hits of molasses on top of a shallow and narrow hop profile that's covered with the burned/roasted grains.
Mouthfeel: Chewy and lots of carbonation, some prickly action on the mid, intense sweet and low bitterness.
Overall: This is a great sweeter brown ale, but it's roast is overcome with too much sugary caramel. Not enough dry for me, minor hits of bitter coffee on the background are nice.
Foreign Extra Stout
Trusty Brewing Co. • Stout (Foreign / Export) • IBU: 63 • ABV: 7.8% • SRM: 32
Appearance: Dark brown, slight reddish hints in the light, solid frothy and light head with tons of lacing and retention to the end.
Smell/Aroma: Husky granola and dark burned sugars on the nose, no hops or bitterness.
Taste: The front is sweet, solid, lots of bitterness without being too overpowering. The hops are secondary to the roasted bitters that cover the mouth front to back. The sweet notes help combat the strong roast flavors.
Mouthfeel: Chewy with a strong, powerfull presence on the tongue. Has hints of tobacco and charred wood which are pleasant on the back.
Overall: Classic Export style Stout, tons of flavor, low bitterness without the hops, enough sweet to hold back the roast.