Review: Great Notion Brewing, Portland, OR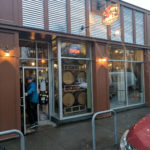 One of the great new additions to the Portland brewing scene in 2016 is Great Notion Brewing. I have been able to visit them a few times since they opened and most recently on Feb. 7th, 2017 with a few of my beer loving friends for happy hour. Great Notion is known for pushing the flavor boundaries of barrel aged and unfiltered beers, most notibly their fruit and sour beers. The one warning I have to give about this great brewery, is that they are an all ages restaurant, so unless you can handle being around a lot of kids, you might want to try and visit them during later hours.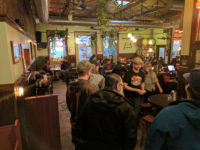 The brewery is located in the former "Mash Tun Brewing" location on NE 22nd, just south of NE Alberta St. next to Pine St. Biscuits. They are in the heart of the Alberta Arts District and have a lot of local customers but their parking is limited to on-street so you may have to walk a little bit to get there if it's during regular dining hours. The front of the business is pretty non-descript with a sign above their front door and a couple of windows that look into the 7 BBL production area. The restaurant has a small bar you can sit at, with the beer board behind it. They do have two main dining areas and a large outdoor patio which is great when the weather cooperates. The food lineup is interesting and not mid-priced. They do offer swag like hats, shirts, and stickers at average prices.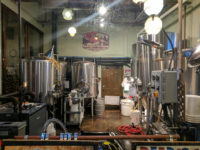 They normally have at least eight to ten of their own beers available with a number of regular beers and a few one-offs and special barrel aged available by glass. Please note they don't offer any of their beers in pints, just 10 to 13 oz. snifters as they don't have the capacity to produce enough to keep up with the demand, so they limit their vessels to just smaller tulip glasses, which helps you enjoy the beer the way it's meant to be drank. The prices for their beers and food is pretty typical for this neighborhood, and they do offer weekly food specials. We were lucky when we got there when we did as a large group of parents and kids were using the back dining room area right next to us and it got really loud really quick as we were finnishing up.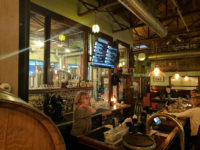 We were able to order the samplers and ordered our food, both of which came out pretty quickly and we all tried the beers with great interest in the broad range of styles and flavors they offered. The one unfortunate thing is that they were not serving one of their best beers, the Orange Creamsicle IPA. While it was dissapointing not to have the chance for my friends to try that beer, they did have the Blueberry Muffin and Double Stack on draft and those demonstrate Great Notion's ability to push the flavor profile of beers to the extreme. Out of the seven beers we tried, there was a great range of fruit and sour beers, porter and stout, with a NE style IPA, none of which were bad.
The beer reviews go back to front, left to right as pictured. It's hard to pick one that stands above the others, as everyone loved their beers but the Stacks of Coconut was by far one of the best imperial stouts I've ever had and my pick for best of show. Overall, they do have a great selection of food, awesome range of styles that are well executed and hold up to expectations and their reputation as an amazing brewery. I'd highly recommend you check them out if you're in the NE Alberta area, just during later hours unless you like being around noisy kids. Note, they do distribute bottles of their beers to some local stores, and they offer crowler and growler fills on site, so you can take some home with you today!
Great Notion Brewing
2204 NE Alberta St. Suite 101
Portland, OR 97211
Phone: 503-548-4491
E: info@greatnotionpdx.com
Web: http://greatnotionpdx.com/
Face: https://www.facebook.com/greatnotionpdx/

Barrel Aged Dry Hopped Sour
Great Notion Brewing • American Wild Ale • IBU: N/A • ABV: 7% • SRM: 6
Appearance: Slight hazy golden yellow draft, minimal head, no lacing to speak of.
Smell/Aroma: This has a bit of sweet tropical fruits and yeast funk on the nose.
Taste: The front is bright with a great balance of citrus/tropical hops, dried fruits like pineapple and guava that express the sour profile well, some hints of tart-yeasty funk. Enough lighter malt profile to blanace out the sour/hop profile.
Mouthfeel: This has a thin front, but opens up and has a prickly back end.
Overall: Interesting sour/barrel aged dry hopped ale with a bunch of tropical fruit flavors with hints of sour/yeast. Approachable for beginner sour drinkers.

Barrel Aged Passion Fruit Sour
Great Notion Brewing • Sour Ale (Blend of Saison & Berliner Weisse) • IBU: N/A • ABV: 6.75% • SRM: 8
Appearance: Cloudy lemon/yellow haze with a bright white, small bubbly head, decent lacing, minimal retention.
Smell/Aroma: Hits of tropical fruits (passion fruit to pineapple) with mild yeast notes.
Taste: This is a lot of sour fruit up front, rounds out on the mid with some minimal lacto bite. The barrel aging doesn't really show on this, but as a blended saison and Berliner Weisse, it's got a great approach on the sour/tart aspect. Minimal hop and low volume malt body.
Mouthfeel: Juicy up front, rounded and almost chewy mid. Ends well with long on the tongue sour tropical fruits and some acidity.
Overall: This is a great example of a blended barrel aged beer, with additional fruits added to help out the sour notes. Stronger on the sour part that some, definately not a starter beer.

Blueberry Muffin
Great Notion Brewing • American Wild Ale • IBU: N/A • ABV: 5% • SRM: 5
Appearance: Lighter yellow and hazy draft, small bubbly head with no retention and minor small spotchy lacing.
Smell/Aroma: Nose is amazing. It's like a freshly baked sour blueberry muffin. No joke, not kidding, it's a muffin in a glass.
Taste: The taste follows the nose. It's the oddest thing you'll drink in Portland. The sweet sugars, light bread/grain build, soft blueberry sourness, slight yeast/acidic hit on the way back.
Mouthfeel: Crisp and light bodied but with minor carbonation. Has some rounded features on the back, lingers well past the swallow.
Overall: This is one of the greatest fruit sour beers I've ever had. It's one of the only beers that 'non-beer drinkers' will even give a try to. The mild flavor, yet strickingly familiarity of the aromas makes you think of breakfast.

Juice Jr.
Great Notion Brewing • American Pale Ale (APA) • IBU: N/A • ABV: 6% • SRM: 5
Appearance: Hazy light orange/yellow draft, minimal head on the rim, no lacing or retention.
Smell/Aroma: Pungent lemon zest and dried pith, some mellon sweetness.
Taste: This is a great pale ale with enough malt backing to hold up the brighter mellon and citrus notes along with the narrow hop profile.
Mouthfeel: Medium bodied, not strong on the tongue, but ok carbonation and prickly end.
Overall: This is a sessionable Pale Ale that tastes more pungent than some IPA's I've had recently.

Ripe IPA
Great Notion Brewing • American IPA • IBU: 55 • ABV: 7% • SRM: 5
Appearance: Cloudy orange/yellow draft with some small bubbly lacing, no retention to speak of.
Smell/Aroma: Tropical juices and citrus pith, dried fruits and hints of orange.
Taste: Bright fruit juices and sweet to acidic mid help this IPA express the mild bitterness that hides behind the fruit profiles. The grains are mild and don't really support the strong fruit flavor profiles.
Mouthfeel: Mild carbonation, some watery front mouth, creamy to prickly on the tongue.
Overall: This is a North East style IPA with tons of fruit hops and low bitterness.

Double Stack
Great Notion Brewing • American Double / Imperial Stout • IBU: N/A • ABV: 10% • SRM: 40+
Appearance: Jet black, totally opaque, slight frothy and large bubbly tan head that dropped off quickly, left some large bubbly lacing on the rim.
Smell/Aroma: Strong sweet maple syrup and hints of bitter black coffee, pancakes (malts) fresh off the griddle.
Taste: The coffee bitters and sweet maple show up and overpower the grain build and there are zero hops present.
Mouthfeel: Thin bodied, low carbonation, rounds on the back with some lingering bitterness of burned old coffee.
Overall: This is a great beer if you want to drink your breakfast. Coffee, pancakes, syrup.. it's all there. Beware tht it hides the high ABV really well, so it will sneak up on you if you're not careful.

Stacks Of Coconut
Great Notion Brewing • American Double / Imperial Stout • IBU: N/A • ABV: 10% • SRM: 40+
Appearance: Black and brown opaque draft with a dark frothy tan head, lots of retention and coats the rim with tons of lacing.
Smell/Aroma: Roasted coconut and cocoa nibs, some acidic black coffee.
Taste: Vanilla sweetness shows up on the front with the roasted coconut on the tongue, bitterness is narrow along the burned/roasted line, some sweetness on the back.
Mouthfeel: Wet/juicy on the front, coats the tongue on the mid, almost chalky and thin back. Decent carbonation and some lingering bitterness on the back.
Overall: This is an interesting strong/double stout with tons of coconut on the nose, not as much on the tongue. There are acidic burned coffee grounds on the back, but nothing that is off-putting. Amazing to get the flavors to blance out like they are.