BRAUHAUS MITTE, BERLIN GERMANY
The Brauhaus Mitte in Berlin Germany is owned and operated by the same people that run the Lemke Brewery down the street. This restaurant is a large scale operation with a full menu and dinning experience with traditional German fare. They do have brewery tours available at certain times of the day. The beers are the same between Lemke and the Brauhaus so the reviews are the same. They provide samples of their beer for a euro a glass. During the holiday season, they did have the Weihnachtsbock (winter bock) available when we were there, which was their best beer.
The brewery/restaurant location is next to a large shopping center in Mitte, and it is located on the second floor of the building. You have to walk up a number of stairs to get inside, and if it's icy outside it's challenging. They do have some of the brew kettles located behind the bar area and you can go up and take a look. The wait staff at the restaurant does speak fluent English and we had no issues ordering food and beers and felt really welcome there. Oh, and they have a crazy leg of ham dish that you should order if you like meat. The bone is larger than your head, no joke.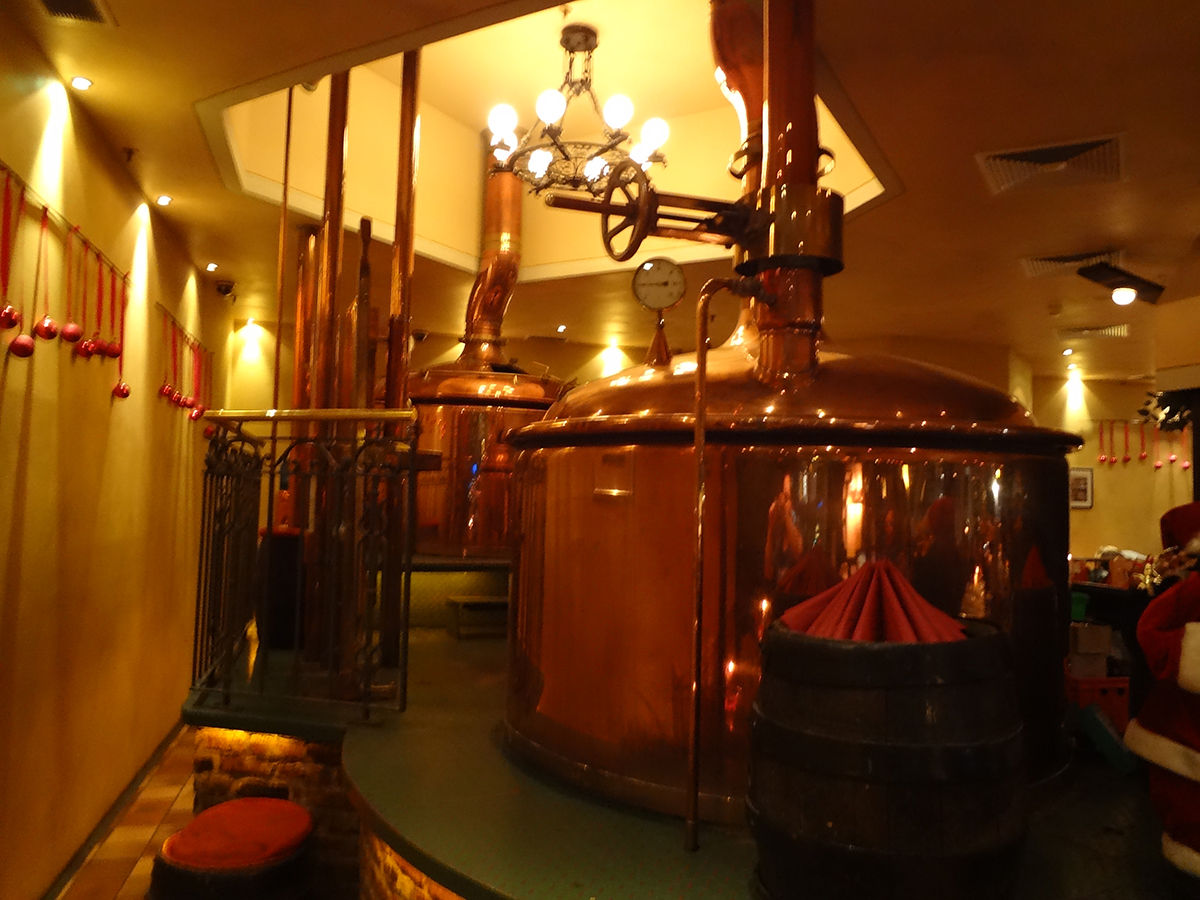 Regarding the draft beers available, I previously reviewed the beers from the Lempke Brauhaus and have posted it on this site already. However, I did repost them with their correct/used names for this location. The waiter was sure to point out that they are the same beers at both locations as we were taking pictures and reviewing them. We appreciated his honesty.
BRAUHAUS MITTE – http://www.brauhaus-mitte.de
Brauhaus Mitte | Karl-Liebknecht-Str. 13 | D-10178 Berlin-Mitte
Phone 030 – 30 87 89 89 | Fax 030 – 30 87 89 88 | info@brauhaus-mitte.de
Brauhaus Pils
German Pils • ABV: 4.9% • IBUs: 32 • 12.5° P
This Pils is a clear pale golden hue, roughly an 8 SRM. It does have a frothy white head that settles quickly. The nose contains aromas of hops esters and light yeast. There is a bitter, hoppy profile on the front and mid mouth. The back end has a few nut/toasted bread notes on the finish.
Brauhaus Dark
Munich Dunkel Lager • ABV: % • IBUs: 26 • 12.5° P
Sweet nose, nicely balanced noble hop profile with dry bitter mid and back, with a malt character that is caramel and oats. This beer is full bodied and the mouthfeel is completely chewy with oats.
Brauhaus Hefeweizen Hell
Hefeweizen • ABV: 5% • IBUs: 16 • 12.5° P
Has a soft rounded approach of lighter clove on the nose, bananas and unfiltered yeast on the front and mid. The balanced and rounded feel in the mouth is refreshing and approachable.
Brauhaus Mitte Weihnachtsbock
Dunkler Bock • ABV:6.7% • IBUs: ?
Is a sweet forward nose and mouth feel of spice and a bold roasted malt characters including a slight spice note of coriander and tobacco.