2015 BEER DISCOVERY TOUR: Gritty McDuffs, Portland, ME (July 3rd, Brewery Stop #23) (recovered post)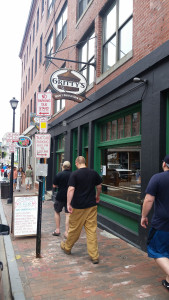 The 23rd brewery visited during our cross-country beer discovery tour (click to read about the whole trip) was Gritty McDuffs in Portland Maine. This is one of three locations for this restaurant/brewpub located in Maine. This particiular one is located in the heart of historic downtown Portland, not far from the waterfront. Parking was available a block or so away in a public garage, on-street parking is a challenge in this part of downtown.
As you can see, it's a bit rustic and has a local vibe to the establishment. We were there shortly after the lunch rush, so we didn't have a wait to get a table. The back of the restaurant area looks out over the waterfront, so check out that part when looking for a table.
We ordered a sampler of their beers (as shown below), with eight beers (two on cask) and once guest cider. While we had higher expectations of the beer, being that there is a lot of competition in this area, we were not really blown away with what was served.
When we asked the server who brought over the sampler about their beers, they pointed at the beer list and informed us about the few seasonal one-off's available and the cask beers. We didn't order any food as we had already had lunch and were seeking out their beers. What we saw passing us by looked like average bar-food, but one can never tell.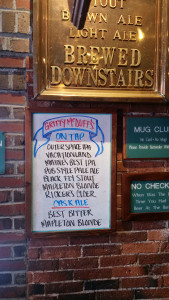 Regarding the beers themselves, I enjoyed the cask Best Bitter (ESB) more than the others. The descriptions are below, with the reviews starting from the back to the front, left to right as pictured. Overall their beers were average to poor, but I give them props for having multiple cask drafts available. One note, the majority of the hops used are west coast based and the water quality might be contributing to the overall less-than-memorable experience.
Gritty McDuff's Brewing Company
396 Fore Street
Portland, Maine 04101
Phone: 207-772-2739
E: grittys@grittys.com
Web: http://grittys.com/
Face: https://www.facebook.com/grittymcduffs

Vacationland Summer Ale
Gritty McDuff's Brewing Company • Golden Pale Ale • IBU: 22 • ABV: 4.8% • SRM: 5 • OG: 1.049
HOPS: Cascade Leaf, Cascade, Saaz
Sweeter and floral aromatics and slight hints of herbal hops on the front. Mild-bodied with decent carbonation and head retention. Finishes clean with some caramel hits and ripe hop cone/fruit.

Sebago Light Ale
Gritty McDuff's Brewing Company • Light Ale • IBU: 18 • ABV: 3.2% • SRM: 3 • OG: 1.033
HOPS: Willamette, Cascade
Bright yellow hue, nice yeasty hits on the nose. Bright white frothy head with good retention and lacing. Front is bright with a lighter approach. This is a decent session beer for those seeking a light summer ale.

Original Pub Style
Gritty McDuff's Brewing Company • British Style Pale Ale • IBU: 18 • ABV: 4.5% • SRM: 16 • OG: 1.046
HOPS: Willamette, Cascade
Mid-copper colored draft with a slight off-white head that dropped quickly, but left some small bubbles on the rim. Expresses the roasted malts well on the front with a strong mouthfeel. Classic approach to the fruity/floral hop profile that supports the stronger malt build. Dries out towards the back with a lingering "dirty" acidity like taste.

Black Fly Stout
Gritty McDuff's Brewing Company • Dry Irish Stout • IBU: 16 • ABV: 4.7% • SRM: 32 • OG: 1.014
HOPS: Willamette, Cluster, Goldings
Roasted coffee and bread crust aromatics, almost opaic in the glass, dense tan head with good retention. The front is dry, with burned coffee and cocoa hints. The mid is more rounded with a solid body finish. The hops provide some dried fruit and enough bitterness to hold the roasted grains in check. Burned after-taste may not be appealing to some.

Maine's Best IPA
Gritty McDuff's Brewing Company • IPA • IBU: 47 • ABV: 6.9% • SRM: 18 • OG: 1.069
HOPS: Cascade, Warrior and Willamette
Don't let the name mislead you. This is an average to 'ok' west coast style IPA, with a bit of sweet malt and juicy hop resin aromatics. The head is small and dropped quickly, little to no cling. The front has a bit of pine and citrus pith drying out to the mid. The malts help it, but aren't solid enough to share the profile with the stronger astrigent hops. Ends a bit dry and fruity.

Lions Pride Brown Ale (Best Brown Ale)
Gritty McDuff's Brewing Company • English Brown Ale • IBU: 16 • ABV: 4.1% • SRM: 28 • OG: 1.44
HOPS: Willamette, Cascade
Dark red-amber hue, slight off-white to tan head, no lacing to speak of, retention is minimal. The nose is sweet breads and roasted grains/toffee like. The front to mid mouth is sweet malts (bread crust) with a thinner body than expected. Malts are there, but the hops are not. This beer lacks the body that most English style browns have, while trying to express the earthy and nutty nature it should but does not have.

Mainiac Gold
Ricker's Hard Cider • Amerian Cider • IBU: 25 • ABV: 4.8% • SRM: 22 • OG: 1.050
Bright yellow hue, no head to speak of. The nose is sweet apple juice with a bit of tartness. The front to mid mouthfeel is fruit forward with a drying out towards the back. The alcohol is well hidden with the sweet taste.

Best Bitter (CASK)
Gritty McDuff's Brewing Company • ESB • IBU: N/A • ABV: 5% • SRM: 2 • OG: N/A
HOPS: Yakima Goldings
Darker brown coloring, solid foamy head with a short retention. Cask draft had some mild sweet grains and molasses on the nose, front mouthfeel was thinner and mild on the hops. Watery and sweet is the best description for this beer.

Sebago Light Ale (CASK)
Gritty McDuff's Brewing Company • Light Ale • IBU: 18 • ABV: 3.2% • SRM: 3 • OG: 1.033
HOPS: Willamette, Cascade
This was not the best choice for a cask beer. An already light and watery beer is presented with little to no carbonation from the cask conditioning and lack of taste makes it like drinking dirty water.