FORTSIDE BREWING CO., VANCOUVER WA

The second brewery stop on Friday, May 29th was at Fortside Brewing Co., located off of NE Andresen (just south of Fourth Plain Blvd. a few blocks). We were super excited to learn about this brand spankin' new brewery at the Thirsty Sasquatch bar and decided to make the drive down Fourth Plain to try it out. Fortside just opened in late April 2015, so it's really new and they only have three of their own beer available, +1 root beer (non-alcoholic). The location is in an industrial mall complex, the signage on Andresen is limited to just a small thing on the side of the building, so you need to keep an eye out for it. The building has a large painted logo on it, and as you can see from the pics, it's a long open space with lots of raw wood, metal, and windows. The bar seats just a few people, they have plenty of tables, and a few seats outside for the smokers.
The brewing facility is in the back of the business behind a large glass/windowed wall. We spent a few moment talking to the bartender about it and he was happy to share what he could about what they are doing and such. He was happy to hear that we came over from the downtown area, as there is really no brewing going on in this part of Vancouver to speak of. They are trying really hard to get up to capacity and produce some good quality beers. The bartender said that if we wanted to bring food in or have it delivered, they are totally cool with that. There's a Japanese noodle house across the street (Andresen) from the location.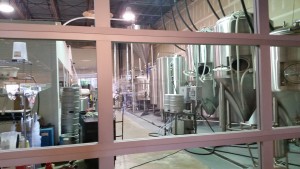 As you can see in the pictures below, they had three of their own beers and two guest taps that night. One from Heathen (Van. WA) and the other from Upright Brewing in Portland. The three beers from Fortside are quite good and we hung out for pints after the tasters disappeared (review below goes from front to back as seen in the picture below). I enjoyed the Pale Ale the most. I would like to thank Phil from Dirty Hands in Vancouver for stopping by and chatting at our table for about 1/2 an hour. He just happened to stop in to check them out like us about the same time, and one of our buddies dad's plays in a band that performs at Dirty Hands from time to time. It's great to see other local brewers supporting each other and such. Overall, I'd go back after a few months to see if they have expanded their lineup and give them a try again.
Fortside Brewing Co.
2200 NE Andresen, #B
Vancouver, WA
P:(360)524-4692
E: info@fortsidebeer.com
Web: http://www.fortsidebrewing.com/
Face: https://www.facebook.com/fortsidebrewing

Zythological
Fortside Brewing Co. • Pale Ale • IBU: 39 • ABV: 5.4% • 10 SRM
This mid-yellow hue, bright white head ale has a slight pine and citrus nose. The carbonation is a bit low, and the head dropped pretty quick on it. The body is somewhat thin and dry finishing. The sharper dry citrus, pine and hop ester notes from the hops are on the mid and back, lingering well past the sip.

Couve A'licious
Fortside Brewing Co. • American Brown Ale • IBU: 20 • ABV: 5.2% • 21 SRM
This brown ale has a darker orange/red hue and a slightly off-white head that left a decent clingy spider-web on the glass. The nose is a bit sweet, bread-like, and dry. The front mouth is a little malt forward with a balanced malt and secondary hop profile that includes some floral, forest floor funk, and a variety of dark spices to help round it out. This is a great session-able brown ale.

Bitch Session
Fortside Brewing Co. • IPA • IBU: 69 • ABV: 5.5% • 14 SRM
Orange hue, white foamy head that leaves little lacing in the glass. The nose is somewhat weak, but does speak of pine, citrus and spice. The front to mid mouth-feel is somewhat crisp/sharp with the citrus rind esters that linger into grapefruit bitters. The mid to back finishes dry and the malts are really secondary to this really hoppy IPA.
Red Wing Lager
Upright Brewing Co. • North American Adjunct Lager • IBU: ?? • ABV: 5.8% • 18 SRM
Amber lager with a solid head that didn't settle. The lacing was really large bubbly and neat. The nose is solid biscuit and sweet breads/grains. The sugar is up front, the malt-dry solid body has a lot of rounded characters that end in a nice toasted after taste. The hops are really behind the malts on this one. Good red lager.
Promiscuous Blonde
Heathen Brewing Co. • Blone Ale • IBU: 19 • ABV: 5.5% • 6 SRM
This bright yellow ale has a thin head that settled quickly. The nose is sharp yeast, citrus, grass and lemony. The hops on the front end up being somewhat laid back and not as forward as the nose implies. The grassy feel to the hops and thin body help the yeasty characters sneak in and linger into the back and after taste. Really standard blonde ale without being too pretentious.
Root beer
Fortside Brewing Co. • Root beer (NA) • IBU: ?? • ABV: 0% • 40+ SRM
Non-Alcoholic Root beer is frothy, solid black/brown hue, slight tan head, solid nose of a sarsaparillas with tons of sweet sugars and a lingering spice on the back.