THREE MUGS BREWING CO, HILLSBORO OREGON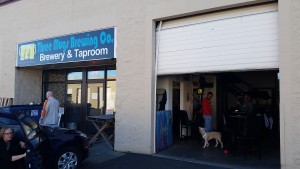 Saturday Feb. 21st 2015 we ventured out to a couple of breweries in Hillsboro, and this was the first stop. Three Mugs Brewing is a small taproom with a homegrown vibe back in an industrial complex. The location is pet friendly, and has no food but there is a local Hawaiian place that delivers if you're really hungry, just ask the bartender. There is a Foosball table located in the back, and during our visit we enjoyed the blaring radio playing the classic rock station. Other side of the building is there brewing supply store, Brew Brothers (http://www.brewbrothers.biz/. You can enter either side of the building, there is a door that connects the two.
Staff is super cool and knowledgeable and was interested in what we thought of their beers as we did the tasting. There were a number of other people coming in and out while we were there doing growler fills of both their beer, and picking from the 20+ other beers they had on tap. The only issue I might point out is that while this is a dog-friendly establishment, people just let them wander about so if you're not a big fan of dogs sniffing you while you drink then this place is not for you.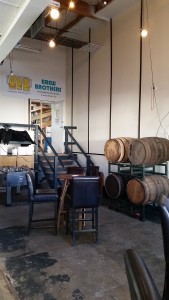 They had just four of their own beers on draft and as they provide taster trays of five, we picked one off their draft list that was from England, Wychwood Brewing Hobgoblin ESB. The reviews of the beers are below. Overall the experience was a good one. Their beers didn't disappoint and had pretty decent characters and flavor profiles for their respective styles.
Three Mugs Brewing Company
2020 NW Aloclek Dr
Suite 108
Hilsboro, OR 97124
Ph: (971)322-0232
Web: http://www.threemugsbrewingco.com/
Face: https://www.facebook.com/ThreeMugsBrewingCompany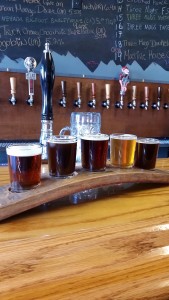 Hobgoblin
Wychwood Brewery Company Ltd • ESB • IBU: ?? • ABV: 5.2%
One of the many guest taps at 3 Mugs taproom we tried. This ESB has a 26 SRM Dark amber hue, sweet biscuity nose with traces of spice or woodsiness. Traditional flavor profile on the front mouthfeel with mild hops and bread with dried fruit (raisins) and dry back end.
FSA #2 CDA
Three Mugs Brewing • Cascadian Dark Ale • IBU: 95 • ABV: 7.5%
Dark brown and cloudy. Off white head the leaves a little cling on the rim. Sweet malt nose and a bit of cocoa bitters resonates. Nice full body and carbonation level. The bitters come from the malt and light hop characteristics. Soft rounded and dry lingering hop.
Northern Rebellion Brown
Three Mugs Brewing • English Brown Ale • IBU: 30 • ABV: 3.5%
Mid-Amber red brown hue. Small bubbles and full white head. Nose is strong caramel and burned sugars with dark grain bread. The front mouth is thin but has lots of grain and a balanced hop body. The back is well balanced and the sweet sticks around considering the low ABV of this beer, it's quite good and drinkable.
Take 2 IPA
Three Mugs Brewing • India Pale Ale (IPA) • IBU: 95 • ABV: 5.5%
Hops: Simcoe, Cascade, and dry-hopped with pounds of Pilgrim hops
(6ish SRM) lite yellow hue. Clear inviting body, white head drops fast, leaves a little lattice of foam on the glass. Piny and hop resin with sweet malts are on the nose. The front mouth is sharp with pine and grassy notes. The hop really explodes on the mid and back mouth. The after taste is tongue gripping astringent of citrus rind.
Dunkel Dude
Three Mugs Brewing • Dunkelweizen • IBU: 30 • ABV: 7%
34 SRM dark amber unfiltered appearance. Nose has a lite yeast, sweet caramel malts. The front mouth is strong toasted grains with dried plums and cherries with secondary yeast funk. The weizen body with clove and fruit is expressed on the back and after taste.