VERTIGO BREWING, HILLSBORO OREGON

On Saturday Feb. 21st, 2015 we went on a little trip to visit a couple of breweries in Hillsboro Oregon, which is a suburb just west of Portland. Vertigo Brewing is the second stop from that day. We've been to this brewery a few times before, so we've had some of their beers and new what to expect when we got there. The taproom is located next to the brewing location in an industrial park. There isn't a lot of signage, so if you aren't sure where you're going it can be a bit confusing. The door into the taproom isn't marked that well, so look for their signs. It is 21+ ONLY, so don't bring your kids or your pets and eat before you come because this is JUST a taproom.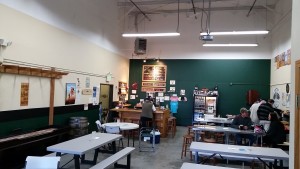 Inside they have a variety of games you can play for free, just look along the wall for the tables of games and grab one to enjoy while you sip their beers. There are locally made pretzels you can buy to snack on which are available at the counter. The customers range from old to young, and locals to visitors from other countries. When we were there, a couple of groups of vacationers stopped in that were from Mexico I believe. You can take a peek into the next door production room if you are interested in looking at those, just ask the servers.
I would have to say that their list and styles of beers has been pretty consistent over the past few years. Each time they have 6 or 7 seasonals that always surprise us with a range of varieties and top quality. If you have questions about their beers, just ask the servers for a taste or purchase a sampler tray. This time around, we ordered everything they had, which was two trays (6 each) that are pictured below. As they only had 10 of their own beers available that day, we had a couple of their guest taps which are listed and reviewed below as well. For those that are into cider, they usually have at least one guest cider available when theirs is out.
The beer reviews go from left picture to right picture, back left to front going right. We really enjoyed all of them but the favorites this time were the "Left, Nut Brown" and "Chocolate Wrapped Heart".
Vertigo Brewing
21420 NW Nicholas Ct.
Suite D-6 & D-7
Hillsboro, OR 97124
Ph: (503)645-6644
Web: http://www.vertigobrew.com/
Face: https://www.facebook.com/pages/Vertigo-Brewing/186752859865
T.B.D. Blonde
Vertigo Brewing • Blonde Ale • IBU: 15 • ABV: 5.1%
Super thin and bright yellow (3 SRM) draft is a great starter beer for those that like light beer. The nose is pretty absent, slight malt notes are present. It's got a crisp pilsner like hop front mouth and washes down quickly with little aftertaste.
Apricot Cream Ale
Vertigo Brewing • Cream Ale • IBU: 15 • ABV: 5.1%
Matls: Pale, Crystal
Hops: Saaz, Mt. Hood
A bright yellow hue (4 SRM) with white, clingy foam head. The nose speaks of slight sweet malts and hints of dried apricot. The front mouth is a little dry and thin with an apricot funk. The beer was brewed with a non-fermenting extract, so the flavors it presents are strong and misleading if you're not familiar with pure apricot and hop flavors (fruit noted included coconut and pineapple?). Some of us thought it was a bit funky and unpleasant while others really loved it.
Razz Wheat
Vertigo Brewing • American Pale Wheat Ale • IBU: 15 • ABV: 5.3%
Filtered pinkish colored beer (26 SRM) with a solid white head. The nose has a slight sweet fruit note with wheat-yeasty characteristics. The front mouth is a little dry with the fruit expressing itself directly. The sweet malts and hidden hop profiles are secondary to the tart-sweet raspberry profile that is a little sharp on the back end and aftertaste. If you like a lighter wheat beer with fruit flavors that don't overpower the beer, this is a winner!
The Closer Pale Ale
Vertigo Brewing • Pale Ale • IBU: 55 • ABV: 5.7%
Liter amber color (15 SRM) with a bright white foamy head that clings to the glass, making a nice lattice on the rim. The nose has hints of pine and sweet hops, grapefruits and floral characters. The front mouth is a bit sharp with the citrus/fruit rind, grassy and pine hops, and toasted malt body that balances it out. This is as close as you can get to an IPA without being an IPA. The back end is sharp with a effervescence from the carbonation that brings an almost metallic tinge to the palate.
Friar Mike's
Vertigo Brewing • English-American Hybrid IPA • IBU: 62 • ABV: 6.1%
Mid-orange/amber hue (22 SRM) with a nice, firm white head and effervescent carbonation. The nose has sweet honey and slight fruit (oranges and lemon) present. The front mouth is held with a mild biscuit malt profile layered with the herbal and citrus hops. No real pine or NW style hops in this as it's an English style IPA. Overall this is a full bodied IPA with enough character to keep you sipping. The back mouth does change over time with transitions to more orange and floral as the bitters settle in.
Uno Mas
Vertigo Brewing • American IPA • IBU: 73 • ABV: 7.5%
This draft pours with a mid-amber/red color (26 SRM), clingy white head and the nose ranges from yeasty to hop resin and rotted fruit (grapefruit rind). The front mouth is really complex with mixes of citrus and resin hops and a full bodied malt body. There isn't a lot of sweet on this, just strong hop profiles and a body to support them. The back end is somewhat bitter with lingering sharp notes.
Friar Mike's Gone Wild
Vertigo Brewing • Imperial IPA • IBU: 100+ • ABV: 9%
Note: Dry hopping with Amarillo hops during secondary fermentation
Draft is clear copper/red color, a medium to full white head and decent lacing. Nose has dry orange and herbal hopping and sweet malt characteristics. The front mouth is mild bitterness from citrus hops and floral sweetness. The mid-back and aftertaste are a bit harsh with hop resins and bitters.
Arctic Blast Vanilla Porter
Vertigo Brewing • American Porter • IBU: 18 • ABV: 4.8%
Malts: Roast, Dark, Crystal and Munich
40+ SRM dark brown colored draft with tan head. The nose is sweet cocao and toasted grains. The front mouth is slightly dry with notes of coffee, chocolate and the far back end has the smooth vanilla chocolate creaminess. The body is a bit thinner than most Porters of this style, but that doesn't take away from the overall appeal.
Left, Nut Brown
Vertigo Brewing • American Brown Ale / Winter Warmer • IBU: 27 • ABV: 7.1%
Matls: Crystal 120L, Munich, Chocolate
Hops: Northern Brewer, Mt. Hood
Note: five pounds of honey per barrel
40+ SRM with brown and red hues, slight tan/off-white firm head that clings to the glass well. The nose is coffee and chocolate with sweet malts. The full bodied mouth feel has a good amount of caramel, toffee, and toasted grains that are balanced with the slight hop profile that presents on the mid and back. This is a really good traditional brown ale that provides a balance of sweet and hop bitters without being overbearing on the flavors that hide the higher alcohol amount.
Chocolate Wrapped Heart
Vertigo Brewing • Porter • IBU: 18 • ABV: 5.4%
Note: Brewed with 50 pounds of raspberries, 10 pounds of Ghirardelli sweet chocolate and cocoa
40+ SRM with dark brown/black color that shows red when you shine a light through it. The head is tan, and firm. The nose is sweet chocolates, toasted grains, and toffee. The front mouth is a full bodied porter with a distinct fruit/berry presence that lingers through the mid and back mouth feel. The milk-chocolate rounded body is really inviting and this porter doesn't disappoint.
Old Rasputin (2014)
North Coast Brewing Company • Russian Imperial Stout • IBU: 75 • ABV: 9%
40+ SRM, thick tan head, lovely nose of coffee and sweet chocolate/toffee bitters. High carbonation helps the flow of this rich, bitter beer and brings the 'cream' out. The slight dry hop profile balances the sweet coffee and chocolate front and mid profiles.
Hard Apple Cider
Atlas Cider Company • Apple Cider • IBU: ?? • ABV: 5.8%
This is a really sweet and bright tasting cider. Good for those that like sugary drinks with an alcoholic kick.