Review: Ecliptic Brewing, Portland, OR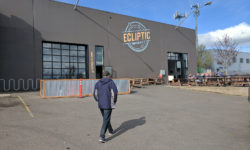 On April 6th we visited one of the more successful and somewhat newer breweries here in Portland, Ecliptic Brewing. Located at the south end of the Mississippi St. district of north Portland, Ecliptic has provided a much needed boost to the neighborhood and local brewing scene. Founded by well known and respected brewer John Harris, who happens to be the guy who came up with the recipes for Deschutes beers: Mirror Pond, Obsidian Stout, Black Butte Porter and Jubelale, John's now creating his own award winning brews at Ecliptic.
The name might be challenging to say and spell (or know what it means), it's based on John's love of astronomy and the term 'ecliptic' is defined as the earth's yearly path around the sun.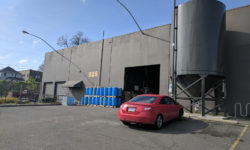 The brewery location includes both the production and bar/restaurant. It has a large parking lot (which is always full) and some limited on-street parking. If you go during peek hours, expect to walk a bit from where you park and wait in line for a table. As you can see, they do have a large outdoor patio area that doesn't have much coverage, so if Portland's wet weather isn't your thing, wait for a table in the bar or in the main dining area. The day we visited, it was partially sunny with some periodic sprinkles, so we sat next to the large garage door in the bar area where we had plenty of light, fresh air, and were out of the rain when it happened.
A few years ago we had visited the brewery shortly after it had opened in 2013, and the beers and service had a bit to be desired. As we've since had their beers on draft and in bottles, we decided to go back and try their happy hour food and do some sampling and see if it's improved.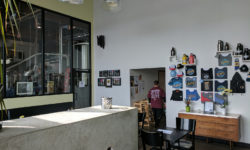 We're glad that we went back! The food was really good and the service obviously has improved with knowledgable and friendly servers. The best part is that the beer lineup has also improved. I do appreciate the fact that the bar area is large enough to fit a big crowd, their bar isn't just a small seating area. They do have this set up as a 'kid-free' zone (YEAY!). If you do want to take your kids, you're welcome to sit in the restaurant side. After we grabbed our table in the bar area, we were quickly brought the samplers and food followed quickly behind. The server was super knowledgable and helpful.
The bar area and restaurant have some great design features, including many astronomically based art and lighting fixtures. You should note that their food specials change every six weeks with the changes of the astronomical calendar, so if there's something you like, or dislike, just wait a bit for a new menu and try them again (or miss what you liked from before).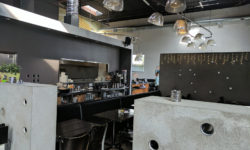 They pride themselves in using locally produced ingredients and products, and the quality of food does reflect this. Their brewery is attached to the restaurant/bar and you can take a tour if you want (free). They do offer free samples and the obligitaory taster tray (as we got), so don't be shy and try a few things before you decide what you want. We were not expecting them to have as many beers on draft as they do, so be ready to for making that hard choice.
The beer list is on the wall to the left of the bar, and you'll find a separate beer menu that lists off the details of each of the day's offerings. This is helpful when doing reviews or trying to decide what to order.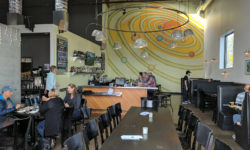 After we started sampling the beers, reviews go left to right clockwise around the pictures, we found that most if not all were quite good, and fit closely to the styles that one might expect. I'd definately recommend going to Ecliptic if you're in the neighborhood and can get in without a long wait. Out of the beers we sampled, I would say that the Star Destroyer Imperial Darkside Lager and the Third Orbit Anniversary Ale: Imperial Porter with Cherries were the best two beers I tried. I find that my beer preferences are moving towards darker beers, but I've always loved Schwarzbier (dark lager).
Ecliptic Brewing
825 North Cook St.
Portland, OR 97227
Phone: 503-265-8002
E: info@eclipticbrewing.com
Web: http://eclipticbrewing.com/
Face: https://www.facebook.com/EclipticBrewing
Carina Peach Sour Ale
Ecliptic Brewing • Sour/Wild Ale • IBU: 10 • ABV: 5.5% • SRM: 5
Appearance: Yellow/Orange hue cloudy draft with a minimal white head that dropped to a scheen and had no lacing.
Smell/Aroma: Grapefruit pith, peach juice, citrus acids, sweet tart sourness.
Taste: Juicy and tart front, thin crackery malt mid, dries out on the back, strong lacto yeast funk and bright citrus back end.
Mouthfeel: Thin and watery, lesser bodied but holds on the mid to back.
Overall: This is a really bright, tart and sour beer with tons of fruit/citric acids, lacto's sour funk, and complex layers of flavors.
Star Destroyer Imperial Darkside Lager
Ecliptic Brewing • Schwarzbier • IBU: 39 • ABV: 8% • SRM: 30
Appearance: Dark brown hue, clear draft with a slight off-white/tan head, solid foamy head that dropped a bit and left plenty of small bubbly lacing on the rim.
Smell/Aroma: Hits of old potted wood, dried grains, some fruit.
Taste: Dry front, thin bodied, solid amount of malt that helps bring out the burned estringency/bitterness.
Mouthfeel: Thin bodied, some grainy hits on the tongue, low carbonation.
Overall: Collab with Gigantic Brewing (Portland). This is a solid dark lager with tons of roasted grains and burned wood, a bit too much on the bitterness with the hops.
Frosty Leo Winter Warmer
Ecliptic Brewing • Spice/Herb/Vegetable • IBU: 65 • ABV: 8.2% • SRM: 26
Appearance: Dark red/brown colored draft, tan large bubbly head, great lacing and retention.
Smell/Aroma: Dark sugars/molasses with a bit of dried leafs and belgium funk.
Taste: Strong flavor profile with tons of roasted malts and sweetness on the front to mid, dries a little bit with some caramel hints and buttery flavors that show towards the back with the mild hop cones and citrus oil. The wild yeast is really hidden well.
Mouthfeel: Rich and full mouthfeel with plenty of carbonation that dances around the tongue.
Overall: This is a great winter warmer with a gentile Belgian approach, not overpowering and not too strong.
Hypernova
Ecliptic Brewing • Triple IPA • IBU: 88 • ABV: 12% • SRM: 12
Appearance: Clear golden/orange draft with a bright white large bubbly froth. Minimal retention and some big bubbly lacing.
Smell/Aroma: Dried leafs and orange peels, hints of hop resins.
Taste: Strong alcohol forward with tons of hop resins, pine cones, citrus, and tropical notes. The malts on the back barely help hold it together with a thin chewy bread vibe.
Mouthfeel: Chewy, strong, forward.
Overall: This is a super complex over-the-top dry-hopped triple IPA with more bitterness than most will like.
Orange Giant Barleywine Batch 3: Bourbon Barrel Aged
Ecliptic Brewing • Barley Wine • IBU: 80 • ABV: 12.5% • SRM: 18
Appearance: Dark copper and brown hues, clear draft, large frothy tan head that lingered to the end and had gobs of lacing.
Smell/Aroma: Strong alcohol nose, hints of toffee, caramel, and burned sugars.
Taste: Burbon forward, bright alcohol and lingering sweetness to the back. Hops are hidden behind the strong malt/sweet notes.
Mouthfeel: Thin, smooth, mild carbonation.
Overall: Strong burbon flavors, the caramel malts and subtle hops help it out, but this is not a beginner beer.
A.L.F.
Ecliptic Brewing • Stout • IBU: 30 • ABV: 5% • SRM: 35
Appearance: Not completely black/brown, but dark enough to show you the way. Minimal tan small bubbly head, minor lacing.
Smell/Aroma: Hits the nose with cocoa powder, mild wet coffee grounds.
Taste: Forward roasted with a tongue coating lactose vibe. Lots of light roasted grains and sweet caramel hints.
Mouthfeel: Smooth, a bit chewy, watery/thin on the back. Drops quickly.
Overall: This is a classic approach to the Irish Dry Stout. Plenty of sharp bitter notes dance around the strong burned grain build.
Oort Imperial Stout
Ecliptic Brewing • Imperial Stout • IBU: 77 • ABV: 8.5% • SRM: 40
Appearance: Solid opaic black draft with a large small foamy tan head, tons of lacing and retention to the end.
Smell/Aroma: Thin nose, hits of burned coffee, some lingering smoke.
Taste: Strong burned grains and coffee like bitterness front to back. Thin on the mid, water towards the back. Sweet bitter cocoa hits way on the back.
Mouthfeel: Chewy, mild watery mid to back, drops after a linger big bitter bite.
Overall: This is a great imperial stout with tons of roasted grains, wet coffee, and mild cocoa powders.
Spectra Hoppy Pilsner
Ecliptic Brewing • Kellerbier / Zwickelbier • IBU: 38 • ABV: 5.5% • SRM: 6
Appearance: Clear golden with bright frothy white foamy head. Lots of lacing and retention on this one.
Smell/Aroma: Grassy and citrus, hints of dried fruits and yeasty.
Taste: Crispy and thin, bitters are strong on the front to mid with wet earthy acidity, layers of hop cone resins on top of fresh cut grass. Thin crackery malts help it along.
Mouthfeel: Thin and sharp, watery mid, dries a bit on the back
Overall: Big and solid pilsner, great approach to the style, not Euro, more American.
Orbiter
Ecliptic Brewing • IPA • IBU: 75 • ABV: 7.4% • SRM: 17
Appearance: Slight hazy copper draft with a solid small bubbly head, tons of spidery lacing and retention to the end.
Smell/Aroma: Sharper pine cones and grapefruit/citric acids.
Taste: Hops really overpower everything in this IPA, but are layerd and complex from pine resins, citrus acids, and earthy notes. The malt build is thin and akin to white bread.
Mouthfeel: Medium bodied, lots of sticky resin on the back which lingers for a bit.
Overall: This is a NW style IPA start to finish, it's got an over abundance of hops that reflect the pine, dry, complex approach that it should.
Phobos Single Hop Red Ale
Ecliptic Brewing • Amber Ale • IBU: 34 • ABV: 5.6% • SRM: 24
Appearance: Clear brown/reddish colored draft, large foamy tan head with bubbles for days, tons of retention and large clumps of lacing.
Smell/Aroma: Lighter hints of coffee and sweet breads with raw nuts.
Taste: Strong flavor profile with rich malts, layered with caramel and dried toast. Hops are secondary, but do show up as tropical to thin citrus in nature. More aromatic than flavor based.
Mouthfeel: This is a medium bodied, slightly chewy, dry back.
Overall: Having more malts than hops, this red is quite drinkable and solid.
Capella Porter
Ecliptic Brewing • Porter • IBU: 39 • ABV: 5.2% • SRM: 40
Appearance: Really dark brown to black opaic, zero head retention, fell to a sheen quickly, minor small bubbly lacing.
Smell/Aroma: Roasted grains, toffee and dried fruits.
Taste: This has a strong toffee and caramel malt profile, mild bitterness comes from the burned grain bill, zero hop presence.
Mouthfeel: Thin, lighter flavor profile help it go down quickly.
Overall: This is a great example of the porter style of beers. Bitters show up from the roasted grains, thin, and mild on the back.
Third Orbit Anniversary Ale with Cherries
Ecliptic Brewing • Imperial Porter • IBU: 50 • ABV: 9% • SRM: 35
Appearance: Reddish black, nearly opaic, strong frothy mocha head, tons of lacing and retention to the end.
Smell/Aroma: Dry cocoa powders, minor hints of old dried fruits.
Taste: Deep in coffee and cocoa nibs, dried fruits (cherry) show up on the mid. Dark bitterness is dry on the back.
Mouthfeel: Chewy but a minor silky back lets this go down easy.
Overall: Really great imperial porter without being overpowering on the bitterness. The fruit is secondary and that's too bad.
Quasar Pale Ale
Ecliptic Brewing • American Pale Ale • IBU: 65 • ABV: 5% • SRM: 5
Appearance: Hazy orange/golden hue draft, minor white small head, dropped off after a sip, some spidery lacing.
Smell/Aroma: Pine tar and tropical fruits, hints of tea.
Taste: Strong hop profile on the front, tons of tropical fruits and pine resins. Malts are secondary and hidden, but give the body the boost it needs.
Mouthfeel: Chewy and coats the mouth with hop resins.
Overall: This is a strong pale ale, not a starter beer. Solid hop profile lasts well past the back into the next beer.