10 BARREL BREWING CO., PORTLAND OREGON

On the early evening of April 7, 2015, we ventured into downtown Portland to visit this recently opened brewpub by 10 Barrel Brewing. This location was well in the works before they sold to Anheuser-Busch InBev, so we had to at least give it one try before passing judgement. Neither of us had been to any of the other 10 Barrel locations so it was a clean slate to start with when we arrived. As you can see, it's quite a large space with many tables and large self-seating area around the bar side. The production tanks are behind the main seating area, and the beer list is on a gigantic chalk board above the west wall in the bar area. The only compliant was the amount of noise that was generated once the bar became full. It was hard to hear the bartender when we tried to order, but that's typical of most bars in large open spaces.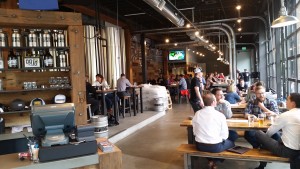 The bar wasn't too busy when we got there during early happy hour, so we bellied up to the long wooden bar and were served immediately with an interest in what we liked in beer by the bartender. It's great that their staff are knowledgeable and willing to help you decide what to order off of the food menu and beer list. Samples are free of any beers, and their taster tray only comes in 10 pre-selected beers from their list. This includes most of their standard (distributed) year-round beers and a few one-off's and specialty brews. We decided to do the 10 taster tray, and then sample/drink what we wanted to outside of that. With almost 24 beers available, tasting them all is challenging, even for a beer lover like me.
We decided to order some of their pub food (burger and nachos), both of which were decent. The nachos (Gorgonzola, bacon & steak) were pretty hot (way too many jalapenos) and I got them with 1/2 fries and 1/2 house made chips. The chips were so good, that I'd get an order of alone next time. It didn't take long for the food to arrive once we ordered, the pizza's that people were getting around us looked pretty appealing as well.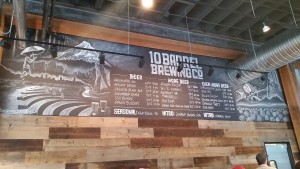 The taster was poured really quickly as well, and we tried some tasters and ordered a few one-off beers at the end. I've posted pictures of the single beers ordered and the taster trays and samples below (right to left on the main taster tray). Overall the quality of beer is outstanding, the variety and styles are pretty spot on and the opportunity to try some barrel aged standards is well worth the trip if you like that sort of thing. The most memorable of the beers we tried that night were the Juniper Session CDA on Nitro (last one below), and the Pebbles Belgian IPA from the taster tray. So, ultimately we would go back if we were downtown and needing a bite to eat, but it's hard to swallow that our money would be going to InBev in doing such.
10 Barrel Brewing Co.
1411 NW Flanders St
Portland, Oregon
Ph: (541) 585-1007
Web: http://www.10barrel.com/#portland
Face: https://www.facebook.com/10BarrelBrewingPDX

Golden Blonde Ale
10 Barrel Brewing Co. • American Blonde Ale • IBU: 22 • ABV: 5% • 4 SRM
Clean liter yellow hue, white head dropped quickly and soft, semi-sweet nose. The body is thin, the hops are somewhat on the mid and back that fade quickly. A session-able ale for sure without being too memorable.

Apocalypse IPA
10 Barrel Brewing Co. • American IPA • IBU: 70 • ABV: 6.8% • 5 SRM
Brighter yellow clear hue colored IPA with a white head that leaves nice lacing on the rim and a subtle hop (floral) nose. The front mouth on this is sharper with fruit/citrus and floral hop flavor profiles. The mid and back stay bitter with a more grassy hop expressed.

Bam Bam
10 Barrel Brewing Co. • Belgian Stout • IBU: 40 • ABV: 7.3% • 40+ SRM
This stout is dark brown/black, slightly off-white/tan head and a slightly yeasty and espresso nose. The front mouth has a sharp bitter roasted coffee flavor profile with a distinct Belgian yeast character that is secondary to the malts and hops. Interesting if you like coffee, not so much if you don't.

S1nist0r Black Ale
10 Barrel Brewing Co. • Schwarzbier • IBU: 28 • ABV: 5.4% • 35 SRM
This black ale has a slightly off-white/tan head that drops quickly. The nose is subtle grassy bitters rounded with roasted malts. The front and mid mouth feel of a thinner ale almost a kolsh in approach with some yeast present. The cocoa and coffee mix well with this lighter bodied beer that acts like no other.

Easy Black IPA (Black Session IPA)
10 Barrel Brewing Co. • American Black Ale • IBU: 65 • ABV: 5.1% • 40+ SRM
Another black ale, this time with a stronger bitter nose and same tan (small bubble) head. The body is a bit thicker than the other black ales they make. The front mouth has a bit of bitters from the hops, and the roasted grain build balances out the mid and back. There is subtle lingering hop florals on the after taste. A really sessonable IPA.

German Sparkle Party
10 Barrel Brewing Co. • Berliner Weissbier • IBU: 14 • ABV: 5% • 4 SRM
Delicate golden pale color with a nice frothy white lacing head. The nose is somewhat tart lemon in character, with a slight yeast funk present. The front mouth is somewhat puckering full body of lemons and grape like acidity. The yeast notes do follow through to the end, and the bready mid/back does help balance out the body. Super dry finishing with the lingering tart bitterness.

Apricot Crush
10 Barrel Brewing Co. • Berliner Weissbier • IBU: 4 • ABV: 5% • 6+ SRM
Hazy golden pour with a bright white head that lingered on the rim. The nose is really somewhat sour with lemon zest and apricots with a slight yeasty/grassy note. The front mouth is pretty sour and then balanced with a slight sweet note and lingering tartness that runs from lactic dry finishing to fresh hop resins to help bring it around.

Pebbles Belgian IPA
10 Barrel Brewing Co. • Belgian IPA • IBU: 70 • ABV: 7.3% • 8+ SRM
Hops: Alpha, Noble
This lighter orange colored draft has a small white head that dropped quickly leaving no lacing on the rim. The nose is mix of slight hop bitters and Belgian yeast funk. The front mouth is somewhat tropical and and citrus hop forward with a nice malt balance to help keep this in bounds. One person may think "dirty rocks", someone else may think "best IPA I've had in a while", it's yeast notes do express with a bit of acidic funk, so you will either love or hate it.

Throw Back Oatmeal Stout (Nitro)
10 Barrel Brewing Co. • Stout • IBU: 22 • ABV: 4.8% • 40+ SRM
This solid black/brown draft has a nice two finger, tan head that leaves nice lacing on the rim. The nose is pronounced toasted grains without much bitterness to it. The front and mid mouth express the solid body grain build that has bread-chewy quality with dry oats and a creamy like rounded back. This is a truly exceptional stout with no chocolate or coffee to be found.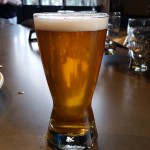 Joe
10 Barrel Brewing Co. • American IPA • IBU: 70 • ABV: 6.9% • 4 SRM
Hops: Simcoe, Amarillo, Mosaic
Really nice clear, bright yellow hue, white solid head and a slightly sharp pine nose. The front of this is pretty solid with hops, floral, tropical and some pine/resins going on. The malt build/balance helps keep the hops from overpowering and being the focus. The hops do fade a little bit on the mid/back and there is no lingering bitterness.
Juniper Session CDA (NITRO)
10 Barrel Brewing Co. • CDA (Cascadian Dark Ale) • IBU: 57 • ABV: 5% • 40+ SRM
Slightly red-hue to this brown CDA. The head is slightly off-white and pillowy. The nose is acidic with juniper and pine with a subtle sweet/sticky note with it. The front of this is pretty sharp bitters with a smooth nitro-rounded approach. There is a bit of bread like quality to the body, sweet and savory like on the back. The juniper and pine hop characters show up from the front to the back. The toasted grain balance keeps it from being too one dimensional.