BLACK LAB BREWHOUSE & KITCHEN, BARCELONA SPAIN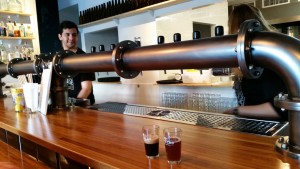 We discovered the BlackLab Brewhouse + Kitchen in Barcelona during our trip in January this year (2015) and were lucky enough to meet the brewer and owner Matt during our visit. Matt is an ex-pat from Duluth MN. that brought his love for beer with him when he moved to Barcelona. The location is on the NE side of the Meseu d'Historia de Catalunya building on the Barcelona waterfront and recently opened, so the inside is somewhat 'modern' in style, with minimal decorations and vibe. There is outdoor seating and plenty of indoor space at the bar and restaurant rooms. The menu is somewhat of a cross between Asian-fusion and pub food. We ordered some fries and they were hot, spicy, and delicious. They offer tastings of any of their beers (which they only had 2 of their own as they had just opened a few weeks prior and their brewing equipment was not there yet) and any of the guest taps they have. The super friendly servers/bar tenders speak English, Spanish and a variety of other languages and love chatting with the customers. This really does make this place friendly and easy to hang out in.
As this location did just open, and Matt, the brewer/owner is still waiting for their equipment to arrive, the beers were done in collaboration at another local brewery. With there only being a few other microbreweries in Barcelona, it's a small community to join that is expected to grow once the local laws become easier to deal with. We chatted with Matt about the local scene and laws and he said that there is no real word in Barcelona for "brewery" within the government regulations, so by law they have to either call themselves a "fabrication" (factory) or a kitchen/restaurant that makes soup. He is hopeful that the situation will change over time with the regulations and laws regarding brewing for the better.
Overall, we had a great time at this brewery and wish them the best of luck!
http://www.blacklab.es
https://www.facebook.com/BlackLabBCN
PALAU DE MAR, PLAÇA PAU VILA 1, BARCELONA, 08039
Reservations: 932 218 360
hola@blacklab.es
El Importador
Black Lab Brewhouse & Kitchen • Amber Rye Ale • ABV: 5.5% • IBUs: 28
Dark amber and a rich cloudy appearance, roughly 25 SRM and full white head that dissipates quickly. Medium carbonation and a slightly bitter and spicy mouthfeel. This is supposed to be a filtered amber rye but they were having some issues with the kegs and it was a little cloudy. The beer does have a lot of malt and hops with a slight dry sourness on the mid and back mouth that make it pleasant and surprising. Overall, a good dry amber ale that is quite different than any other beers you will find in Barcelona.
Black Mirror
Black Lab Brewhouse & Kitchen • Dry Stout • ABV: 4.5% • IBUs: 40
This is a fully dark brown/black stout with a 40 SRM and solid white head. The foam does leave a nice circular lattice on the rim. The nose does have notes of chocolate, coffee and spice. The front mouth is clean and a mid-thick (not thin) body let's you know you are drinking a solid beer. The mid and back have pronounced burned oats with more roasted coffee, bitter chocolate, and slight black licorice flavors on the back that linger briefly with the dry hop esters. This is a great stout if you're not into chewing your beer.