2015 BEER DISCOVERY TOUR: KettleHouse Brewing Co., Missoula, MT (July 9th, Brewery Stop #38) (recovered post)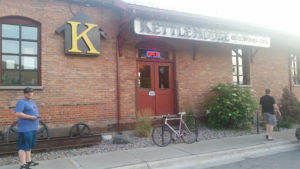 The 38th and final brewery visited during our cross-country beer discovery tour (click to read about the whole trip) was the KettleHouse Brewing Company in Missoula Montana. The Northside Brewery location was our final tour stop for Missoula and the trip, unfortunately they were not pouring when we arrived. Luckily I've been to this and their downtown south location on a prior trip to Missoula and had experienced the beers before.
If you go to Missoula, make sure you get to the breweries prior to 8pm. By law, breweries/taprooms are not allowed to serve after 8pm, but can do growler fills until 9pm. I know this doesn't make sense, but that's how it is. We finished up our dinner and sampling at Flathead Lake and did the quick drive up to KettleHouse thinking we'd get there in time, but we didn't.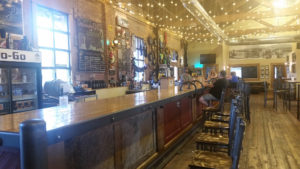 As you can see from the pictures, they are located in an old shipping terminal along the railroad tracks. It's kind of a hard place to get to if you don't have navigation, so make sure you have that or a good map. You have to drive through a residental neighborhood to find them.
When we got there, it was pretty empty, except a few people that were left over from the 'serving' time. We talked with the bartender a bit about this, and asked if we even order a growler, would she pour us samples, and she said no. Dissappointing for us, but it's what it is. They do not offer food, but do have a patio thats crowded during the summer months and the inside has a pretty good sized seating area and a HUGE bar. They do have live music from time to time also from what I've read.
Based on the previous trips to Missoula, and visiting this and their other location, I'd high recommend giving their beers a try if you can find them or make a trip to one of their Missoula locations.
We made our way back to our hotel, and crashed out for the night. We got up and made the long trek back to Washington/Oregon via the northern passage of Idaho. We really enjoyed learning about the brewing scene across the U.S. and want to duplicate this trip in the future, perhaps going through different states, or doing it more regionally. Thanks for reading about the trip and our adventures discovering beer across the U.S.
KettleHouse Brewing Company
313 N. 1st St. W
Missoula, MT 59802
Phone: 406-728-1660
E: info@kettlehouse.com
Web: http://kettlehouse.com/
Face: https://www.facebook.com/KHNorthside/