FÁBRICA MARAVILLAS, MADRID SPAIN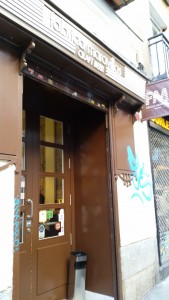 On an early January afternoon we ventured out in Madrid seeking one of the only local breweries in town. This brewery is on a small old city street called Calle Valverde, not far from where our hotel was located. This brewery has a few tables outside to sit at when it's warm and just a few tables inside and a bar to sit at if you can find a seat. They do have menus available in English and Spanish which give the descriptions of the beer and light tapas food they offer. Inside you will find modern decor, exposed wood and brick make the vibe really hip compared to many shops and eateries in the neighborhood that are not so. The staff is super friendly and willing to help you with the beers, which the offer in a couple of different sizes. I've read the owner and brewer is from Chicago, which explains the Americdan style microbrewery vibe to the joint. We definitely recommend this spot to anyone seeking good craft beer in Madrid! You will see in the pictures that they do have their brewing equipment just behind the bar and you can ask the server questions about the set up when they aren't busy.
Oh, and you get free chips, olives and bar nuts if you hang out and talk with the staff (which is not unusual for Spain). I would like to thank our server, not only was it her birthday that day, she was really trying to make sure my beer pics were just right by filling every beerglass / taster the same amount. We laughed a little with the room as she kept trying to pronounce IPA, her friends were really trying to help her out and it was just funny as she tried so hard to get it right. We thanked her kindly for her attention and wished her a happy birthday!
Below are the reviews of the beer tasters and full pints that we tried. All of their beers were decent to exceptional for their style and execution.
www.fabricamaravillas.com
https://www.facebook.com/fabrica.maravillas.madrid
Calle Valverde, 29
Madrid, Spain 28004
ph: + 34 915 218 75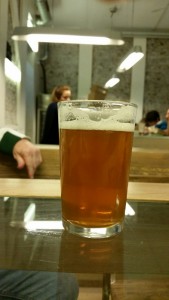 Malasaña Ale
Fábrica Maravillas • Rye Pale Ale • ABV: 5.4% • IBUs: 45
Malts: Pale, Munich, Centeno, Caramel light
Hops: Citra
Single hop rye pale ale is outstanding. Beautiful amber color 23ish SRM. Full stark white head and carbonation. The nose has pure floral, citrus and dry pine notes. Subtleties on the front speak to the caramel and munich malt build. They balance the rye bitters nicely, making a full rounded mouthfeel that has slight lingering hop floral on the back.
Saison Valverde
Fábrica Maravillas • Saison (French) • ABV: 5.5% • IBUs: 27
Malts: Pilsen, Munich, Trigo, Caramel Light
Hops: Saaz (Czech), Cascade
Really nice blond color and head. 14ish SRM. This beer has typical soft Saison characters on the nose with Belgium wild yeast esters and floral traits on the nose and front mouthfeel. Full bodied flavors and carbonation allow for a well balanced "lighter Saison" experience.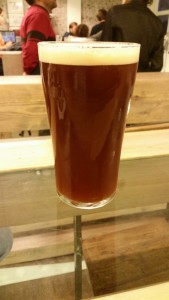 Red Ale
Fábrica Maravillas • American Amber / Red Ale • ABV: 6% • IBUs: 57
Malts: caramel, red x, aven
Hops: citra, saracci ale
Nice full bodied red ale with a 28ish SRM, with biscuit ans sweet grains on the nose. The full white head had a nice clingy edge on the glass. The front and mid mouth have pronounced sweeter malt profile that doesn't linger. Overall a sweet red that goes down smooth and is really nice with salty chips and olives.
Imperial FL(IPA)
Fábrica Maravillas • Imperial IPA • ABV: 9% • IBUs: 70+
Malts: pale ale, cardnel, biscuit, special b
Hops: Columbus, simcoe, Centennial
26ish SRM, nice darker amber hue with a lot of small clingy bubbles, lattice shows of a higher sugar content (typical of imperials). Super soft nose with a hint of sugar and dry hops. Notes of floral and citrus are present on the front mouth. The hop profile fades quickly and the alcohol does show on the back mouth.
FL(IPA)
Fábrica Maravillas • American IPA • ABV: 7% • IBUs: 74
Malts: Pale, Munich, Caramel Light
Hops: Cascade, Chinook, Columbus
30ish SRM, mid-amber red hue, larger bubbles in the head, which does go flat quickly. The nose has hints of citrus and floral hops and sweet barley/grains. Alcohol is slightly present with the sharper pine and floral hops. The citrus profile is more orange rind than anything else. The back has a light linger of hop oil/esters. The astringency is present throughout. This is a typical NW/West Coast style IPA, reminiscent of Green Flash IPA.
Imperial Stout
Fábrica Maravillas • Russian Imperial Stout • ABV: 10% • IBUs: 65
40+ SRM truly dark black with a clingy tan head and partially clingy lattice on the rim. Coffee and bitter cocoa are on the nose. Really bitter on the front with burnt oats and coffee that lasts through to the back. Don't really notice the higher ABV. The malt and hop profiles mask it, and there is more dry stout than sweetness, but what does present is fruity in nature. Overall this is a great presentation of Russian Imperial Stouts.