2015 BEER DISCOVERY TOUR: Fulton Beer Company, Minneapolis, MN (July 7th, Brewery Stop #31) (recovered post)
The 31st brewery visited during our cross-country beer discovery tour (click to read about the whole trip) and first in this city was the Fulton Beer Company in downtown Minneapolis Minnesota. After driving up from the Chicago area, we were ready to take a break from the car find some lunch and a few beers. We first stopped by the YardHouse outside of downtown so Gary could meet up with one of his former students and to sample some of the local beers and grab some food.
We were able to try a few local brews at Yardhouse that were pretty decent that were from breweries that were not open that day, which was a bonus. After eating, we headded back into downtown and stopped by Fulton, hoping they would be open (typically they are not unless there is a ball game that day, which there was). Luckily they had just opened so we grabbed a nearby parking spot (which is not easy in that neighborhood) and made our way in.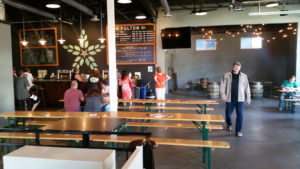 We chatted briefly with the hostest about their establishment as we were curious about their operation, and she was happy to share with us their back story and talk with us about the local craft beer scene. The bar area has some windows that look over into the brewing section of the building, and they do have a lot of smaller tables to sit and stand at including a large patio out front.
With the sports stadium nearby, it's good that we got there just after they had opened because by the time we left, it was jam packed with people. We quickly discovered that we were not able to 'order' a taster tray, as they didn't offer any. We thought this was strange, the bartender was able to give us a few samples each as you can see in the pictures, but it's not officially a taster lineup.
For some reason the local and state laws prohibit the brewery from providing taster sizes (smaller than 10oz I believe) or more than one taste at a time per person? We were like?? What?? Also, they don't have a permenant menu, as they offer a 'popup' space to food carts/trucks and such so check their website for current offerings.
In the end, we begged and begged and the bartender came though for us, but he made us take our picture quick and down the samples so no one else would get the idea to ask for it. I applaud Fulton for making the effort to help their customers understand the issues at play, and provide some simple work-arounds to this. We did enjoy each of the beers we sampled/tried, and the reviews go from right to left in the picture. My favorite was the MPLS Mild as I enjoy a good English Mild now and again that have tons of flavor but not high in alcohol like this one.
Overall, it's a cool brewery with a great local vibe. From what we sampled I would recommend if you're ever in downtown Minneapolis and can get there, stop by and give them a try. Out of the seven beers we tried, some of the beers were pretty one dimensional, but again knowing your audience is key in this situation. I would guess that with the microbrew scene being new to this market, you have to play it safe with some of your beers. Note that you can find some of their beers distributed via bottle, cans, and kegs across the upper-midwest.
Fulton Beer Company
414 6TH AVE North
Minneapolis, MN 55401
Phone: 612-333-3208
E: info@fultonbeer.com
Web: http://www.fultonbeer.com/
Face: https://www.facebook.com/FultonBeer
The Lonely Blonde
Fulton Beer Co. • Golden Ale/Blond Ale • IBU: 29 • ABV: 4.8% • SRM: 5 • PLATO: 11.8
Clear light yellow hue with some larger bubbly foam that dropped quickly. The nose is bready and slight cut grass hops. The front mouth is watery and not that strong, with some grassy/lemon bite and crackery malts. This is a light beer for the beginner.
The Ringer
Fulton Beer Co. • American Pale Ale • IBU: 35 • ABV: 5% • SRM: 8 • PLATO: 13.5
Mid-orange clear colored draft with some frothy bright white head that dropped quickly. Nose is mainly sweet malts with hits of citrus zest and earthy back. The front mouth reflects the aromatics, with a bright sweet orange peel bitterness, somewhat earthy mid-mouthfeel and then drops to a dry back. The stronger front mouth and soft back end really make for a great sipper.
The Randonneur
Fulton Beer Co. • Saison / Farmhouse Ale • IBU: 23 • ABV: 4.1% • SRM: 7 • PLATO: 11
Yellow-orange hue pour with a bright white foamy head, small bubbles and little retention. The nose is dried wheat and straw with some earthy hits. The front mouth is effervescent with overcarbonation, bubbly on the tongue with citrus and dries out towards the back with an herbal stank. This beer doesn't end well with an unappealing aftertaste that needs some fixing.
Sweet Child of Vine
Fulton Beer Co. • India Pale Ale (IPA) • IBU: 69 • ABV: 6.4% • SRM: 13 • PLATO: 15.8
Clear amber hues, off-white fluffy head with decent retention and lacing. The nose is perfume-like with hits of citrus and pine resins. The front to mid mouth is a stronger pine and citrus note backed with a medium-carbonated body to hold it togehter. Overall a great example of US styled IPA's.
The Expat
Fulton Beer Co. • Saison • IBU: 30 • ABV: 5.7% • SRM: 9 • PLATO: 15.5
Orange to amber clear hued draft with some larger bubbly head that had good retention and lacing. The nose has some citrus, spices, and yeastiness to it. The front mouth is citrus juicy forward with lots of tang and dry pith backing it. The mouthfeel is medium-bodied with a decent amount of thin bread crust and dry grains (rye) backing the strong bitter and juicy profile of the bitterness.
MPLS Mild
Fulton Beer Co. • English Dark Mild Ale • IBU: 17 • ABV: 4% • SRM: 30 • PLATO: 10
Dark ruby-red and brown hues in the light. Off-white/tan head with small bubbles did linger a bit, left minimal lacing on the rim. The nose is forward with roasted grains, nuts and burned toffee. The front mouth is pleasant with some rounded earthy tones of leather, dark molasses, and moves towards a more bitter hop resin on the mid. The mouth-feel is chewy and solid. The dark roasted notes shine all the way to the back, with some dried fruit expressing on the aftertaste.
Fulton Garage Series 7: Maitrise IFA
Fulton Beer Co. • Saison / Farmhouse Ale • IBU: 80 • ABV: 9.5% • SRM: 8 • PLATO: 22.0
Orange hued with a smaller white frothy head that dropped quickly, some spidery lacing on the rim. The nose is herbal and biscuity with floral hints. The front mouth is rounded yeasty forward with hints of grass and citrus pith. The mouthfeel is mild with some chewy characters. The hops express towards the back with some hints of spice and wet herbal grassiness.