OREGON CITY BREWING CO., OREGON CITY OREGON

Friday Feb. 27th, 2015 three of us went to the southern side of the Portland metro and we stopped at Oregon City Brewing (OCB) that night. None of us had been there before so we used our navigation to get us there, which was quite easy as it's right off the freeway. Basically they are located in an industrial looking building on the corner of 14th and Washington in downtown Oregon City. You can pull into their large gravel parking lot from either street. We noticed that there was a food cart out front providing pizza during the night we visited. You have to order outside at the cart, the guy next to us had a pie from them and it looked pretty good. The brewing equipment (custom 3 barrel system) is located on the back side of the building, you can peek into the production space when you walk in through some windows).
The main room has a few tables/chairs, window seating, and bar seating. They have 44 draft taps including local ciders, wines, and rootbeer, all available in a few different sizes including taster trays. We ended up doing this with their beers, just ask the server for a sheet to mark your choices with. From what it looked like while we were there, they serve a LOT of tasters, so it's a good idea to ask the servers if you're not sure what is what on their digital board (above the bar or view it online here in real time). We were lucky enough to find a couple of seats at the bar, even with it being a Friday night about 5:30pm. It was practically standing room only inside and I can imagine that this place rocks till the wee morning hours on the weekends.
The list of beers they had available was pretty good. I could have spent an hour or two sampling more than just their beers as they had a number of regional beers that I had not had before. We decided to just start with their four which are pictured below with reviews provided. I would have to say that they are doing a good job with the variety and quality of their beers we sampled. The reviews below go from left to right below.
Oregon City Brewing Co.
1401 Washington St.
Oregon City, OR 97045
Ph: (503) 908-1948
Web: http://www.ocbeerco.com/
Email: nico@ocbeerco.com
Face: http://www.facebook.com/oregoncitybrewing
Current Taplist: OCB Taplist via DigitalPour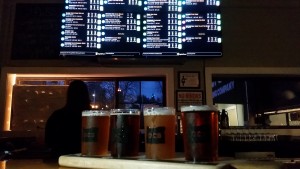 Elevator IPA
Oregon City Brewing Co • American IPA • IBU: 90 • ABV: 6.2% • 21 SRM
This IPA pours a nice orange/red hue with a foamy white head that clings to the rim, leaving a nice spongy lattice. The nose has somewhat tropical and piny aromas. The front mouth has a lot of dry bitters and sweet hop resins. The front to mid has a ton of grapefruit like sharp esters, the back is slightly married with a bit of tropical fruit. The carbonation is a bit on this which bubbles up on the back mouth, leaving the nice IPA hop wash on the tongue.
Scottish Ale
Oregon City Brewing Co • Scottish Ale • IBU: 28 • ABV: 5.2% • 34 SRM
Nice dark amber/copper hue with a minimal head that drops to just the rim quickly. The nose is malt forward with hints of sweet caramel and bitter chocolates that linger. The body is solid malt build with super low bitters. Imagine eating a loaf of dark bread drenched in honey and sprinkled lightly with cinnamon and butterscotch. The biscuit body has a lot of carbonation which is a bit much for this style of beer. Overall a great take on Scottish style ales.
Hank's Marionberry
Oregon City Brewing Co • Blonde Ale • IBU: 25 • ABV: 5.2% • 10 SRM
Bright orange and yellow hues, slight cloudy and bright white head on this blonde ale. The nose is delicate with a combination of yeast and fruit flavored cough drops. The front and mid mouth have mild fruit presence, but it does get expressed on the back and after taste after the beer warms a bit in the glass. There is a consistent berry-sugary sweetness that lasts from front to back mouthfeel.
The "CPA" Chocolate Pale
Oregon City Brewing Co • American Pale Ale • IBU: 30 • ABV: 5.2% • 34 SRM
This pale pours a nice red-amber color with a solid dull-white head that lingers well past the first sip. The nose is a bit of mystery, it seemed like they ground up a malted milk ball and sprinkled it over the beer. The initial mouthfeel on this ale is that it's a beer, but one that has a bit of milk chocolate and malts that run from dry and powdery that coat the tongue, to a sweet sugary mix with little to no hop to balance it out. This is an odd beer, not sure I'd order it again.