2015 BEER DISCOVERY TOUR: Oskar Blues Tasty Weasel, Longmont Colorado (June 26, Brewery Stop #7)
The seventh brewery on our cross country beer discovery tour (click here to read about the whole trip) was Oskar Blues Brewery (Tasty Weasel Taproom) in Longmont CO, June 26th. We finished up at Left Hand earlier that day, went for lunch downtown Longmont, and then drove over to Oskar Blues. The taproom called the Tasty Weasel and is at their main production facility on the outskirts of town in an industrial complex. Oskar Blues has a restaurant location that has all of their beers as well, but this one is on the way south towards our next stop (Avery). When you get to the address, you will find that you have to drive all the way around the large complex to find it…so just follow the signs. As it was a Saturday afternoon, it was a little bit busy, but not too bad when we got there.
The entrance is next to their loading dock, and there are a number of tables and a long bar inside. There is NO food at this location, just beer on draft, cans, bottles, growlers, and plenty of swag to buy. We have been enjoying the Oskar Blues line-up of canned beers over the past few years and it was great to go to the brewery to see their production and try the one-off's. The production areas are viewable from the main taproom and it is a bit noisy when it's in operation.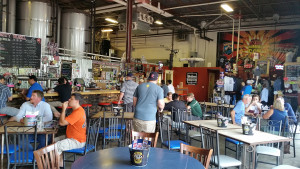 The main bar has a huge board with all of their beers available, and we bought tasters of a few of them. We didn't want to do everything, so we picked out 4 standard beers and four of the special one-off's. We ended up sitting at the bar and chatting with the servers while we sipped. They were excited for us, in our beer-discovery trip. We did become quick friends (or suckers) for some of the off-leash dogs that were hanging out inside as well. So if you're not a dog person, be forewarned they have some that roam around.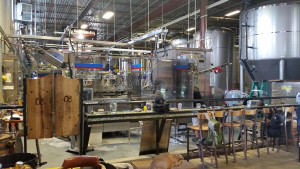 The beers we tried are shown in the pictures, reviews go left to right. The standard beers delivered as we expected, and some of the one-off's were challenging at best. If you're a fan of Oskar Blues and are nearby, then definitely stop by as it's a great place to learn about their beers and hang out. Overall the best beers we tried on site were the Good Game and the Death by Coconut.
Oskar Blues Tasty Weasel
1800 Pike Road, Unit B
Longmont, CO 80501
Ph: (303)776-1914
E: obinfo@oskarblues.com
Web: http://www.oskarblues.com/
Face: https://www.facebook.com/OskarBluesCANS?fref=ts
Mama's Little Yella Pils
Oskar Blues • Czech Pilsner • IBU: 35 • ABV: 5.3% • 4 SRM
Clear draft with a bright yellow hue, foamy head that dropped after a few minutes. The nose is a bit shallow, slight hints of lemon zest and grassy notes. The front mouth is lemon, strong bitters on the mid that linger into the back. The lighter bodied beer has a decent amount of carbonation and a thinner mouth-feel.
Deviant Dale's
Oskar Blues • IPA • IBU: 85 • ABV: 8.5% • 14 SRM
Darker amber hue, creamy colored head with decent retention on the rim, leaving nice lacing. The nose is pretty sweet, strong caramel malts and some hints of alcohol present with a sharp pine resin hop hit. The front to mid mouth is as sweet as it smells. It has a lot of malty caramel present with hops ranging from grapefruit to pine resins that blend well with each other. The flavors are simple, but marry together in a nice smoother consistency. This is a stronger IPA in flavors and full bodied, slight alcohol present.
Pinner Throwback IPA
Oskar Blues • IPA • IBU: 35 • ABV: 4.9% • 10 SRM
Slight yellow-orange hued clear draft with a solid bright white foam which dropped to a sheen on the top. The nose is grassy, slight woodsy with hints of spice or herbal characters. The front mouth is a little dry with a cracker-bread malt profile and sharper hop-grassy character. The mid and back are mid-bodied and have a lot of citrus that comes into play the a dry finish.
Old Chub – Nitro
Oskar Blues • Scotch Ale / Wee Heavy • IBU: ?? • ABV: 8% • 32 SRM
Reddish dark brown with an solid tan head that hung around for the whole taster, leaving a large amount of lacing on the rim. The front to mid mouth is solid, caramel, sweet, toffee, burned brown-sugars and almost chewy malt quality. The mid to back is where the hops come in, with a slight acidic, metallic, and earthy quality to back up the sweeter malts. The overall sweetness is a bit much for those that don't like it so strong, but the smooth character and quickly dropping profile on the back make it a winner.
Good Game Belgium Quad
Oskar Blues • Abt/Quadrupel • IBU: ?? • ABV: 10.5% • 24 SRM
Dark amber/red draft with a liter tan solid foamy head that lingered. The nose is sweet, dark fruits, and funky, hints of softer hops. The front and mid mouth are full of sweet malts, yeast funk, and dried fruits from cherries to figs. The sweetness does present all the way through to the after-taste. The hops are really secondary, the sweet malts and fruit notes speak loud and clear.
Beet Cancer Saison
Oskar Blues • Spice/Herb/Vegetable • IBU: ?? • ABV: 5.8% • ?? SRM (unfiltered mid-red)
This special fund raiser beer is brewed with beets, which gives it the bright red hue and pink foamy head. The nose is a bit sweet and yeasty. The front to back mouth don't really have much of the beets present, just the sweet sugars and slight vegital feel. The beer has a mid-body and solid carbonation. Finishes dry on the back.
Barbe Rouge
Oskar Blues • Altbier • IBU: ?? • ABV: 5.8% • 30 SRM
Mid-dark red and orange hue, off-white foamy head that clings nicely as it's sipped. The nose is a bit grainy malt-sweet and the grassy hops present on the back of the nose. The front mouth is sweet and the hops come through with a bit of resin and esters that express though to the back of the mouth. The full-bodied draft has a lower amount of carbonation and has a softer dry back that has some dried fruit notes.
Death By Coconut
Oskar Blues • Irish Porter • IBU: 45 • ABV: 6.5% • 40 SRM
NOTE: Collaboration with Shamrock Brewing Company
This draft pours solid black with a darker tan foam that left good lacing to the last drop. The nose is coconut-sweet, dry-bitter cocoa and and slight toasted hints. The front to back is pretty solid with sweet toasted coconut rind. Overall body is a little thin, but there's a distinct stronger chocolate profile that almost overpowers the coconut.