BREAKSIDE BREWING CO, PORTLAND OREGON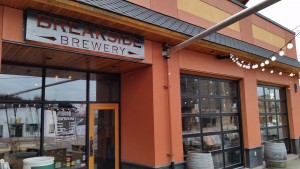 We decided to visit one of our old favorites, Breakside Brewing's Dekum restaurant for this week's 'Wednesday Hoppiness Hour' outing (18 Feb. 2015). Breakside has been setting the bar for quality independent micro-brewing in the Portland area since 2010. Their Dekum St. restaurant has one of the best brewery menus, combined with their constantly rotating list of outstanding beers keeps us coming back at least twice a month for many, many years. The restaurant space used to be an old car repair shop with both outside table and inside seating with long a bar area. When the weather permits, they open the large garage doors and the outside space is pet friendly. Be warned that due to the somewhat limited amount of seating, that the restaurant does fill up quickly during dinner hours, and there always tends to be families with kids around. We normally sit by the bar and watch sports on one of their two large flat screen TV's when we go on the weekends.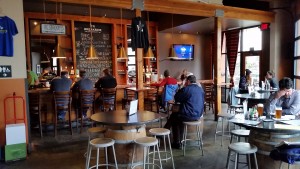 This time around, we were able to sit at one of the large round tables in the main floor area. The servers are usually attentive and provide quick and helpful service if you have any questions about their beer or food. We ordered some happy hour food (which only goes till 5pm, so get there early) and a full line up of tasters as we had not had some of their season beers yet. Over the years their menu has changed a little and they normally have excellent daily specials, but we usually just do happy hour as the food quality and quantities make it a better deal.
They were offering 11 beers on draft and a guest cider (Portland Cider Company Hopprageous) when we visited and I've provided a review of them below. They poured five of the year round beers and six seasonal ones. The quality of their brewing wins over many non-beer drinkers with a wide range of styles and experimental beers. This last year they started bottling 22oz. and canning some of their yearly and seasonal beers. I've been lucky to try some of them and they do retain the quality and flavor profiles that the draft beers retain.
It should be noted that Breakside does have a second location. The Milwaukie Brewery opened in late 2012. With the higher demand for their beers, they expanded with a large production facility that cranks out the beer at production levels that have allowed them to bottle and can. At this location, they have 24 rotating taps of their beer (and a few guests). The location is in an industrial park that isn't the easiest to get into, so use your navigation if you're not sure where to turn. So, if you really want to try some of their one-off's and speciality beers, you have to visit this location. 5821 SE International Way, Milwaukie, OR 97222.
Breakside Restaurant & Pub Brewery
820 Northeast Dekum Street
Portland, OR 97211
Ph: (503) 719-6475
Web: http://www.breakside.com/
Face: www.facebook.com/pages/Breakside-Brewery
Pilsner
Breakside Brewing • Pilsner • IBU: 35 • ABV: 5.1%
This German Pils has a light, beautiful yellow hue (4 SRM) with a pillowy bright white head that falls quickly, while leaving a nice lattice web on the glass edge. The nose is biscuit and light grassy herbs that leans to almost a perfume quality. The front mouth has a slight bite of the grassy herbal hops that has a bitter hint of citrus or lemon peel blended in. The body is solid with pils malts and the bitterness follows well into the back and after taste.
Irish Stout
Breakside Brewing • Irish Dry Stout • IBU: 36 • ABV: 4%
This stout has a solid black/brown color (40+ SRM) and a slightly off-white/tan head. The nose has cocoa, toasted to burned grains, and hints of coffee. The initial mouthfeel is a bit thin but astringent with bitters that range from ashy to toasted coffee. This beer has a full taste profile that includes complex layers of dried fruit and roasted malts. However, the body is a bit thin for me.
Wanderlust IPA
Breakside Brewing • IPA • IBU: 70 • ABV: 6.8%
This IPA has won a gold medal at the GABF and numerous other awards and it deserves every single one. Draft has a mid-amber color (24 SRM) and clingy white foam. The nose is lots of citrus, mellon, and pine (deep forest pine, not that winpy xmas tree pine). The front mouth is bitter with tropical fruit peels including orange and grapefruit and enough sweetness from the malts to fend off the strong esters. The mix of pine with the tropical really lasts well into the after taste.
Smoked Porter
Breakside Brewing • Robust Porter • IBU: 38 • ABV: 6.4%
Dark black/brown colored pour (40+ SRM) on this porter. Soft tan head that falls quickly but clings on the glass rim. The nose is softer chocolate and coffee's with notes of bitterness. The front mouth has more cocoa bitters than anything. There is a subtle smoked character to the malt/grains, but clearly not the dominant characteristic. The back flavor profile falls off quickly.
Amuse
Breakside Brewing • Saison / Farmhouse Ale • IBU: 16 • ABV: 4.8%
Clingy foam head, soft yellow hue (6 SRM) and a complex fruit-yeasty nose. The body is thinner than I'd expect, with the funk from the yeast present from start to finish. The floral (hibiscus?) and woody/herbal notes do come through on the mid mouthfeel.
Lunchbreak ISA
Breakside Brewing • India Session Ale • IBU: 27 • ABV: 5.2%
Hops: Simcoe, Amarillo, Cascade and Centennial
Nice straw-yellow hue (4 SRM) with a bright white head that clings to the glass. The nose does have hints of pine and resin with grassy overtones mixed with grapefruit. The mouthfeel presents pine, some floral notes of hops, and almost an earthy quality to the back and after taste with out much malt to balance it. It's a softer take on an IPA that's for sure.
Tropicalia
Breakside Brewing • Experimental Farmhouse Saison • IBU: 23 • ABV: 6%
This is a golden-amber colored draft (28 SRM) with a bright white and small bubbly head that flattens quickly. The nose speaks of yeast, floral notes, and spice (Peruvian Peppers) with some faint back end sweet malts. The front mouth is tropical fruit (lychee) with a mild heat that slowly builds. The body is somewhat thin, and the grain build allows for a rounder mouth feel. There are no real strong flavors, so it's a little different with each swig. The head is present even in the after taste.
Hefeweizen
Breakside Brewing • Bavarian Weizen • IBU: 20 • ABV: 5.2%
I really enjoy this near-authentic Bavarian Hefeweizen. It's got a straw-yellow and partly cloudy pour (12 SRM), with a soft white bubbly head that clings to the glass and leaves a nice lattice. The nose is yeasty, banana, clove and more yeast. I was transported back to Germany for a moment with the quaff. The front and mid mouth are soft, rounded and full bodied with the present yeasty cloves that distinguish this type of unfiltered, traditional Hefe.
Safeword
Breakside Brewing • Triple IPA • IBU: 100+ • ABV: 11%
This beer has a mid-amber/red hue (22 SRM) with a solid white frothy head. The nose provides a range of hops from piny, hop resin, orange fruit rind, and notes of sweetness. The front and mid mouth are full bodied, orange rind, citrus, and pine hop profiles, with a mid/back end sweetness from the malt build and lingering citrus bitterness. This IPA hides the high ABV really well, which makes it dangerous.
Kellerbier
Breakside Brewing • Dark German Lager • IBU: 32 • ABV: 5.6%
This beauty is a dark, rich red/brown color (30ish SRM) and a slight off-white head that provides a nice lattice cling on the rim. The nose is really malt forward with caramel and toffee expressing nicely. The front mouth is a little dry and balanced with the hop and malt profiles that include hints of toasted cocoa and toasted spicy bread (pumpkin bread?). The sweetness doesn't really come into play much on the mid mouth, but the back mouth and after taste there's a distinct mineral that lingers with the slight dry/bitters.
Salted caramel stout
Breakside Brewing • Stout • IBU: 33 • ABV: 7.9%
Collaboration with Salt & Straw Ice creams. This purely dark black stout (40+ SRM) has a small off-white foamy head. The roasted grains, sweet burned caramel and toffee are clearly present on the nose. The front mouth is sweet, with hints of molasses and burned sugars mixed with a lite bitterness from the hops. The salt is really secondary to the malt and grains. Overall this is a decent stout, but it really presents more like a brown than a stout in profile.
Hop'Rageous
Portland Cider Company • Cider • IBU: 10 • ABV: 6.8%
Guest draft of cider is really lite yellow hue (2 SRM), with a sweet nose that has hints of astringency and dry hops. The front mouth is sweet and dry with pleasant fruit characteristics.