2015 BEER DISCOVERY TOUR: Lively Brewing Company, Brunswick, ME (July 3rd, Brewery Stop #27) (recovered post)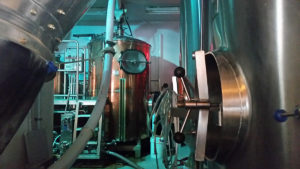 The 27th brewery visited during our cross-country beer discovery tour (click to read about the whole trip) was Ebenezers Brew Pub & Lively Brewing Company in Brunswick Maine. After a full day of sampling and driving around Portland, we headded back north and decided to stop at one more brewery along the route. Ebenezers is a well known taphouse with a reputation for having unique and hard to find Eurpoean beers, so we wanted to check them out since they also brew their own beers.
The brewing production is along the back of the building, next to the bar/taproom area. As it was early in the evening, we didn't have any issues getting a table. We ordered up some samples of their beers and chatted with the server a bit about their facility and brewing.
They were happy to find out we were coming up from Portland and decided to give them a try, as they are sort of left out of the Portland scene. Their food menus looked pretty decent, and their beer list was extensive beyond their own drafts.
We ordered up their beers, which equated to seven beers ranging from Belgian and German styles to IPAs. The best beer from their offerings was the Brunswick Mum, a solid Scwarzbier. The reviews are listed below, from the circular tray starting at the darkest to lightest beer clockwise. The individual beer taster was the Filthy Rich.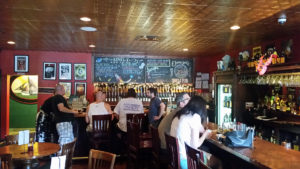 Overall we enjoyed their beers, but were ready for a break from it. If you're in the neighborhood, perhaps stop by and give them a try.
Lively Brewing Company
112 Pleasant St.
Brunswick, ME 04011
Phone: 207-373-1840
E: EBENEZERSBREWPUB@GMAIL.COM
Web: http://www.ebenezersbrewpub.com/brunswick
Face: https://www.facebook.com/Ebenezers-Brewpub-211281985715280/

Brunswick Mum
Lively Brewing Co. • Schwarzbier • IBU: 28 • ABV: 5% • SRM: 35 • OG: N/A
Dark brown/mahogany hue with a tan head that held well to the end and had good lacing. The nose is sweet and burned sugars, hints of smoke. The front mouth is bitter cocoa and toasty malts. The body is a lighter lager vibe with some creaminess and the bitters shine front to back. The hops are pretty hidden with the strong roasted nature of the malt build.

Butch
Lively Brewing Co. • English Dark Mild • IBU: 18 • ABV: 4% • SRM: 30 • OG: N/A
Medium dark brown to red hues, some small bubbly head that dropped quickly and left some lacing on the rim as it was consumed. The nose is sweet breads and some roasted coffee bitterness. The front to mid mouth is rounded with some strong earthen and old leaf/tea like acidity.

Holy Candy
Lively Brewing Co. • Abbey Tripel • IBU: 38 • ABV: 10% • SRM: 18 • OG: N/A
Orange hazy draft with an off-white solid head, decent retention to the end. The nose is nutty and sweet. The front to mid mouth is somewhat sweet with dried fruits, citrus pith dry bitters and some sugary feel. It's a mid-bodied draft with some lower carbonation that helps the sweet approach.

Love Bug
Lively Brewing Co. • Belgian Ale • IBU: 20 • ABV: 6.5% • SRM: 8 • OG: N/A
Golden and clear pour with a one finger head that had ok retention, small lacing and bubbles remained after sipping. The aroma is sweet breads, some yeast funk. The front is dry bread and straw, mild malts compete with the yeast funk and dried fruit sweets.

Mary Jane
Lively Brewing Co. • India Pale Ale (IPA) • IBU: 70 • ABV: 7% • SRM: 6 • OG: N/A
Bright clear yellow hues, fluffy large bubbly off-white head that lingered to the end. The nose is all citrus and pine resin. The front mouth is dry and sweet with tropical fruit bitters and sweet fresh bread crust. The pine and dank hops linger well into the back. Body is medium with decent carbonation.

Billy the Goat
Lively Brewing Co. • Bock • IBU: 20 • ABV: 6.4% • SRM: 25 • OG: N/A
Dark ruby red hue with an off-white fluffy head. Nose is dried fruits and nuts. The front mouth is stronger dried plums, sweet breads, cherry juice sourness, and hints of rasin on the back. Hops are really secondary to the complexity of the malt builds and supportive yeast approach.

Filthy Rich
Lively Brewing Co. • American Double / Imperial Stout • IBU: 75 • ABV: 11.5% • SRM: 40 • OG: N/A
Solid black opaic draft with a smaller tan head, decent retention to the end with lots of lacing. The nose is strong with coffee and cocoa powder lingers to tobacco. The alcohol shows on the front mouth with strong coffee bitters and some dried tobacco notes. The mouthfeel is solid, chewy and full-bodied. Really great stout with a strong flavor of burned grains and coffee that lingers well past the end.