2015 BEER DISCOVERY TOUR: 3 Floyds Brewing Company, Munster, IN (July 7th, Brewery Stop #30) (recovered post)
The 30th brewery visited during our cross-country beer discovery tour (click to read about the whole trip) was 3 Floyds Brewing Co. in Munster Indiana. After a great lunch stop we hit the road and made it to the Chicago area, specifically stopping for dinner and samples at 3 Floyds Brewing. The brewery is located off the beaten path, way back in an industrial complex. We saw that they served food, so we figured we'd give them a try.
There was a bit of a wait for us to get a table, and they don't have open bar seating, it's all reserved except the bar seats themselves. So, we ended up hanging out outside (as there is no indoor waiting area) for about 20 minutes until we were sat. The front 'bar' area and main restaurant aren't really that big, so it's not surprising there was a wait.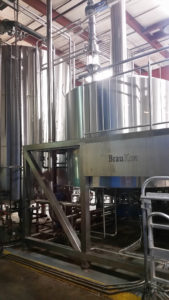 We were sat in the back area, where there are some windows into the production section of the building. There is a 'pickup' side room where you can get swag and some kegs/bottles to go. We did buy some stickers before we went in as we had time to waste. The biggest concern we had once we went in, was the fact that we could barely hear each other talk.
For some reason, they feel it's necessary to crank up the death metal music so loud that you can't actually have a normal conversation with the people across from you. Now Devin and I enjoy a good ear piercing volumn of metal, but this was Sweedish death metal that had nothing but screaming and mumbling, so it was really hard to tell what the songs were about.
It was really interesting that shortly after we were sat, and got our menus, that a table nearby had an Asian family with what looked like their grandparents be seated. We could barely handle the noisy music, I can't imagine why these people would put up with it. Perhaps the quality of food and beer? And the back area that we were in also had a large flat screen TV with "Over The Top" playing, so death metal and Sylverster Stallone arm wrestling. Match made in heaven no?
So the vibe of the company is that of punks and skaters, with tons of artwork and punk stuff around. The server was pretty attentive and brought us some menus pretty quickly, but when we asked about tasters, they only offered a 'pick 4' and so we decided to just go with those as we were hungry and didn't want to go overboard before eating. They dif have over 20 house beers, which someday we'll go back and try them all.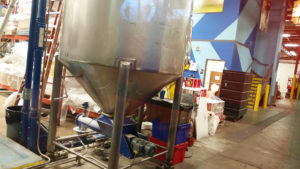 The food menu looked pretty intersting, was a limited menu but that didn't matter as we were hungry. We ordered a bunch of small stuff and a few entrees. We were just glad it didn't take forever for the food to come out.
The taster tray came out first, as you can see in the picture. The reviews go left to right, and we did order some pints when we finished those of diffent beers as well. Overall I'd go back if I was ever in the area. The vibe was totally 'F* YOU' to the establishment, from the naming of the beers and food, to the atmosphere and employees.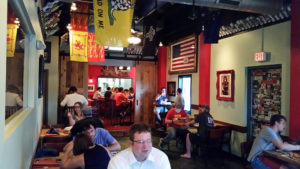 The best out of the beers we tried, well I'd have to go with the pint of Zombie Dust that I had after the tasters. The styles available to pick from at that time was pretty broad, and we selected the pale ales, and non-IPA listed beers as we wanted full pints of some of those.
3 Floyds Brewing Co.
9750 Indiana Parkway
Munster, IN 46321
Phone: 219-922-4425

Web: https://www.3floyds.com
Face: https://www.facebook.com/3floyds

Jinx Proof
3 Floyds Brewing Co. • Pilsener • IBU: 35 • ABV: 5.1% • SRM: 4 • OG: N/A
Bright clear yellow hue, soft bubbly head that left some decent lacing on the rim. The nose is limited with some hints of fresh cut grass/yeast. The front mouth is thin, crackery malts with some sharp hop hints of lemon zest and grass. Mouthfeel is watery and thin, and the bitterness lingers to the back, but drops after a few moments.

Yum Yum
3 Floyds Brewing Co. • American Pale Ale • IBU: 63 • ABV: 5.5% • SRM: 6 • OG: N/A
Clear lighter orange hue, with a small bubbly head that left lots of lacing on the rim. Nose is sweet and acidic with grape notes. The front mouth is a bit thin with some dried grapefruit and roasted malts (bread crust) to help hold it together. Decent flavor profile lingers well past the swallow.

Gumballhead
3 Floyds Brewing Co. • American Pale Wheat Ale • IBU: 35 • ABV: 5.6% • SRM: 4 • OG: N/A
Lighter golden hue, minimal small frothy head that dropped off completely. The armoatics are sharp citrus and hops that lingers to sweet melons. The front mouth is shocking, in that it's a wheat beer that's overhopped with Amarillo hops, which blends nicely. Citrus hits and dried wheat germ linger well into the back. The mouthfeel is mid-bodied, almost creamy in approach.

Alpha King
3 Floyds Brewing Co. • American Pale Ale (APA) • IBU: 68 • ABV: 6.8% • SRM: 20 • OG: N/A
Clear darker reddish-amber draft, super bubbly head that lingered and left lots of lacing. The nose is slight pine and grapefruit notes. The front to mid mouth is more malty dried grains and caramel than it is pine and hop resin bitterness. The mid to back lands more on the sweet malt side. The mouthfeel is watery and mid-bodied with a lingering dry finish.

Zombie Dust
3 Floyds Brewing Co. • American Pale Ale (APA) • IBU: 50 • ABV: 6.2% • SRM: 15 • OG: N/A
(FULL PINT) Hazy golden-amber hues with a large foamy head with great retention to the end. The nose is citrus/melon fruits and sweet. The front to mid mouth is biscuity malts holding some sweet citrus at bay. The body is super juicy and almost chewy/syrup like. It's more fruit than beer.

Calumet Queen
3 Floyds Brewing Co. • Kölsch • IBU: 20 • ABV: 5% • SRM: 6 • OG: N/A
(FULL PINT) Clear yellow-orange hue with a nice amount of head that lingered well to the end. Lots of lacing on this one. The nose is almost soapy dried floral hop cones, some citrus zest shows up also. The front to mid mouth is thin, but holds it together with some crackery dried grains, and sweet and dry lemon zest. The yeast doesn't show up until the mid-back with the flavors leaning to a grassy/lemon note.