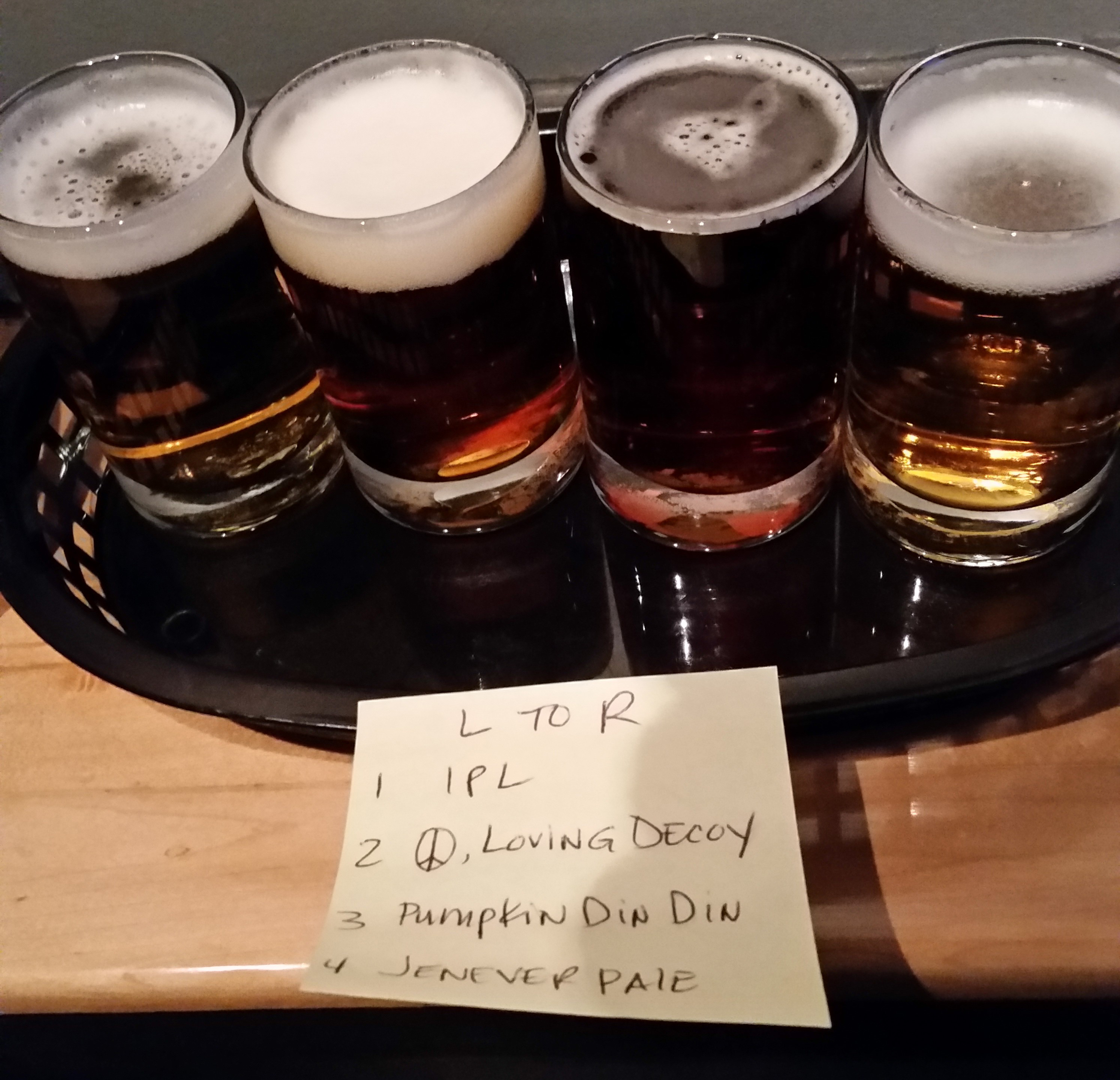 GIGANTIC BREWING, PORTLAND OR
This is the second spot we went to on during a little Sunday brewery tour (30 Dec. 2014). Gigantic Brewing Company is located in deep South East Portland a few blocks south of SE Holgate in an industrial area with on-street parking. This is a somewhat small building with room for about 30 people inside and a large patio out front. If it's cold outside, you may not be able to find a place to sit inside, so be prepared to stand. There is a food cart parked next door (literally 10 paces from the door) that has food during normal business hours. The decor inside is somewhat of an art gallery with prints and objects for sale, as well as a big TV to watch Timbers matches on. We've never ran into kids inside, as I'm going to take a guess that it's considered a bar. During warm months, there might be some outside on the patio when it's open. Oh, and the patio is dog friendly as well.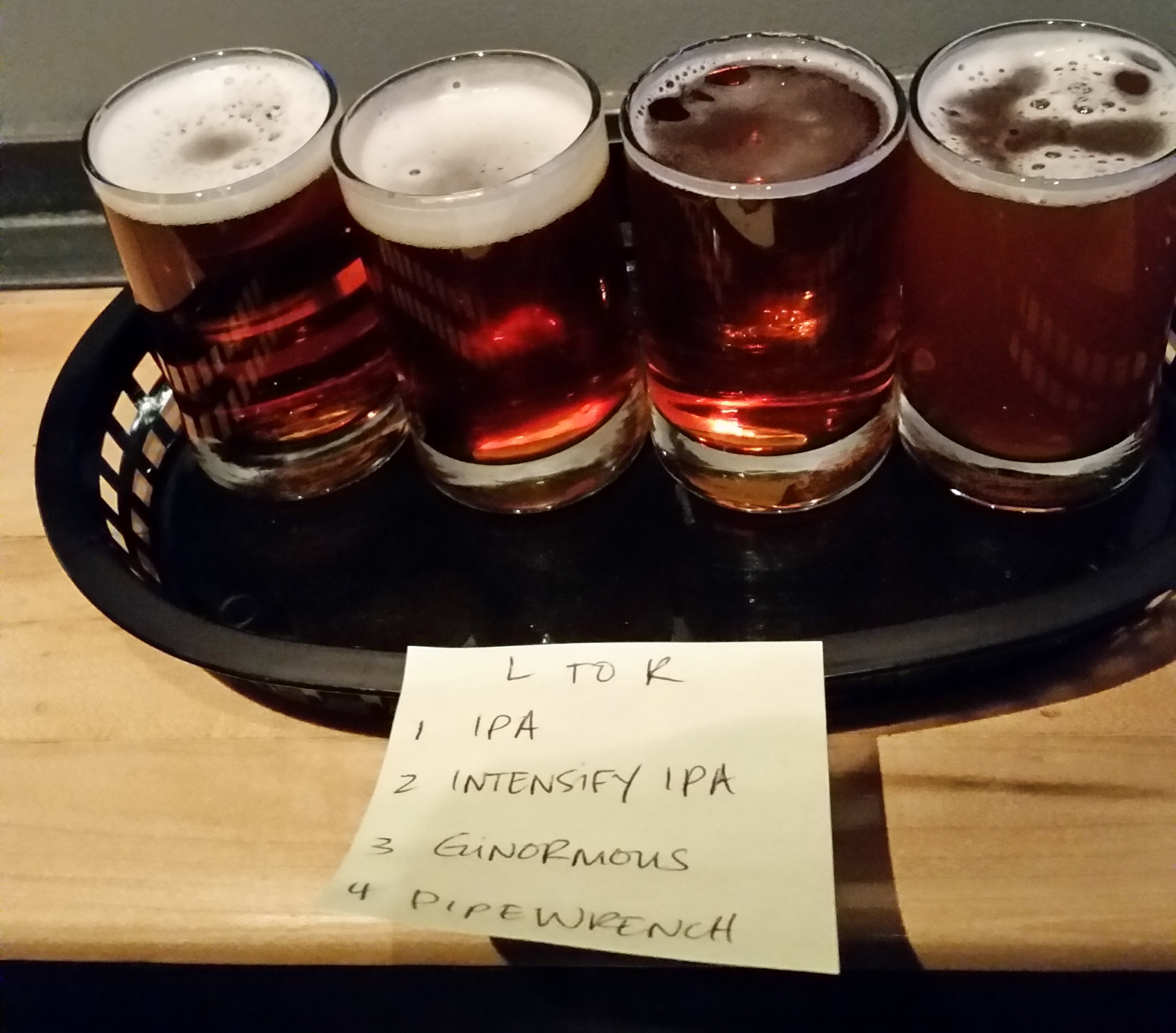 Regarding their beers, Gigantic has made a name for itself with strong, in your face beers. They have slowly expanded what they have on tap at their location, while providing a great selection of their bottled beers. Some people aren't thrilled by the strong aspects that their beers tend to go in that includes a tendency for strong hops, high alcohol, and a few Belgian inspired styles. I don't mind the fact that their flagship IPA is 7% ABV and not what you'd call a beginner IPA. The exploring of different approaches to IPA make their beer unique and fun to try. Besides beer on draft, in bottles and growler fills, they offer locally sourced nuts in a variety of flavors for sale at the bar. I haven't had a chance to try any of them, but they do look tasty. The brewery also has a bit of swag for sale, stickers, t-shirts, hats (trucker variety), artwork (prints of labels), etc. and their pricing is not outrageous.
GIGANTIC BREWING – http://giganticbrewing.com/
Mon-Fri 3pm-9pm, Sat Noon-9pm and Sun Noon-8pm
5224 SE 26th Ave. Portland, OR 97202
503-208-3416
Here's a review of the beers we sampled, top pic then bottom pic, left to right:
Style
Beer Name
ABV
IBU
Thoughts
IPL (India Pale Lager)
IPL
6.5%
?
This pale yellow ale (5) SRM has a decent amount of head/carbonation, frothy appearance and citrus bitter nose. It has a wide range of bitter hop flavors from grassy pine to grapefruit and orange peel. The mouth feel is medium-bodied, malty and has a slight yeasty approach on the mid and back. There is a slight dry/spicy pepper on the back and after taste that is subtle and balanced with the malt profile.
New American Vienna Lager
PEACE LOVING DECOY
6%
42
This Vienna Lager is a beautiful amber color (26) SRM, with a fully carbonated head. There is notes of sweet malt, caramel and some subtle hops are present on the nose immediately. The front and mid have a piney hop forward with the biscuit bread balance on the mid and back to round out the full, slightly sweet mouth feel. Overall a good lager to try if you've never had one.
Roasted Pumpkin Amber
PUMPKIN DINNER, NOT DESSERT
5.7%
?
This is a limited run collaboration between Gigantic and The Commons Brewing here in Portland. This has a nice lighter amber color (22) SRM with a decent head and soft aroma of yams/pumpkin. Fully carbonated and mouth feel let you know you're drinking a beer made with pumpkins and yams. The overall approach is a light flavor of pumpkin and yam, gentile sweetness and a little bit of piney and citrus hops to help balance the vegetable characteristics.
American Pale Ale
JENEVER PALE
5%
?
This pale ale is a collaboration with Rooie Dop Brewing from the Netherlands. As with the name, you can tell that Juniper Berries were added to this beer and it's present on the nose with soft citrus hops. It has a light and bright yellow color (3) SRM and thinner approach to the mouth feel. The crisp front is due to the pilsner malts, while the mid mouth is piney and slightly dry.
malt: Pilsner
IPA
GIGANTIC IPA
7.3%
?
The flagship beer by Gigantic, this IPA has a full body, hop forward nose and mouth feel. The mid-amber color puts it at about (20) SRM and the head is fully carbonated with intense aromas of citrus, pine, earthy and sweet breads. The malt profile does allow for the bitterness to not completely overpower this beer. There is a slight sweetness on the back with dry bitters on the after taste.
hops: Cascade, Centennial, Crystal and Simcoe
Belgian IPA
INTENSIFY
8.1%
?
This Belgian IPA has a mid-amber color (20) SRM with a lighter colored but full head show of high carbonation. The nose screams of sweeter bright citrus and fruity aromas. There is a rounded back and limited after taste. This is not a starter beer by any means.
American Double / Imperial IPA
GINORMOUS
8.8%
100+
This is a double kick to the head with both feet. Imperial IPA that has a surprising softer nose of piney and grapefruit and a slight sweet edge. The color and appearance is that of a copper ale (22) SRM. The hop profile on the full bodied mouth feel is all over the place with pine, grapefruit, astringent esters, while the back end has just enough grain build in the malts to make it round out and have little after taste.
IPA
PIPEWRENCH
8%
80
Gigantic IPA aged in Ransom Old Tom Gin barrels for 3 months. The color is that of a pale ale (14) SRM with a thinner head due to the ABV. There are distinct botanical from the gin on the nose mixed in with citrus-y hops. There is a tangy citrus acid on the front and the mid and back mouth have both a chalky/biscuit malt profile and a subtle wood from the gin barrels but the alcohol isn't as pronounced as one might expect.